Social Security: Not Everyone Gets the Full 3.2% COLA Increase — Here's Why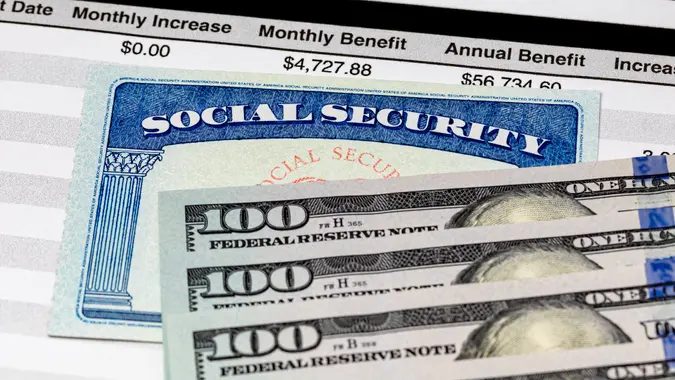 JJ Gouin / Getty Images/iStockphoto
The Social Security Administration announced its 2024 cost-of-living adjustment (COLA) last week, and as expected, the COLA will be 3.2%. More than 66 million retirement beneficiaries will see the 3.2% COLA beginning in January 2024, the SSA said in a press release, and about 7.5 million Supplemental Security Income (SSI) recipients will see higher payments in late December.
The reason is that the COLA is applied to your primary insurance amount (PIA) rather than your current benefit — and the two are not always the same. According to the SSA, the PIA is the benefit you would get if you elect to begin receiving retirement benefits at your full retirement age. At this age, the benefit is neither reduced for early retirement nor increased for delayed retirement.
The PIA formula itself is more than a little complicated. It's based on the sum of "three separate percentages of portions of average indexed monthly earnings," the SSA said on its website. The portions depend on the year a recipient reached age 62, became disabled before age 62, or died before you reached age 62.
The age you start collecting Social Security retirement benefits is an important consideration in terms of your COLA. Not everyone waits until their full retirement age — currently 66 or 67, depending on when you were born — to start collecting. If you wait until your FRA to claim your benefits, your PIA and monthly payment might be the same.
However, if you claim your benefits at a different age, the SSA runs another calculation to adjust the PIA up or down for those who claim early or late. People who claim benefits before their FRA typically get lower payments, while those who wait until they are 70 get the highest possible payment.
Make Your Money Work Better for You
Medicare Part B premiums can also affect your COLA. When premiums go down, your COLA could be higher. When premiums go up, your COLA could go down – and that's what will happen in 2024. Last week, the Centers for Medicare and Medicaid Services said the standard monthly premium for Medicare Part B will be $174.70 for 2024, up from $164.90 this year.
That's not the only way your COLA might be affected, either. Different federal employees receive different adjustments as well, the Federal News Network reported. Those in the Civil Service Retirement System (CSRS) will receive the full 2024 COLA, while those in the Federal Employee Retirement System (FERS) will get less.
When the CSRS COLA rises more than 3% — as it will in 2024 — then FERS retirees receive 1% less than the full 2024 COLA. This means FERS retirees will get a 2.2% COLA next year.
This discrepancy doesn't sit well with federal unions and organizations, which advocate giving the full COLA to FERS retirees.
"The difference for an average retiree is $18.37 a month, but over time, this could set FERS employees back thousands or even tens of thousands in retirement benefits, especially if we have a lot of high inflation years," the American Federation of Government Employees said in a statement.
Meanwhile, many senior advocate organizations would like to see the SSA change the way it determines the annual cost-of-living adjustment. The COLA is based on the percentage increase in the Consumer Price Index for Urban Wage Earners and Clerical Workers (CPI-W) in the third quarter. But according to some experts, the CPI-W doesn't accurately reflect costs that impact seniors, such as healthcare.
Make Your Money Work Better for You
"Healthcare costs are probably the biggest indicators that are outpacing these inflation rates," Megan Slatter, wealth advisor with Crewe Advisors in Salt Lake City, told USA Today.
More From GOBankingRates