10 Ways That Your Health Impacts Your Financial Life

10 min Read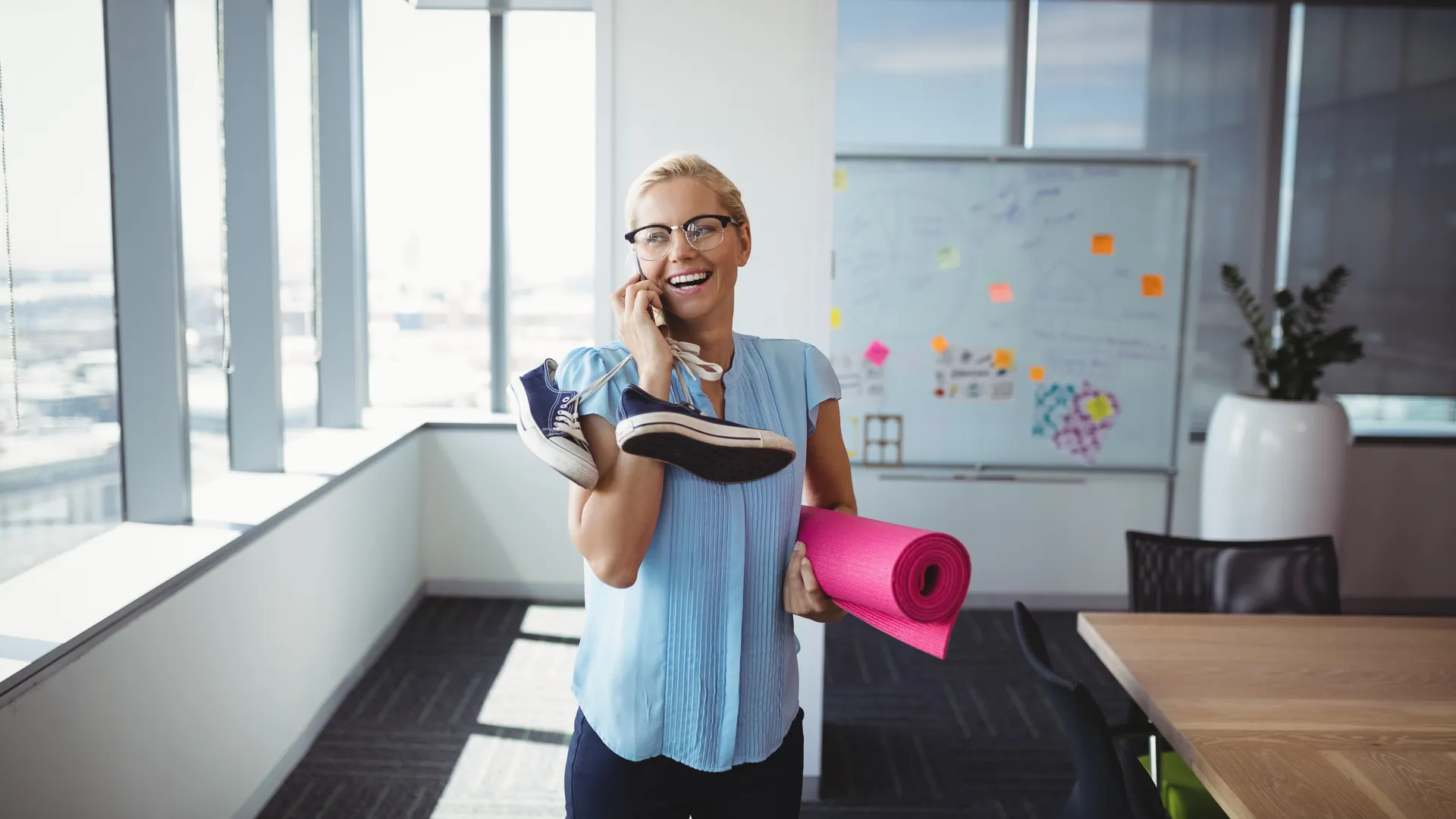 Making the effort to be healthy can significantly impact your finances, but the same can be said if you don't invest in your health and well-being. According to Megumi Smisson, creator and host of the finance podcast Ms. Money Moves on the Bleav Podcast Network, many people fret over the cost of the doctor, dentist or gym but fail to realize that avoiding taking care of your health can be more expensive in the long run.
Support Small: Don't Miss Out on Nominating Your Favorite Small Business To Be Featured on GOBankingRates — Ends May 31
"This cost of preventative care can be applied in other day-to-day activities as well," Smisson said. "The time and money spent on flossing daily can prevent costly cavities. Purchasing and using sunscreen regularly (and purchasing a large hat for beach days) can help prevent expensive and potentially deadly skin cancer. Eating healthy foods and paying for a gym membership or home fitness equipment, whether that's a Peloton or a yoga mat, can cost you money today. However, by taking care of yourself physically, you can help prevent the need to pay for pricey treatments for chronic diseases, whether it be diabetes or cardiovascular diseases."
Even if you realize the value of investing in your health, there's likely another question on your mind, "How much will caring for my health cost?" While it's hard to say exactly what your actual cost will be, here are 10 ways those health-conscious decisions can potentially impact your wallet.
Last updated: May 17, 2021
Exercise Equipment
Like Smisson said, there any many things you can do for your health now. Exercise is one thing and exercise equipment comes in all forms. You can spend as little as $10 on a set of exercise bands or spring for something much more costly, like a Peloton bike, which retails for $1,895 without shoes or other accessories.
"While having exercise equipment at home does include a one-time up-front cost, you'll save money in the long run," said Tana Williams, a personal finance blogger at Debt Free Forties. "At first, the investment in gym equipment at home is more expensive than paying a cheap monthly gym fee. However, once you add up the gym's sign-up fee and the monthly payments (times however long the contract is), you can afford your equipment. As a bonus, you can use it whenever you want and don't have to worry about anyone else's sweat on it."
Plus, Williams points out that you can recoup some of the initial cost on gym equipment if you decide it's not for you.
"If you decide to quit the gym due to injury or lack of time, you have to pay a termination fee or awkwardly ride out your contact," Williams said. "If you opt-out of exercising at home, you can post your gym equipment on Facebook Marketplace, Craigslist or LetGo, and resell it to recoup some of your initial investment."
Find Out: Are These Top Fitness and Food-Tracking Apps Worth the Cost?
Supplements 
The average spend per trip on vitamins and supplements by millennials in 2019 was $62.73, according to Statista. "We buy Carlson fish oil and Salus Haus Espresat (liquid multivitamin) regularly for the adults in the household and my toddler," said Jacqueline Gilchrist of Mom Money Map.
"Between the three of us, we usually go through one fish oil bottle and one multivitamin bottle per month. Between the two bottles, it usually costs us around $100/month just for supplements. While these supplements do impact our wallet, we're fine with spending this much because it's a priority for us. We just ensure we spend less in other categories to balance out our budget."
Dental Treatment
According to Henry Hackney, DMD, content director at Authority Dental, insurance usually covers dental exams and up to two cleanings per year. However, the average price of a dental checkup is $60. "During the same appointment, it's good to have done also dental cleaning, which can cost us additionally about $100," Hackney said. "If there's already a cavity, its filling will take out another $200 from our wallet. This all adds up to quite a big number, but let's see what awaits us if we decide to regularly skip the examination. Walking around with a crack in the tooth can lead to serious complications. If the tooth pulp becomes infected, root canal treatment is necessary. The prices of this procedure start at $700 and go as high as $2,100."
Taking Time Off Work When Sick
"The cost for taking time off work is usually greater than going in while sick," said Jim Pendergast senior vice president for altLINE Sobanco. "While many companies initially offered paid leave for sicknesses, now employers are simply sending employees home without paychecks. The extra time off can have a detrimental effect on monthly spending habits."
Case in point: Earlier in the pandemic, employers were required to give employees paid sick leave as part of the Families First Coronavirus Response Act. But at the end of 2020, that requirement expired and became voluntary for employers. Now, if an employee becomes ill and needs extended leave, they could be out of luck when it comes to pay.
It's important to remember though, that if you are ill, you should take the time off that you need to recover — for your health and others around you.
Health Insurance
"Health insurance costs vary widely based on coverage type, policyholder age and health status, and policy details like deductible and coinsurance," said Brian Martucci of Money Crashers. "An eHealthInsurance study found that the average individual premium was $448 per month in 2020 and the average family premium was $1,152, but that's really just a ballpark. Young, healthy policyholders can expect to pay much less per month. Older policyholders not yet eligible for Medicare, even those without significant known health issues, are likely to pay more. High deductible health plans, which tend to be less generous and require more out-of-pocket from the policyholder, generally have lower premiums and are good choices for younger, healthier policyholders. Catastrophic health plans are cheaper still, though eligibility is generally restricted to the under-30 crowd."
But there's also some good news. Martucci said that virtually all low-income Americans who are not eligible for Medicaid, and many middle-income Americans, too, will qualify for premium subsidies that can reduce the net monthly cost, often to less than $50 per month.
"And as annoying as paying monthly premiums may be, going without health insurance can be riskier, " Martucci said. "ACA-compliant health insurance plans cap annual out-of-pocket expenses, ensuring that policyholders won't be liable to pay the full cost of care for catastrophic illnesses or injuries."
Check Out: Missed Open Enrollment? Take Advantage of This Rare Opportunity To Get Health Insurance
Preventative Care
A typical doctor visit without insurance can cost between $150-$180, which can add up quickly. With insurance, you may only pay a co-payment of $20 for each visit, but costs can still add up if you see your doctor once a month. But seeing your doctor more often may pay off in the future.
"The more you use healthcare, the more cost you're incurring," said Chris Motola, personal finance analyst for Merchant Maverick. "This is balanced against the cost of not catching a serious disease or degenerative condition early. There's a healthy median between hypochondria and self-defeating stoicism when it comes to costs, but it's one you'll have to develop through self-knowledge, research and communication with your primary care physician and relevant specialists."
Ongoing Health Conditions
An ongoing health condition, such as diabetes or Hepatitis C, can cost hundreds to thousands of dollars per month for treatment and medications. But there are other complications that can arise, too.
"If you're unable to work due to a persistent health condition, that will
probably have a worse impact on your wallet than your treatment costs," Motola said. "In
the U.S. this is, of course, complicated by our employer-based health
insurance system and/or income-contingent Medicaid eligibility. In the
latter case, you may be incentivized to keep your income below a certain
threshold if you have extremely costly health conditions, and are unable to
find or afford adequate coverage otherwise."
Long-Term Care Insurance
"In the long run, long-term care costs can dwarf healthcare costs for longer-lived individuals who require residential care during the last years of their lives," Martucci said. "According to our overview of the pros and cons of long term care insurance, the average monthly cost of long-term care in an assisted living facility is projected to hit $5,500 by 2029, up from about $4,000 in 2019. The average monthly cost of nursing home care, which is more intensive, is projected to hit about $10,000 in 2029, up from $7,500 per month currently. The average cumulative cost of long-term care is about $172,000 per individual.
"By contrast, the average annual cost of long-term care insurance for a 60-year-old ranges from about $2,000 to about $4,000, depending on location, sex and other factors. While many Americans don't end up needing long-term care, this is a reasonable hedge against a potentially ruinous late-life cost. If nothing else, long-term care insurance spreads the cost of care over a period of decades, not years, reducing the financial consequences both for the policyholder and their heirs."
Find Out: What Is an HSA and Why Do You Need One?
Eating a Healthy Diet
Eating a healthy diet can be costly, as in the case of the Murphy family.
"We eat all organic meats directly from a farmer, " said Dan Murphy, CRPC, CLU at Greater Good Financial. "All vegetables and fruits are organic and from the farmer whenever possible or from a higher quality health food store or co-op. We have a family of six, and the last time we had the guts to actually count up the numbers, we spent on average over $1,500/month on groceries alone."
While that cost can be daunting, you don't have to focus on organic and grass-fed to eat healthy. You can also craft a healthy diet around more affordable foods that are readily available in U.S. supermarkets, according to Friedman School economist Will Masters. Masters believes that eating healthy is a luxury — but not because healthy foods are unaffordable to Americans. Instead, he believes that it takes time, effort and skill to bypass all the well-marketed convenience foods that grab our attention and create a diet full of healthy options.
Get Started: 26 Ways to Eat Healthy Without Breaking the Bank
Mental Health Treatment
"Therapy can come at a huge expense depending on your insurance plan," said Nishank Khanna, CFO of Clarify Capital. "If your therapist is out of network, sessions will cost between $100-$300, on average. Even if your therapist is in-network, costs can still be high. Expect to pay anywhere between $40-$100, per visit, on average, for an in-network therapy session."
And sometimes therapy alone isn't enough and medication is needed, which is an added expense. For example, while commonly prescribed generic depression medications are more affordable than those that are brand name, they can still exceed $100 per month without insurance.
More From GOBankingRates
About the Author