2022 Financial Forecast for Renters: Will Rents Go Down Anytime Soon?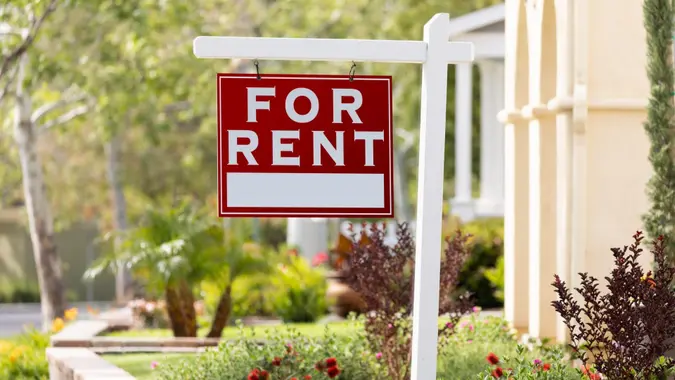 Feverpitched / Getty Images/iStockphoto
Part of the reason that home prices remain so high is that the most expensive rental market in history is offering no sanctuary for priced-out buyers. Between 2017-19, rents rose at an annual rate of 2.3%. Last year, the median rent climbed by 17.8%, a record high that set in just as renters were losing the emergency protections that kept roofs over their heads during the pandemic.
"Expensive" and "prohibitive" aren't strong enough words to describe the crisis that millions of renters are facing as long-term leases expire and overpriced inventory dwindles.
GOBankingRates talked to a variety of experts who are plugged into the situation on the ground. Even the most optimistic among them offer little room to believe that things will get better any time soon.
There Are Several Factors at Play — and None Are Good for Renters
A confluence of events born from the pandemic brewed a perfect storm in the American rental market.
"The steep gains in rents over the past few months are the result of several important factors," said George Ratiu, senior economist with Realtor.com. "The main driver is the steady improvement in employment, as companies have been ramping up payrolls in response to higher consumer travel and spending. In addition, with COVID cases and hospitalizations dropping and the post-pandemic reality on the horizon, many Americans have been returning to the cities, which they abandoned during the 2020 quarantines, looking for housing."
All that was happening just as the effects of the government-imposed tenant eviction moratorium were coming home to roost.
"The measures were implemented to protect people from losing their homes during a pandemic," said Ratiu. "However, they put pressures on both tenants — who had to pay rent and any late fees in cases of missed payments — and landlords, who remained responsible for mortgage payments even if they did not receive rent payments."
To survive, struggling landlords who spent the pandemic on life support almost had to raise rents as soon as they were allowed — and raise rents, they did.
Old Leases Are Expiring and New Ones Are Exorbitant
Many people who eagerly signed their names on cheap leases for great apartments when the virus first arrived are now seeing renewal agreements with very different numbers.
"The deals that renters enjoyed during the start of the pandemic have disappeared, and long-term leases are finally coming up for renewal," said Ben Creamer, principal and designated managing broker of Chicago-based Downtown Realty Company. "Rents and occupancies have returned to — and often exceeded — their pre-pandemic highs. For example, a luxury studio in a city like Chicago that may have rented for $1,100 a year ago is now renting for $1,800."
Inflation Puts the Pinch on Building Owners, Too
Landlords didn't only raise rents to compensate for the money they lost during the pandemic moratoriums. The inflation that has made just about everything more expensive for just about everyone didn't spare building owners.
"According to the latest numbers, inflation rose by 7.5% year-over-year at the end of January," said Creamer. "Landlords will be passing off their higher taxes, energy bills, water bills and other expenses to tenants."
As with virtually everything else that can be bartered or bought, rental prices rise at the intersection of low supply and high demand.
"The market is crowded with seasonal renters as well as Gen Z renters eager to move out of their parents' house after joining the workforce or being called back to the office," Creamer said. "Plus, there are plenty of people who are going to keep renting simply because they've struck out in the highly competitive for-sale market."
Hard Truth Time — There's No Relief in Sight
Renters across the country are in a holding pattern. Those who are riding out favorable leases are counting their blessings and those who are looking for new ones are counting their pennies.
As of now, there's simply no reason to believe that things will change any time soon.
"As long as demand remains as strong as it is across the country and interest rates stay low, high rents will persist," said Carolina Gerdts, executive vice president of RelatedISG Realty.
It's not just interest rates.
"Extremely low rental vacancies and increased migration to already highly populated cities are creating the perfect atmosphere for prices to remain steep," said Gerdts. "Until there is more supply to meet the demand, rents are likely to remain very competitive."
Another problem is that today's impossibly high ceiling is almost certain to be tomorrow's floor. That's because, historically speaking, rents follow inflation and property taxes up, up, and up — even during major economic downturns.
"I have owned rental properties for over 20 years and rental rates have never dropped," said JimmyHarris of We Buy Houses In West Georgia. "When the real estate market crashed in 2008-2013, rent rates did not fall."
Everyone Is Trying to Cope — Hunker Down Any Way You Can
During these exceedingly difficult times, people from coast to coast are doing whatever they can to ride out the storm.
"Some are finding ways to reduce their expenses, while others are getting help from family and friends," said Rinal Patel, co-founder of We Buy Philly Home. "A few are even considering moving back in with their parents or sharing living space with more people to split rent with. While no one solution is perfect, it is clear that renters are struggling more than ever before to keep up with the cost of housing."
If you're on the hunt, start by expanding your search beyond just apartment units and single-family homes.
"When renting a condo, an agent can sometimes help to try to negotiate other items to offset the rental asking price, such as an upgrade on appliances or even the inclusion of their utility bill in their rent," said Gerdts. For many, survival will depend simply on sucking it up and accepting less for more.
"If renters want to save money, it means sacrificing the amenities, space, or location they enjoyed over the last 12 to 18 months," said Creamer. "Some of the renters we work with are choosing to stay put and accept nominal rent increases because they're still getting a better deal than what's available on the market right now."
If you're facing eviction or another kind of rent-induced calamity, the Consumer Protection Financial Bureau and HUD offer information on rental assistance programs.
More From GOBankingRates