Time Batching & 4 More Productivity Hacks You Need To Try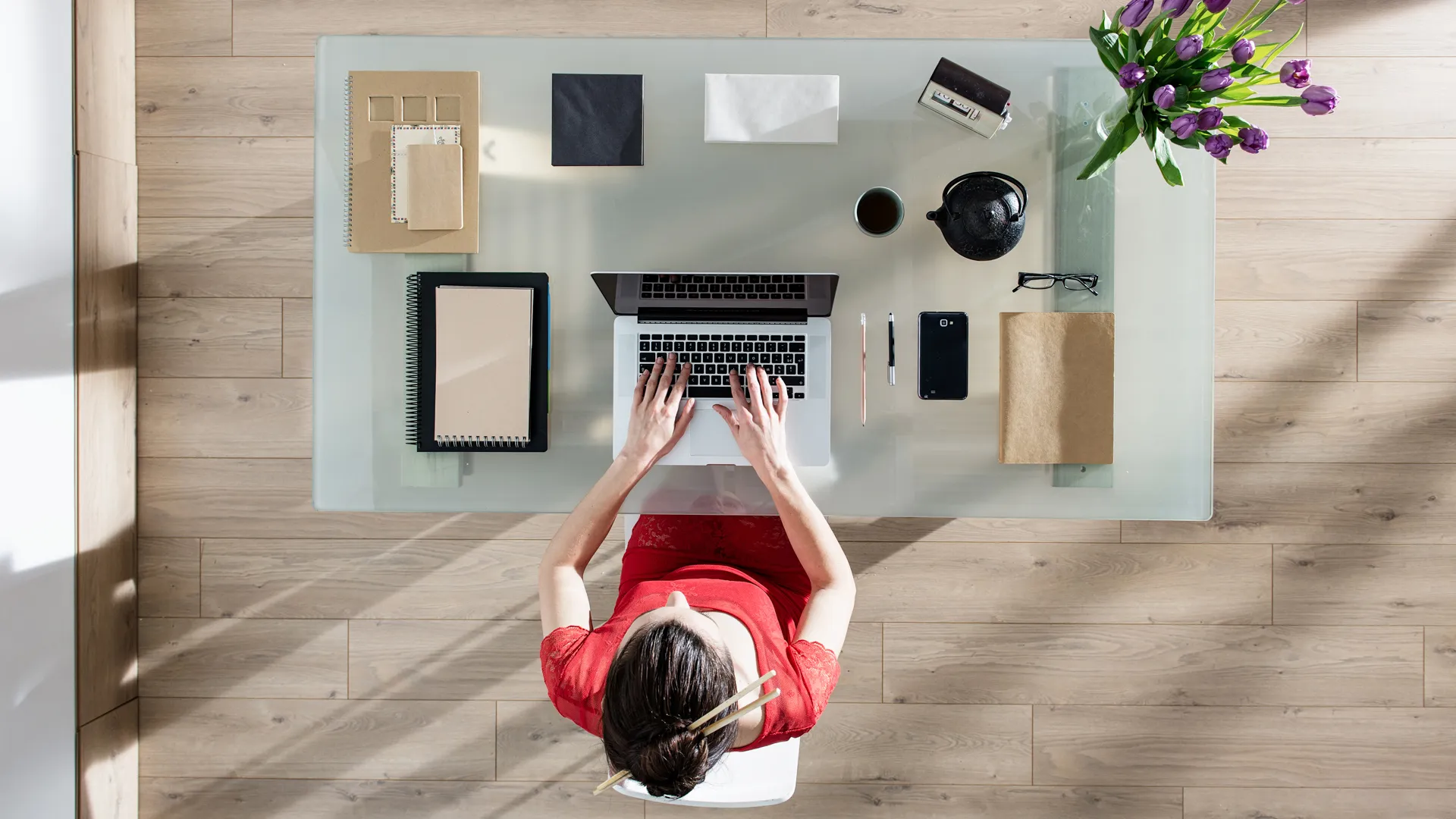 It's easy to get distracted during the workday, especially if you're working from home. The home office is inherently full of temptations that pull you away from work tasks — your kids, your TV, the dirty dishes in the sink, etc. — so it's important to have some tools at your disposal to help you make the most of your work hours.
Tips: 15 Ways To Work Better From Home
GOBankingRates spoke to executives with experience working from home to find out the productivity hacks they swear by to ensure they get what they need to do done. Here are their best tips.
Last updated: April 15, 2021
Time Batch
Time batching is a productivity technique that involves setting a specific period of time to focus on one singular task. According to Forbes, "getting continuous time to concentrate doesn't just make us more productive; it also drastically improves our mental wellness."
The amount of time you block out for each task will depend on what works best for you. Andrew Taylor, founder and director of Net Lawman, sets a timer for just five minutes on days when he is finding it difficult to concentrate.
"Again and again, I do this until I feel like I have accomplished a number of tasks and can begin working steadily on something of importance," he said.
Vinay Amin, founder of Eu Natural, prefers 50-minute time blocks with a 10-minute break in between.
"It's long enough to get things done, or at least moved forward, and yet short enough I don't burn out," he said.
Check Out: 10 Time Management Tips That Can Help You Make More Money
Use the Pomodoro Technique
The Pomodoro Technique is a form of time batching that involves working for 25 minutes and then taking a short break. After four of these blocks, it's recommended to take a longer 20- to 30-minute break.
David De Haan, owner of the website Stand Up Paddle Boards Review, swears by the Pomodoro Technique to "stay efficient and get work done," he said. "I used to struggle with distractions all the time. The Pomodoro Technique helps me work focused for short blocks of time while permitting myself to be 'unproductive' in the break time."
Check Out: The Highs and Lows of Working From Home for Nearly a Year
Follow the 2-Minute Rule
This productivity hack is perfect for procrastinators.
"If a task takes less than two minutes to do, do it right now," said Jayson DeMers, founder and CEO of EmailAnalytics. "This rule helps you churn out wins throughout the day that make you feel good, further boosting your productivity and motivation, while preventing small numerous tasks from building up and causing existential overhead that can bog you down."
Read More: How Work-Life Balance Can Make You a Better Employee
Stick To Set 'Productivity Periods'
Everyone is more productive at different times during the day. Maybe you're super focused first thing in the morning, but find that your concentration is waning by the afternoon. Or maybe you're someone who works best at night when the rest of your household or office is quiet. Sunny Ashley, founder and CEO of Revy Solutions, breaks up his day into "productivity periods," focusing on different types of tasks depending on the time of day.
"Ten a.m. to noon is by far my most productive time of day — I knock out any important tasks during this time," he said. "I find the time after lunch (noon to 2 p.m.) to be slower. During this time, I allow myself to do work that requires less mental cognition, i.e. check emails, respond to messages, etc. If possible, I also abstain from scheduling calls. For work that requires deep focus and less distraction, 8-10 p.m. is after business hours and generally a little quieter. After 10 p.m., I'm tired and more mistake-prone. It's a good time for less stimulating work like reading or catching up on the news."
Be Informed: Understanding US Productivity and All the Ways It Affects You
Write Out a Physical To-Do List
This is an old-school "hack," but it's still an effective method of ensuring you stay on top of all your tasks.
"My work-from-home productivity tip is to create a list every single night that includes every to-do item I need to get done the next day, with the most important at the top," said Stacy Caprio, founder of Accelerated Growth Marketing. "Then, I keep that list next to me while I work, crossing each item off the list as I go along. This helps keep me on track and productive. Having the physical piece of paper as a to-do list is a better reminder than having one digitally that is not visible or physically next to you 100% of the time. I've found I get much more done when I have a physical, pre-planned to-do list sitting next to me versus when I am winging how I spend my work-from-home time each day."
More From GOBankingRates