7 Things You Must Do To Create a Plan for Your Money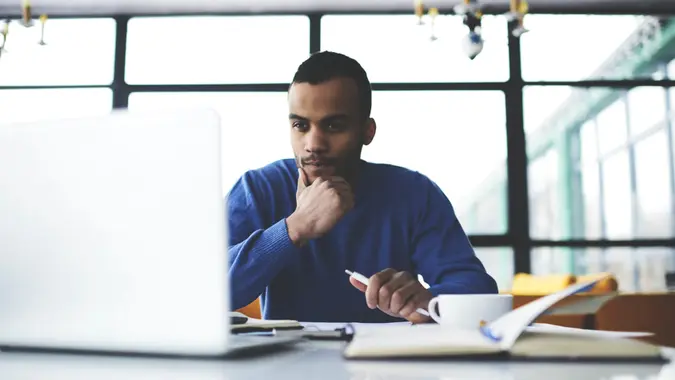 ©Shutterstock.com
Do you need help with your finances but don't know where to start? You could probably use a financial advisor, someone whose job is to help you draw up a financial plan and get you back on track.
A financial planner can assist with some or all of your money issues by helping you create a personalized plan for your situation. They can help you plan for retirement or college, offer guidance with saving or paying off debt, work with you to build an investment portfolio and more. You might choose a financial planner for a limited purpose or for expansive help with your complete financial life.
If you're considering hiring a financial planner, you'll probably want to know exactly how to make a financial plan.
7 Steps of Financial Planning
Once you've picked a financial planner, there are a few financial planning steps you'll go through with your planner. Each planner might have similar or different steps, or they might perform these tasks in a different order. But in any case, here is a basic summary of how a financial plan is created.
1. Getting To Know Your Financial Planner
Let's imagine that Brittany is your financial planner. The first meeting with Brittany might be similar to a first date. You'll want to know her philosophy, investment approach and what steps she'll take to help you meet your financial goals.
In your initial meeting with Brittany, ask to review her investment policy statement. The investment policy statement maps out how she will handle your money, her strategy and her work approach to help you meet your financial goals. Make sure to take a look at a sample financial plan as well, if available.
2. Asking Questions
Once you've gotten to know your planner, you're ready for the next step: asking questions. Don't be afraid to do your due diligence and ask your financial planner questions. She is working for you — as well as with your money — so dive in with these types of questions:
Can you please describe your educational background, experience and licenses?
What are your fees, and how are you compensated?
Are you a fiduciary, and will you put my financial interests ahead of your own?
What services do you offer as a financial planner?
What type of investments do you recommend and why?
What type of communication can I expect from you?
After synthesizing the information from your first meeting with Brittany, it's time to proceed with the next steps of financial planning.
3. Filling Out a Financial Planning Questionnaire
Brittany will likely give you a questionnaire to detail your current financial position as well as your individual financial planning goals. The questions might start with your current income, expenses, assets and liabilities. Each advisor will have their own set of questions and many might have you fill out an initial intake form to get the answers ahead of your first consultation with them.
Next, you'll probably respond to questions and make estimated projections about the future. You'll discuss long-term financial income from Social Security and pensions, as well as projected future expenses, which could include a mortgage, educational costs and many other ways you might want to spend or invest your money.
4. Determining Your Financial Goals
One of the important financial planning steps is focusing on your personal and financial hopes and dreams. With your financial planner, you'll discuss short-term goals, such as buying a home, and longer-term concerns like planning for retirement or your child's college tuition.
The second part of goal setting is attaching costs and a time frame. You'll address the $60,000 you might need for a home down payment in five years, as well as the $45,000 college fund needed in 15 years for your two kids. These intermediate term goals will be integrated with the later goal of amassing a nest egg for retirement.
5. Figuring Out Your Risk Tolerance
In the questionnaire, you might address your risk tolerance. If not, you will likely talk about it with your financial planner as you both analyze your investments.
Your risk tolerance determines how much risk you can handle in your investment portfolio. From your risk tolerance, goals and age, Brittany will design the investments for your financial plan. Be honest with your financial planner about what you are willing to do with your money in the short and long term, but also be open to suggestions in the future should your mind or circumstances change.
6. Creating the Financial Plan
With the financial planning questionnaire in hand, you and Brittany are ready to further clarify your goals, time frame and future steps of financial planning. She will educate you on any necessary money concepts, such as budgeting or debt management, and help you decide on a future course of action.
Your financial plan is as personal as you are. From the questionnaire, Brittany might discover that you have a family, but no life insurance. She might also realize that you have a high risk tolerance, yet your investments are split 50% in stock mutual funds and 50% in bond mutual funds — a very conservative asset allocation.
Those sample scenarios might drive your financial plan, and she might give you recommendations when it comes to setting goals, picking investments, choosing a retirement plan, cutting back on spending and much more.
7. Monitoring Your Financial Progress
Regular communication and follow-up are important steps in the financial planning process. In fact, creating the plan is really just the first step. You'll have ongoing contact with your planner to find out whether you are on track to meet your financial goals. Part of this process is called benchmarking, where you match up your progress with your initial goals.
Together, you and your financial planner will use the results of the follow-up meeting to adjust your plan, your goals and expectations. If you want to save for your kids' college education, your retirement and a second home, then you might need to earn more money or cut back spending. Another alternative would be to adjust your goals.
In the end, the steps of financial planning are only as good as the follow-through. As you continue to work with your financial planner, you'll meet some goals, create new ones and adjust the old plans to achieve your financial needs.
More From GOBankingRates
Jake Arky contributed to the reporting for this article.