According To My Finances, I'm in a Recession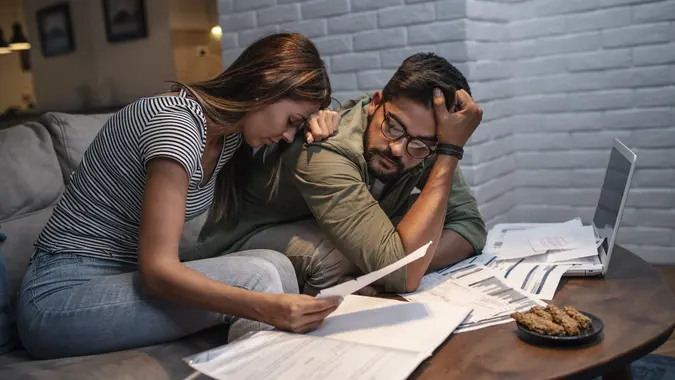 Martinns / iStock.com
With inflation now down to a normal 3%, the Fed seems to have pulled off the "soft landing" that eluded it in the early 1980s — raising interest rates enough to cool inflation but not enough to cause a recession. With the S&P 500 up 18% on the year and the private sector doubling expectations by adding 497,000 jobs in June, it's hard to argue that the economy is in a downturn.
But in spite of the rosy reports, millions of individual recessions are playing out all across America.
"Despite the overall strength of the job market and the economy's resilience during the post-pandemic era of economic turmoil, a significant number of Americans find themselves feeling the effects of a recessionary environment," said recruitment, career coaching and outplacement expert Matthew Warzel, founder of MJW Careers. "Layoff victims, in particular, continue to face challenges in finding work for extended periods and often struggle to secure interviews. This puzzling situation raises questions about the underlying factors contributing to this disconnect between the job market's positive trajectory and the experiences of those who feel left behind."
The Dying Economy Within the Thriving Economy
A recent report from CNN Business profiled several skilled, experienced and formerly successful Americans who were selling their belongings, selling their blood and relying on food pantries to survive. They'd been laid off for months and couldn't land new jobs or even get interviews in many cases despite submitting hundreds of applications.
Some were victims of corporate cost-cutting that drove hiring freezes. Others were in industries that experienced sweeping layoffs despite stability in the overall economy.
But all of them were experiencing a recession, even if government figures didn't reflect that reality — and they're hardly alone.
"Despite the job market's overall resilience, some individuals may still struggle to find work or secure interviews due to various factors," said Kimberley Tyler-Smith, an executive at the career tech platform Resume Worded, which serves more than one million job seekers every month. "These challenges can arise from structural shifts in the economy, where certain jobs become obsolete or demand different skills due to technological advancements. Additionally, there may be a mismatch between the skills employers seek and those possessed by job seekers. Industry-specific difficulties and geographic disparities can also contribute to this situation."
Technological Leaps Elevated Some and Rendered Others Obsolete
Unemployment has been at or near a 50-year low all year and the labor market is adding jobs at a frantic pace, yet certain groups have been left behind as the world's largest economy — and the technology that drives it — continues to evolve.
"Firstly, sectoral shifts are in play," said Guy Thornton, an HR professional and founder of Neuroworx, an integrated HR platform powered by people analytics. "A recent McKinsey report suggested that by 2030, up to one-third of the U.S. workforce may need to switch occupations due to automation and AI. This disproportionately impacts workers in sectors like manufacturing and retail, who may struggle to find new roles without reskilling."
Some Workers Saw Their Skills Outlive Their Usefulness
Many of those experiencing individual recessions are skilled employees who didn't realize that their expertise was no longer marketable until it was too late.
"Secondly, the 'skills mismatch' problem is evident," said Thornton. "The World Economic Forum predicts that by 2022, 54% of all employees will require significant reskilling. Workers lacking in-demand skills, such as digital literacy or data analysis, may find themselves struggling to secure employment."
The Pre-Pandemic Economic Boom Was Not Distributed Equally
Another commonality among those experiencing personal recessions is where they live. The post-2008 economic surge left entire regions behind, draining them of their brightest and most skilled workers, who left for the new emerging career hubs.
"Lastly, geographical disparities are a substantial issue," said Thornton. "According to a Brookings Institution report, just 20 metro areas captured 91% of the nation's job growth from 2010 to 2017, leaving workers in less prosperous areas grappling with fewer opportunities."
Specific Demographics Face a Higher Risk
The post-pandemic economy has created winners and losers. Those who benefitted the most were highly skilled, highly paid tech and financial workers who gained the ability to do their jobs remotely. Their newfound geographic freedom allowed them to leave the expensive urban centers where they had to live before and take their hefty salaries to lower-cost areas.
But the new labor landscape left others out in the cold.
"Workers most likely to face these challenges include those with lower education levels, residing in economically depressed regions, and those engaged in contracting sectors," said Thornton.
Tyler-Smith agrees but expands on Thornton's list of vulnerable demographics.
"Certain groups, such as lower-skilled workers, older individuals and the long-term unemployed are more likely to face prolonged job search challenges," she said.
So, How Can People Create Their Own Soft Landings?
Many people don't have the luxury of leaving town or returning to school. Their best bet is to target their searches and make sure their resumes and online profiles have evolved to meet the standards of the post-pandemic labor market.
"If you're not getting screening interviews or initial conversations with hiring managers, it's likely because your resume needs improvement," said Tyler-Smith. "Evaluate if it effectively showcases your skills and consider gaining additional experience or certifications to enhance it. On the other hand, if you're progressing to interviews but not receiving offers, focus on improving your interviewing skills through thorough preparation, research, and practice. Seek feedback from mock interviews or career professionals to refine your performance. Remember to maintain honesty throughout the job search process to avoid damaging consequences."
More From GOBankingRates