4 Basic Money Skills That Are Most Important To Your Success, According to Experts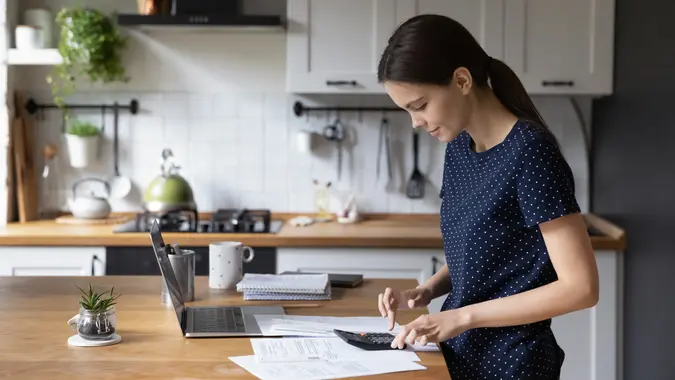 fizkes / iStock.com
Many Americans could go a long way in improving their money situation just by learning the basics.
According to a new GOBankingRates survey of more than 1,000 adults, 1 in 3 people don't recall their parents ever discussing financial topics with them when they were children, and the legacy of that follows them into adulthood.
Earlier Would Have Been Better, but Start Learning Now 
Only 1 in 5 people reported feeling like when they turned 18 — official credit card age — that they had a comfortable grasp on even the most basic money skills like budgeting and balancing accounts. 
Another 38% mastered the fundamentals by their 22nd birthday, but 1 in 5 weren't confident in what they knew until later in their 20s. Another 13% didn't learn the basics until their 30s, 40s or beyond, and around 7% feel like they still don't get it. 
With so much information out there, it can be easy to feel overwhelmed about where to start. So GOBankingRates asked Jen DeLoyd, head of checking, consumer insights and product economics at Capital One, about which basic money skills people should focus on mastering first.
Here's what she said.
Take Our Poll: Are You Concerned About the Safety of Your Money in Your Bank Accounts?
Set Financial Goals
Success starts with identifying ambitious but achievable objectives that can help you track your progress, build confidence and stay on the right track toward self-improvement.
"Setting financial goals is a crucial step to achieving financial success," DeLoyd said. "Targeting a specific goal and laying out a strategy to reach it will allow you to meet financial milestones and learn what works for you along the way." 
Goals might include paying off a credit card, amassing $500 in savings or setting up a brokerage account with a small monthly automatic investment.
But no matter the mission, you don't have to go it alone. 
"Look for free tools from your financial institution that allow you to set a goal and monitor how you're tracking towards it, so you can adjust based on your progress," DeLoyd said.
Create and Follow a Budget
If you don't have a system for tracking your income, cataloging your spending and assigning a purpose to every dollar you have, make that goal No. 1. 
"Creating and sticking to a budget is a great way to manage spending," DeLoyd said. "Allocating money from each paycheck for different expenses, such as rent, bills, and an emergency fund, will remove the temptation to spend and help you avoid the stress of any unexpected expenses."
Here, too, there's no shortage of tools and resources available through your bank or free apps, although a simple spreadsheet or even pen and paper will do. Start by learning about the main budgeting strategies — 50/30/20, zero-sum, envelope, etc. — and tailor one you like to your needs and style. 
Adopt Responsible Spending as a Lifestyle
People tend to rein in spending once they get into trouble — debt, depleted savings, an emergency they can't pay for, etc. But if careful and deliberate spending is how you go through life, you'll never have to cut back out of necessity. 
"Responsible spending isn't a one size fits all approach," DeLoyd said. "What's important to you and aligns with your values is specific to you — and following that is responsible, even if it is different from someone else." 
An example of DeLoyd's point is celebrity financial advisor Ramit Sethi, who advocates spending as much as you reasonably can on the things you love by ruthlessly eliminating the things you don't. No matter your strategy, responsible spending is always about distinguishing wants from needs that are accounted for in a budget.
"Making your money work for you is essential," DeLoyd said. "Taking the emotion out of spending also helps, so creating lists and planning spending in advance helps to ensure you're not spending under stress and acting impulsively."
Get in the Habit of Keeping Tabs
In personal finance, surprises are rarely good, and once you lose track of your earning, spending and borrowing, you'll become more likely to feel overwhelmed and just ignore it altogether. 
You don't have to obsess over your money, but you do have to make a habit of periodically revisiting your goals and assessing how your current situation measures up to them. 
"Maintaining a pulse on your finances is essential to your success," DeLoyd said. "Tracking your spending, following your budget, and monitoring your credit score are simple steps to ensure you catch any issues early."
DeLoyd noted that many financial institutions, including her own, offer free credit monitoring and other tools that make it easy to take a quick glance at your financial overview. Personal finance apps like Mint go even further by unifying all your accounts in one place along with your goals and financial patterns. 
No matter your method, get in the habit of checking in with your finances periodically, whether it's every morning at breakfast, once a week on Saturdays or whatever suits your style.
More From GOBankingRates
Methodology: GOBankingRates surveyed 1,056 Americans aged 18 and older from across the country on between March 17 and March 20, 2023, asking twelve different questions: (1) When you were growing up, which financial topics did your parents talk to you about? (Select all that apply); (2) At what age did you become comfortable with basic money skills (i.e., writing a check, balancing your accounts, budgeting)?; (3) At what age did you start saving and planning for retirement?; (4) How much cash do you think you should have on hand in case of a national emergency?; (5) Do you think a lack of financial understanding has impacted your ability to be financially prepared for the future?; (6) How much did a lack of financial literacy cost you in the last year due to things like not knowing the best way to save for retirement, not being comfortable with investing, not using a budget, etc.?; (7) Which major financial task is most confusing to you?; (8) What percentage do you think you are required to put down on a home when buying?; (9) Do you feel prepared to handle any possible cuts to Social Security benefits?; (10) How has inflation changed how you handle your finances? (Select all that apply); (11) What's the minimum you think experts would recommend you have saved to be comfortable in retirement?; and (12) Which of the following do you find most confusing about Social Security?. GOBankingRates used PureSpectrum's survey platform to conduct the poll.