Best (and Worst) Ways To Get a Cash Advance To Cover You Until Payday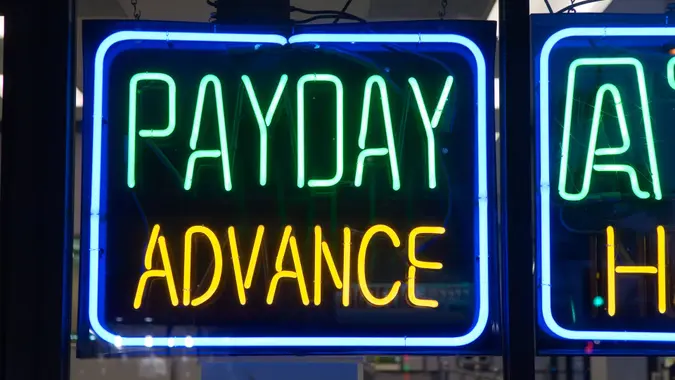 EHStock / Getty Images/iStockphoto
Need some cash quickly but don't want to get ripped off?
Unfortunately, there are many "cash advance" companies that prey on those in need of money before payday, and you can end up paying outrageous fees and interest on those loans.
Learn: What Is the Highest Income Level for Food Stamps in 2023?
With a Recession Looming: Make These 3 Retirement Moves To Stay On Track
But there are a few ways to access cash before your next paycheck that won't break the bank, and they offer more flexibility to repay.
No matter what cash advance option you choose, be prepared to pay fees and interest on the money borrowed.
What Should You Consider When Choosing a Cash Advance Company?
There are many things to consider before getting a cash advance.
"You should consider the interest rate of a cash advance and the fee you will be charged," said Walter Russell, financial planner and owner of Russell and Company. "You must also consider whether this is the best option to borrow money."
Live Richer Podcast: Scamdemic – Don't Fall Victim to These Money Scams
While a cash advance is convenient, it may not be the best option for your circumstances. Russell also said you should ask yourself, "Are there other options to borrow money? … Is this an emergency or can the purchase wait until I save the money up?"
Understanding more deeply why you are borrowing can help you make a better decision. If you truly need to get a cash advance, below are some of the best options available.
What Are the Best Ways To Get a Cash Advance?
While getting a cash advance can be costly, sometimes you need the funds right away. So here are some of the best ways to get a cash advance without breaking the bank.
Credit Card Cash Advance
If you have a credit card available, you might be able to access some quick cash. Credit cards can be used at many ATM machines to withdraw cash, or you can go into your credit card's bank and request a cash advance from your credit card. You also can request a cash advance through your credit card online and have the funds transferred directly to your bank account.
Just be aware that there can be high fees for cash advance transactions on your credit card. There might be an ATM fee, as well as a separate cash advance fee. If you don't pay off the balance before your credit card due date, the interest rate most likely will be high (20% or more).
Cash Advance Apps
There are several cash advance apps that allow you to borrow a small amount of money for up to a week or two. This is a quick way to access a few hundred dollars, though the fees might be on the higher side.
Cash advance apps will let you borrow $500 or more, but some have strict daily limits on the amount of money that can be borrowed.
Earnin is a popular app that lets you borrow up to $100 per day, for a total of up to $750 per pay period. Cash becomes available within one to three business days, but you can pay a fee for instant access.
The fees can vary by app, but usually cost a few dollars per transaction. While this doesn't seem like a lot, if you are borrowing $100 at a time for just a week, a $5 fee actually translates to 260% APR.
Personal Loan
If you have a decent credit score, you might be able to qualify for a personal loan online. Some loans offer lower interest rates than credit cards, and there are many that come with no loan fees (such as SoFi). Funding can be as quick as the same business day you submit your application.
Personal loans are typically unsecured, meaning they are not attached to an asset like your home or a car. This means you are evaluated based on your income and credit history. While some personal loan companies do offer loans to those with less-than-stellar credit, you might end up paying a much higher interest rate on the loan, plus an origination fee.
Family and Friends
While it might be uncomfortable, getting a small loan from family or a trusted friend could help you keep the lights on until payday comes. You might be able to borrow without any interest or fees, too.
But make sure you have the terms written down — a sort of contract for the funds being borrowed. Write down the total amount and your repayment schedule. This will help you avoid any arguments down the road and give the lender confidence that the money will be paid back.
What Are the Worst Ways To Get a Cash Advance?
There are several ways to access a cash advance that can get you into further financial trouble quickly. Here are a few cash advance options that we do not recommend.
Pawn Shop
Pawn shops allow you to put up one of your possessions as collateral for a short-term loan. You can bring in anything, but popular items include jewelry, antiques or other collectibles — or even a vehicle. You agree on the item's value and the pawn shop gives you a cash loan on the spot.
But if you fail to repay the loan, you lose your collateral, and the item typically will be resold at a massive profit. To repay the loan, you usually have to repay much more than borrowed, due to a high interest rate, store fees, appraisal fees and insurance costs for your item. This can be in excess of 200% APR, which is a terrible deal.
Avoid pawn shops if you can.
Payday Loans
Payday loans are short-term loans that offer you instant cash with the expectation that you repay the loan with your next paycheck. These loans are typically smaller (under $1,000), but charge high up-front fees.
If you fail to repay the loan on time, the interest can compound quickly. Some places charge up to $15 for a $100 loan, which compounded over a year is over 300% APR. With the added fees and high interest rates, many borrowers end up paying more than originally borrowed.
High-Interest Personal Loans
While a standard personal loan typically requires a decent credit score, some lenders offer loans to borrowers with little or no credit history or with bad credit scores. These loans can exceed 200% APR and are generally bad deals for consumers.
These loans are similar to personal loans, letting you apply online with no need for collateral. But with up-front fees and high interest rates, they may end up costing you more than your original loan amount. Since these loans can be longer term than a cash advance, the fees can add up in a big way over time.
Bottom Line
Sometimes you're in a pinch and need some cash, but make sure to do your research before borrowing money before payday. There are some decent options out there, such as personal loans and credit card cash advances, but make sure you read the fine print.
Borrowing money in the short term can help you get to the next paycheck; but, if you pick the wrong company, you may enter a cycle of debt that's difficult to escape.
More From GOBankingRates