I'm a Self-Made Millionaire: 7 Bills I've Always Had on Autopay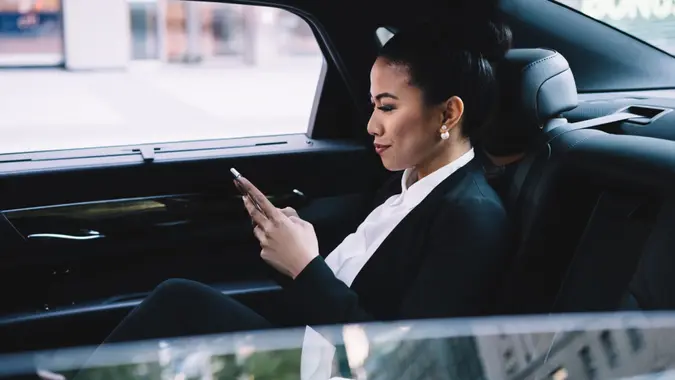 GaudiLab / Getty Images/iStockphoto
With the advent of the internet and online payment portals, it's easier than ever to pay your bills. And with many services offering autopay, you can automate the most important bills in your life.
While many use autopay for bills like a mortgage or car payments, millionaires have a different mindset when it comes to the service. We chatted with a few self-made millionaires to find out what kinds of bills they prefer to automate. Here are seven bills that millionaires prefer to keep on autopay.
Health & Wellness Subscriptions
Health is of utmost importance, especially for those who have won the money game. Spending heavily on health and wellness products and services is well worth the cost. Many of these services can be set up on autopay to ensure they are prioritized and automated.
Michael Wu, millionaire and CEO at Page One Formula, automates all of his health and wellness subscription services. This helps him stay on top of his personal health automatically.
"I automate paying for personal health and wellness subscriptions," said Wu. "A health subscription or a gym membership on autopay ensures a commitment to personal well-being. I never think twice if the expenses are for my health and wellness because I believe I can only perform at my best when I am healthy."
Luxury Memberships
Luxury memberships can enhance your quality of life, especially if you can afford it. Self-made millionaires have more discretionary spending available, so they can afford to keep some luxury bills on autopay.
Ziad Abdelnour, president and founder of Blackhawk Partners, Inc, keeps his luxury memberships on autopay, saving time and keeping the services he loves. "Membership fees for exclusive fine dining clubs and gourmet food and wine societies are automated to enhance my dining experiences seamlessly."
Abdelnour also keeps an appraisal membership on autopay for his unique asset collection. "I'm a collector of antiques and rare artifacts, and I automate appraisal fees to stay informed about the value of my collections."
Pet Care
Pets are an important part of many people's lives, and caring for them costs money. Setting up pet care services on autopay gives peace of mind and makes sure your pets always have what they need.
Abdelnour has exotic pets, and automates the services for caring for these pets. "I have exotic pets, and automating veterinary bills and specialized care expenses is essential to ensure their well-being and unique needs are met."
Property Expenses
Owning property comes with a lot of different expenses, including property taxes, insurance, mortgage payments and maintenance costs. Millionaires with several properties set most of this up on autopay to ensure their properties stay in great shape.
Abdelnour owns several properties, and keeping them maintained is important. He keeps his maintenance service on autopay so he never has to think about it. "I own historic properties and landmarks, and automating expenses related to their preservation and maintenance is crucial for their continued cultural significance."
Business Services
Many self-made millionaires are business owners. Setting up business services on autopay helps streamline business operations.
Michael Chien, self-made millionaire and founder of Karaoke101, keeps his business services on autopay. These tools help automate his business and allow him to focus on growth. "In my journey to financial success, I've recognized the value of digital marketing tools," said Chien. "One bill that's been on autopay for me is SEMRush. It's an indispensable tool for optimizing our online presence and staying competitive in the market. Automating this expense ensures we have continuous access to essential data and insights to drive our marketing strategies."
Adam Garfield, self-made millionaire and marketing director of Hairbro.com, also keeps his online business tools on autopay. "As a marketing director, one tool that's always on autopay for me is Canva," said Garfield. "It's a versatile platform for creating stunning visuals and graphics. This subscription helps streamline our design processes and maintain a cohesive brand image across all our marketing materials."
Utilities
Many of us have our utilities on autopay, and millionaires are no different. Keeping up with utility payments is an important part of daily living.
Sol Kruk, owner of Property Inspection Pros, keeps all of his bills on autopay. "I've always used autopay to keep track of my bills and make sure I don't pay them late," said Kruk. "As part of this personalized method, utilities like electricity and water can be paid for automatically, so that service doesn't stop. I also use autopay for my rent or mortgage payments, which keeps my living situation stable. It includes insurance payments, which are a good way to protect yourself, and monthly subscriptions, which make things easier."
Entertainment
We all love to sit back and enjoy some entertainment every now and then. And with so many subscription services, it's a no-brainer to have them all on autopay. Millionaires think the same way.
Michael Gottron, self-made millionaire and owner of a cleaning business Germicidal Maids, keeps his entertainment subscriptions on autopay each month. "As a self-made millionaire, I've found that automating certain bills can simplify life," he said. "One of the bills I've always had on autopay is Netflix. It's a small expense, but it provides relaxation and entertainment, which is essential for a busy entrepreneur. Having it on autopay ensures I never miss an episode of my favorite shows and allows me to unwind when needed."
More From GOBankingRates