8 Bills You Probably Have That Are a Waste of Money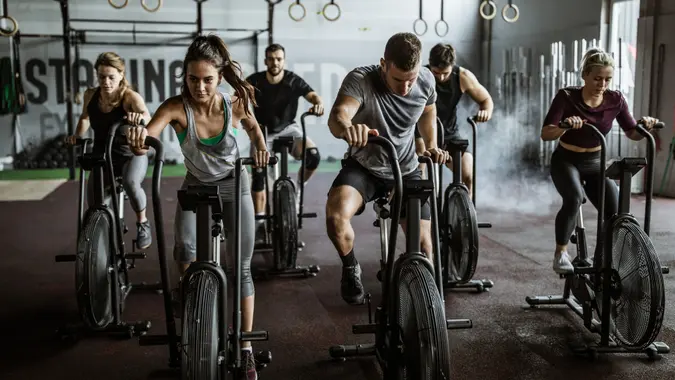 skynesher / Getty Images
That financial budgeting app you dutifully follow gives a snapshot of your finances but maybe not the big picture. Just because you stay on budget and even have money left at the end of the month doesn't mean you're making the best financial decisions.
It's time to take a closer look at that monthly budget to see where you could tighten your belt — without feeling much of a pinch. It's likely you'll find bills that cost more than they should or areas where you're spending money that aren't returning a big bang for your buck.
GOBankingRates asked the experts to weigh in on ways you're throwing away money each month, and they recommended making some changes in the following eight expenses.
Gym Membership
Are you a workout fanatic or do you just like knowing your gym is there for when the workout mood strikes? If it's the latter, it's time to make some changes.
"I understand that a lot of us want to keep fit, and that is why we will often take a monthly gym membership," said Young Pham, a financial advisor and investment analyst associated with BizReport. "How many days, on average, do you actually go? If out of 30 days in a month, you only manage to go to the gym in less than 15 of them, then you do not need an expensive monthly membership. Talk to your gym and see if there are any other short-term and cheaper plans that you can utilize instead of the more expensive monthly plans."
Or, especially this time of year with nice weather, change your exercise strategy.
"If you're paying for a gym membership but not going frequently, I'd recommend canceling it altogether and saving the money," said Jeremy Grant, founder and CEO of Knocked-up Money. "Get moving outside. It's free."
Television Options
People of a certain age will remember the euphoria of the advent of cable television: a clear, consistent picture with no repositioning of rabbit ears required. It's something your kids and grandkids never knew — and now can go without.
"I am a firm believer that nearly everyone is overpaying for television service," said Taylor Kovar, a certified financial planner and CEO of The Money Couple. "If you are struggling with money or don't watch but a handful of channels, you should not be paying for any of the big cable and satellite bundles. If you only watch streaming but have found yourself with a subscription to every platform, set up a rotating schedule to only have one or two services active at a time and then rotate around. You'll stay entertained and save big bucks."
High-Speed Internet
"Contrary to what most people think, you actually don't need a fast internet plan to be able to enjoy all the things you enjoy on the internet," Pham said. "A speed of 25 Mbps should be enough for the average household to meet their internet needs without affecting their experience. So, why would you pay more money for 50 Mbps or 100 Mbps? It won't make any difference to how you consume content on the internet; 25 Mbps will be enough to stream HD videos across multiple devices without any issues."
And, it could be time to do something about that router.
"My internet company charges … $180 per year to rent a router," said Kendall Meade, a CFP at SoFi. "You do not have to rent your router, though. You can buy your own router for as low as $25 on Amazon. Even if you had to get a new router every year, that would save you $155 per year. And I have had the same router for three years. No problems."
Utilities
When it comes to your household gas and electricity, you might have cheaper options than your traditional provider, said Jim Wang, founder of Wallet Hacks.
"If you live in a state with deregulated electricity and gas, you can select your supplier and save money on your utilities," he said. "In Maryland, our utilities are billed through BG&E (Baltimore Gas & Electric), but the supplier can be another company. As a result, companies compete on price — a kilowatt is the same regardless of source — sometimes offering promotions like Amazon gift cards and other incentives."
Phones
Today, your cellphone is your lifeline, but you don't have to pay a big monthly bill, Meade said.
"Some easier ways to cut down on your cell phone bill include setting up an auto payment to receive a discount," she said. "Some harder ways include shopping around and/or negotiating your expense with a lower-tier service offering or considering a prepaid service or new provider."
And stay away from cellphone insurance, in most cases.
"This may be worth it if you have a tendency to drop or break your phone," she said. "However, I did the math for myself and decided to forgo this expense. My phone company charges $17 per month for phone insurance. That is $204 per year."
By the way — that landline you still have?
"Many families could benefit from letting go of their landlines," said Samantha Hawrylack, a personal finance expert and co-founder of How To FIRE, a personal finance blog. "Very few people use them these days, and the cost of maintaining a landline is often not worth it."
Insurance
Experts advise an annual checkup for your home and auto policies. You could be paying more than you need to.
"Many stick with the same home and auto insurance provider for years without shopping around," said R.J. Weiss, a certified financial planner and founder of the personal finance site The Ways to Wealth. "Regularly comparing rates and adjusting coverage to suit your current needs can result in substantial savings."
Credit Card Fees
Your credit card can be costing you, even if you don't carry a balance.
"A lot of travel credit cards have annual fees and, when it's nearing your renewal, call and tell them that you're thinking about canceling the card," Wang said. "They will often offer to waive the annual fee or give you a bonus for using it again, similar to what they offer new customers."
Private Mortgage Insurance
Want to lower your mortgage payment? You could be paying the private mortgage insurance you were required to buy if you didn't have a 20% down payment — and your home might have enough equity that it's no longer needed.
"You can have your house value assessed and eliminate this expense if your value has increased. This could easily save you $200 to $300 a month," said Karl Kulpak, a certified financial coach with the Money Coach Group.
A Final Thought
Looking at these eight areas, you probably have at least one that could use some tidying up. Even if you're wasting just $25 a month, that's $300 in your pocket at the end of one year. For some people, the waste could be far more significant.
More From GOBankingRates