How Much You Need To Live Comfortably in Hawaii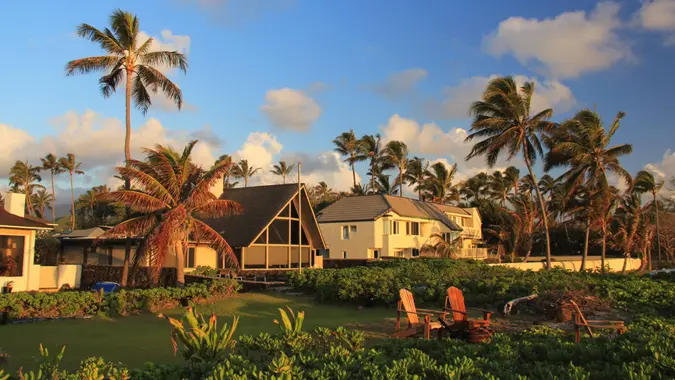 ejs9 / Getty Images
For many people, the idea of living in Hawaii is a dream come true. With beautiful beaches, year-round sunshine and plenty of indoor and outdoor recreational activities, the Aloha State has no shortage of things to do if you can afford it. Plus, it has great healthcare facilities and an array of job opportunities for individuals and families alike.
But Hawaii is also the most expensive state to live in with a cost of living index of 193.3. So, before you pack your bags or start the house hunt, make sure you can realistically afford life in paradise.
How Much Money You Need To Live in Hawaii
"The amount of money needed to live comfortably in Hawaii can vary depending on factors such as location and lifestyle," said Ben Waterman, co-founder and COO of Strabo, a global consumer portfolio tracking platform. "Generally, experts suggest that a comfortable living in Hawaii would require an annual income of at least $80,000 to $100,000 for a single person and around $125,000 to $150,000 for a family."
You'll need to consider various other factors, too. In particular, your financial goals and unique circumstances can significantly impact how much you need to live comfortably. Consider not only your income, but also your current debt load and your short- and long-term goals, like retirement or saving up for a down payment on a house.
Keep in mind that certain things like utilities, health insurance and entertainment can cost more in Hawaii than they do in other states. While $100,000 or so a year might be enough to afford you a comfortable lifestyle on the mainland, your money might not go as far in Hawaii.
"With an income of $100,000, you'll need to consider more affordable housing options, such as renting in less expensive neighborhoods or exploring options outside of popular tourist areas," said Justin Albertynas, CEO of RatePunk. "Healthcare costs in Hawaii are a bit higher than in other states; remember to account for that. For a higher income of $150,000 a year, you can afford a more comfortable lifestyle in Hawaii (middle class)."
Median Household Income in Hawaii
The median household income in the state of Hawaii is $83,102. This number changes based on county, however. According to Hawaii census data, here's the median household income in four of the biggest counties:
Maui County = $80,754
Kauai County = $81,971
Honolulu County = $87,470
Hawaii County = $67,075
Housing Costs in Hawaii
One of the biggest expenses people face is housing. Hawaii's housing score is 313.5, making it the highest in the country by far. "The cost of housing in Hawaii is significantly higher than the national average, with limited availability driving up prices," said Waterman.
If you're looking to buy property, here's an example of the average home value based on location, according to Zillow:
Honolulu = $799,779
Waipahu = $868,546
Hilo = $492,421
Pearl City = $939,901
Waimalu = $858,862
Kahului = $935,158
Rental prices are also relatively high. According to Numbeo, the average cost of a one-bedroom apartment in Honolulu is $2,174.74. A three-bedroom apartment in the same location costs closer to $3,881.82.
Albertynas corroborated this by adding, "Housing is a significant factor, with rental prices in popular areas like Honolulu averaging around $2,500 to $3,500 monthly for a one-bedroom apartment. Buying a home in desirable locations can range from $500,000 to over a million."
Transportation
Transportation is another big expense to factor in. "Transportation costs can also be substantial due to the need for a car and higher fuel prices," said Waterman. Numbeo lists the average cost of gasoline in Honolulu at $4.99 per gallon.
You may be able to cut costs by using public transportation like shuttles, rideshare or buses. Options depend on which island you're on, though.
Groceries
Groceries also tend to be pricier compared to other areas of the country.
"In addition to housing, groceries in Hawaii are way more expensive compared to the mainland United States due to the state's reliance on imported goods," said Albertynas. "On average, you can expect to spend approximately 30% more on groceries in Hawaii."
Utilities
While some households end up paying only a few hundred dollars a month on utilities, others have substantially higher bills.
According to one study, residents of Hawaii spend 44.96 cents per kilowatt hour. The average monthly cost of electricity is $403.29. And don't forget about other common bills like water, gas, internet, cable and sewer.
Taxes
Hawaii's state sales tax is lower than many other states at just 4% — 4.5% in certain municipalities. However, there's also income tax to consider. Hawaii's income taxes are based on your income and filing status. The lowest income tax is 1.40%, while the highest is 11%.
Healthcare
The cost of healthcare depends on a variety of factors, such as the individual's age, health insurance type, location and preexisting conditions. A typical health insurance plan with eHealth costs residents of Hawaii anywhere from $224.30 to $351.88 a month. Meanwhile, different medical procedures, medications and treatments can also cut into your budget.
Entertainment
When it comes to entertainment, there are always ways to cut costs. For example, you could go hiking, swimming or surfing without having to spend an arm and a leg. Other forms of entertainment — such as going to the movies, dining out or taking an island tour — can add up quickly.
Can You Afford To Live in Hawaii?
Think about your lifestyle, interests, hobbies and preferences. Try to get a feel for how much you currently spend on entertainment and other areas of your life. Then, compare it with whichever city you're considering moving to in Hawaii.
This can give you a better idea of how much you need to maintain a comfortable standard of living in the Aloha State.
More From GOBankingRates