Cut Your Living Expenses in Half By Moving Abroad to These 3 Locations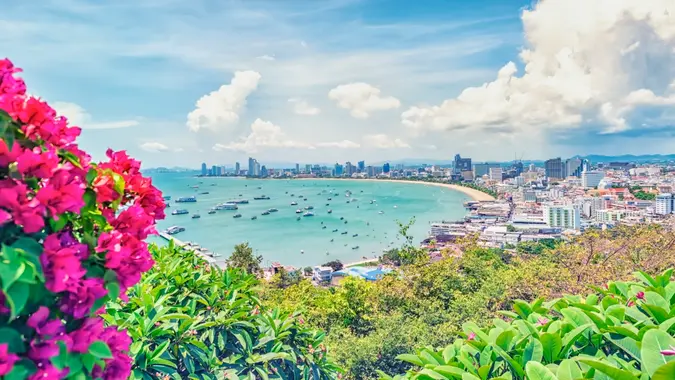 StockByM / Getty Images/iStockphoto
If you've ever dreamed of living abroad, here's one more reason to do it — if you choose the right place, you can live well for significantly less than you can in the States. And with an increase in the availability of "work from anywhere" jobs, now may be a good time to take the plunge.
The current average cost of living in the U.S. is $66,928 per year, according to the latest stats from the Bureau of Labor Statistics. But if you move to one of these locales identified by Forbes, you can get by on half as much — or less.
Here's a look at the best places to move abroad if you want to cut your living expenses in half.
Medellin, Colombia
With great weather year-round, Medellin is an ideal destination for anyone who craves the outdoors but still wants the best of what city life has to offer. That great weather also cuts down on heating and cooling costs — the average expat spends just $55 on utilities per month, Forbes reported.
It's easy to navigate the city via public transit, so you can ditch all of the expenses that come along with having a car. Plus, there's no shortage of things to do with a plethora of parks, libraries, museums and nature reserves to explore.
In addition to saving on utilities and transportation, you'll also save big on housing — the average two-bedroom apartment in a central area rents for $550, and you can find even cheaper housing in a less central area. Compare that to the $1,885 per month the average American household spends on housing.
Take Our Poll: Would You Move for a Job That Paid You a $10,000 Signing Bonus?
Pattaya, Thailand
If you love the beach, Pattaya may be your ideal international destination. The resort town is located two hours southeast of Bangkok and offers no shortage of beaches and beach activities, including windsurfing, water skiing and snorkeling. Thrill seekers will also find plenty to do, with bungee jumping, skydiving and go-karting all easily accessible. Or if you prefer a more laidback activity, there are also plenty of golf resorts in the area.
Housing is very affordable — you can rent a two-bedroom condo just minutes from the beach for around $500, Forbes reported. Food is also more affordable, so expect savings of about 40% compared to what you spend in the U.S.
Getting around is also cheap — there's no need for cars, and if you use a mix of rideshare services and public transportation, you can expect to spend around $115 per month on transportation. That's a significant savings from the $913 per month that the average American household spends on transportation.
Forbes estimates that you could cover your basic living expenses in Pattaya for around $1,400 per month.
Chitre, Panama
Those seeking a slower pace of life while still maintaining access to plenty of culture and amenities can find it in Chitre. Located on the Azuero Peninsula, the city is known for its colonial charm. It's easy to navigate much of Chitre's central area on foot, where you'll find parks, small shops, food stands and bakeries.
Because this quiet beach town isn't a popular tourist destination, prices are low. Rent for a two-bedroom home ranges from $450 to $800 per month, and if you shop for your groceries at the local markets, you can spend as little as $100 per month, Forbes reported. You can get by without a car, but if you do choose to have one, expect to spend about $60 per month on gas and maintenance. You will want air conditioning, so be prepared to spend about $125 per month on utilities.
All in all, the monthly cost for basic necessities in Chitre will range from roughly $1,200 to $1,600.
More From GOBankingRates