Dear Graduate, Here's What To Know About Your Money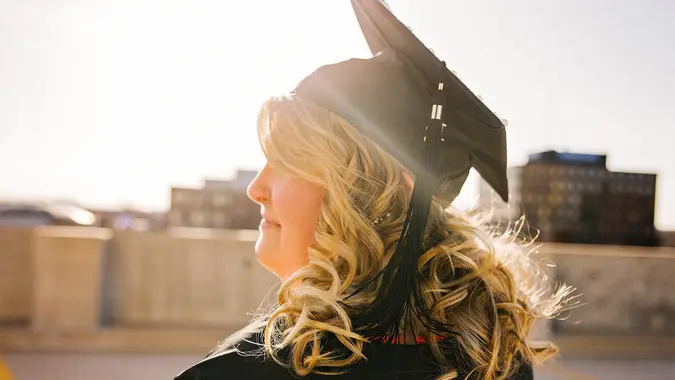 ©Unsplash
Recent high school and college graduates face a plethora of challenges. That is especially true with economic uncertainty persisting, with many products being in short supply or not being available at all. However, there are also some opportunities right now that previous generations didn't have.
Check Out: Costco, Amazon and 16 Other Companies That Raised Their Minimum Wage to $15 (or More)Fnd Out: Here's What the US Minimum Wage Was the Year You Were Born
For the most part, common money advice still applies, even during these uncertain times. Both high school and college graduates can benefit from following sound money advice and exercising good money habits.
We asked some of the best money experts to give us their tips new graduates can follow to help navigate money challenges.
More Tips: What Recent Grads Should Do With Their Money Now
High School Graduates: Accept Free Money First
Graduating from high school is an exciting time in anyone's life. Not only is the graduation itself exciting, but for many, it also means starting a new chapter at college. Money might be the last thing on your mind, but there are some important things to think about.
Be Aware: 35 Useless Expenses You Need To Slash From Your Budget Now
Firstly, accept any and all free money. This doesn't mean someone giving out free piles of cash on the street (although that would be nice). No, "free money" in this case refers to scholarships and grants.
"Accept free money first," said Annette Harris, financial coach and founder at Harris Financial Coaching. "When applying for financial assistance, accept scholarships or grants first. This money does not have to be repaid and does not come with interest. If loans are needed, only accept the minimum amount required."
High School Graduates: Borrow Less Money
Most of us have to borrow some amount of money to attend college. The cost of tuition has been rising quickly, increasing the need to borrow. Nevertheless, you shouldn't borrow more money than you have to — another point Annette Harris emphasized.
"When you receive the loan offerings after completing the FAFSA, you do not have to accept the entire loan amount. You can accept partial loans, the whole loan, or decline the loan if scholarships or grants can cover costs."
Stop Now: 17 Biggest Budgeting Mistakes You're Making
Needless to say, you will have to borrow enough money to cover your tuition. But if the loan turns out to be more than you need, don't accept the full amount. After all, you will have to pay it back — with interest.
College Graduates: Start Saving Early
Again, these early years are those in which you may want to think about anything but money. However, it's important to do so because setting yourself on the right path early in life can lead to financial security later. And because of compound interest, there is no substitute for starting your retirement savings early.
Helpful: 50 Easy Things You Should Do To Save Money
Dennis E. Nixon, chairman and CEO at International Bank of Commerce, emphasized the importance of saving early. "Although it seems a long way out, putting money aside for retirement sooner rather than later is cheaper and more manageable if you begin in your early 20s. You can start by taking advantage of your workplace benefits like a 401(K)."
Nixon also pointed out the importance of taking advantage of an employer match if your employer offers one. You might hear this referred to as "free money." That's because you don't have to do anything extra to take advantage of it (other than opting in if it isn't automatic). Without a doubt, employer matching is one of the best tools you have at your disposal the jumpstart your retirement savings.
More Tips: 37 Life Hacks That Will Save You Money
College Graduates: Start a Budget
Seemingly everyone is at least vaguely aware of the benefits of budgeting, but nowhere near everyone actually does it. For many of us, that is a mistake. Kevin Walker, publisher at CollegeFinance.com, provided some insight on how many people in college are budgeting. "CollegeFinance.com surveyed over 1,000 people to understand the financial mistakes they believe they made as college students, as young professionals, and when moving out for the first time, as well as what they've learned from these "failures," especially in light of the COVID-19 pandemic."
The result? Just 47% of respondents said they used a budget while in college. "Roughly half of young people acknowledged spending more money than they realized, not investing enough, and saving too little in the early stages of their careers," Walker said.
This is exactly why budgeting is so important. It helps you identify the crux of the issue and develop a plan to spend your money more responsibly.
Budgeting 101: How To Create a Budget You Can Live With
High School or College Graduates: Live at Home
This tip can be relevant to either high school or college graduates depending on your situation. It applies to high school graduates who will be attending a college near home as well as if you are a college graduate just starting your career. Moswen James, enrolled agent at Get Help Tax and Bookkeeping, pointed out the benefit of living at home.
This move may not be the "cool" or fun thing to do, but the financial benefits can more than pay off in the long run. For those just starting college, it allows you to avoid room and board. For college grads, it may allow you to avoid paying rent after college (if your parents don't charge rent). In the latter case, you'll have a lot more money to pay off your student loans and start investing.
More From GOBankingRates
Last updated: June 11, 2021