The New Normal: Do You Spend More Than 30% of Your Income on Rent?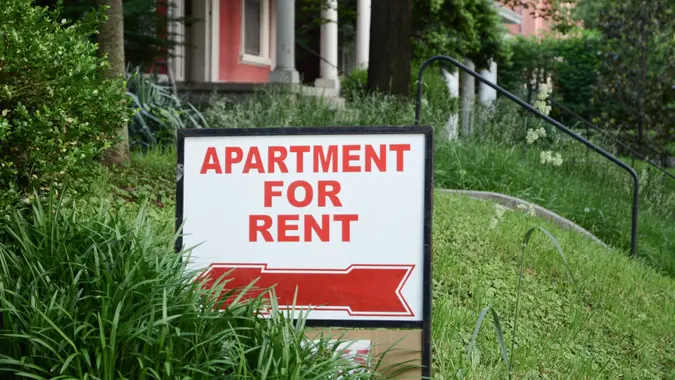 dcsliminky / Getty Images/iStockphoto
It's advice you may have heard from your parents, a financial advisor, maybe a talking head on a personal finance TV show: Don't spend more than 30% of your income on housing.
Long considered to be a wise upper-spending limit for your rent or mortgage (plus associated bills like utilities and homeowners' insurance), 30% is increasingly tough to stick to these days. In some U.S. metro areas, it's a distant memory.
Moody's Analytics has been tracking rent-to-income ratio (RTI) for 25 years. In 2022, the share of income needed to rent an average-priced apartment in the U.S. topped 30% for the first time in the study's history.
That made the U.S., as a nation, "rent-burdened" in economic parlance, with RTI climbing as high as 30.8%. Despite some relief in recent months due to slowing rent growth and relative financial stability for many households, U.S. RTI stood at 30.2% at the end of the first half of 2023, Moody's reported.
Take a closer look at cities with major rent burdens and what to expect moving forward.
Cities With the Biggest Rent Burdens
Some cities have it worse than others, of course.
"New York, Miami, Palm Beach, Fort Lauderdale … they are all extremely rent-burdened," said Lu Chen, senior economist for Moody's. "Lower-income families are paying 50% or more of their income, for lower-priced rental units."
Numbers in these and some other metro areas are even worse. In New York City, consistently the most challenging metro area for RTI, renters with lower annual incomes (about $38,000) are spending a whopping 76.4% of it on housing.
Other metro areas with particularly high RTIs for low-income renters include Palm Beach, Florida (67.2%); Miami (66.9%); Fort Lauderdale, Florida (64.3%); Los Angeles (57%); Orlando (55%), Florida; Flagstaff, Arizona (53.4%); Myrtle Beach, South Carolina (52.1%); Tampa-St. Petersburg (51.9%); Boston (51.4%); Naples, Florida (51.3%); and Sarasota, Florida (50.7%).
Things aren't much better for renters with higher incomes. Overall RTI as of this spring stood at 66.9% in New York City, putting the Big Apple in a league of its own. Other sky-high overall RTIs included Miami (42%), Fort Lauderdale (36.8%), Los Angeles (34.7%), Palm Beach (34.2%), Northern New Jersey (33%) and Boston (32.8%).
For perspective, U.S. RTI in 2000 stood at about 23%. In 1999, only one metro area — New York City — topped 30%. The numbers have trended upward ever since.
Chen explained that the latest surge has been fueled by increased interest rates, which have kept many potential homebuyers on the sidelines. That in turn has led to increased demand for rentals, which has contributed to rent increases outpacing income increases.
Is the 30% Figure Still Relevant?
The 30% guideline sprung from government housing regulations way back in the 1960s, and it's exceedingly difficult for many of us to hit. So, should we even consider it as a worthwhile goal anymore?
"It's relevant and irrelevant at the same time," Chen said. "It can be a nice gauge for us to understand how much we should be budgeting. But it can also be irrelevant, depending on who is looking at the 30%."
To explain, Chen offered San Jose, California, as an example. Northern California's largest city has a median income of about $100,000. For people who make double that or more, the 30% figure doesn't mean a whole lot.
Bring in $200,000 a year, and the 30% translates into about $5,000 a month, or $60,000 a year. This means that person could hit or exceed 30% and still have a good-sized buffer.
If you make $50,000 a year, 30% means $1,250 a month, which leaves just under $3,000 to cover everything else and really limits your housing options in San Jose.
"For lower-income people, that 30% is significant," Chen said.
She added that people in this position essentially have two choices: either sacrifice higher and higher percentages of annual income to stay put or get pushed out of the market. Chen cited Manhattan as one place where many young people are suffering the latter (though demand remains high, and new waves of young people are taking their place).
"We are seeing a lot of outward migration," Chen said.
Average monthly rents in New York City soared to a record $4,344 in 2022.
Chen and Moody's don't predict any significant drops in national RTI in the near future. An ongoing surge in inventory is expected to temper rent growth, but strong demand and an improving labor market will likely keep numbers flat.
"We'll be stuck around 30% for the rest of 2023," Chen said.
More From GOBankingRates