10 Finance Fixes From Suze Orman That Will Help You 'Control Your Future'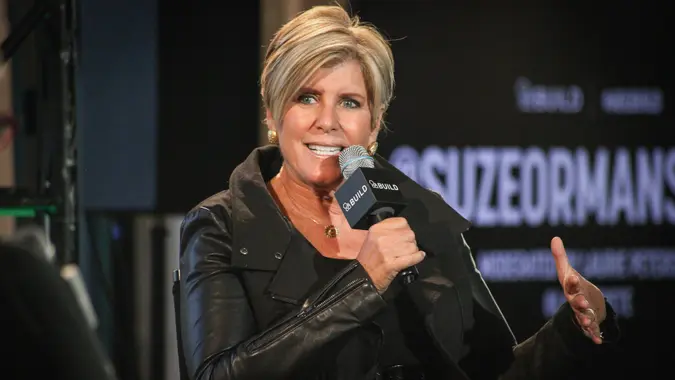 Mediapunch / Shutterstock.com
Fixing your financial affairs might involve some fundamental habit changes, but as financial guru and Emmy-winning TV host Suze Orman says, getting your financial life back on track isn't about money — it's about believing that you "control your future."
However convenient it might be to frame the sorry state of your finances on outside influences, only you can control and create your future. The first step in taking control is to make a commitment to yourself by kicking your guilt to the curb.
"No blame, no shame" is the foundation of Orman's "10 Tips for a Fresh Financial Start." When people are able to lose the guilt and declare that everything is under control, they can start fresh and get down to the foundation of solving their spending and savings woes.
Orman has a knack for helping people find new beginnings through sensible and practical financial advice that is always rooted in optimism. Writing at Oprah.com, here are Orman's suggestions for tackling your money stress and taking control of your finances.
1. "No Blame, No Shame"
Wallowing in guilt doesn't solve much. Losing past regret is the key to moving forward and making a commitment to arrange your affairs, solve your financial problems and correct unhealthy habits. You don't have to regret the past and you should shut the door on it.
2. Time for a Deep Dive
With your mind guilt-free, it's time to sit down and conduct a clear, accurate and informative assessment of your financial state, as distressing as that sounds. By mapping out exactly where your money is going, you can figure out ways to keep more of it. Orman advised tracking your transactions more closely by setting up online banking (if you haven't, yet).
3. Tackle Credit Card Debt
Credit cards are silent killers and growing debt by paying for interest on depreciating items is a losing game. You will always be better off paying off a card, but if that's not an option, moving your balance to a low or 0% introductory interest rate card and paying it off quickly is always recommended. You should be aiming to grow your wealth, not bank profits.
4. Evaluate Your Savings Habits
Finding "hidden money" — spending you could easily cut — and setting goals can change how you save and spend. If your income doesn't allow for any frivolous spending, buy cheaper product alternatives, and try to cut down on your utility bills by increasing energy efficiency throughout your home. If you're looking to buy a car, steer your thinking toward a used vehicle rather than new, regardless of the market.
5. Make Your Money Work for You
Keeping money to pay for life's essentials, build an emergency fund or sock away for a downpayment are all considered savings, but you'll want to think about long-term investing, too. Although the beating the stock market has taken over the past year has made many would-be investors wary when it comes to long-term investing, there are plenty of inflation- and recession-proof stocks available to the tentative.
6. Improve Your Credit Score
If you have excellent credit — a FICO score above 700 — you won't need to worry about getting approved for more if need be. It will be challenging to secure credit cards, auto loans, mortgages and refinancings if your score is low, your income unstable and your debt unmanageable. Cancelling credit card debt and paying your bills on time are the starting steps to building reliable credit in the future.
7. Invest in Your Retirement
Successful retirement investors have to be in it for the long haul — and the only way to do that is to buy and hold. "In your 20s and 30s, aim to keep 80 percent in stocks and just 20 percent in bonds; you have time to ride out stock swings," stated Orman. "As you age, slowly ramp up the percentage in bonds; in your 50s and 60s, consider keeping 40 percent or more in bonds to help buoy your portfolio when stocks are slumping."
8. Asset Diversification
Diversifying your assets is a common sense approach to investing. If your portfolio is made up of several asset types in different sectors and markets, with varying maturity lengths, you'll be able to weather any unexpected storm. If you are planning for retirement, make sure your 401(k) isn't full of company stock. A mix of exchange-traded funds (ETFs) and mutual funds will help you find that sweet spot between returns and risk.
Take Our Poll: Are You Concerned About the Safety of Your Money in Your Bank Accounts?
More: 7 Ways Baby Boomers Are Wasting Money in Retirement — and How To Stop It
9. A Home Is Not a Retirement Investment
As Orman noted, don't rely on your home as an investment that will fund your retirement. Simply enjoy it as a place to live and enjoy. Certainly, houses are assets that appreciate, but unless you have a plan to sell within a set period of time, they have more important primary purpose (shelter), they don't generate revenue — unless you rent to a tenant — and they may not provide you with the huge return on investment you expect.
10. Provide for Loved Ones
Controlling your future means saving money to provide security for you and your loved ones. Having insurance coverage, up-to-date estate planning documents filed and an eight-month emergency fund should be part of your financial fresh start. Term life insurance is sufficient and covers you for a set time, resulting in a lower rate than other life insurance policies. Buying term life means you can afford a larger death benefit and greater security for those you leave behind.
More From GOBankingRates