Renting on Your Own for the First Time? Here's Your Financial Checklist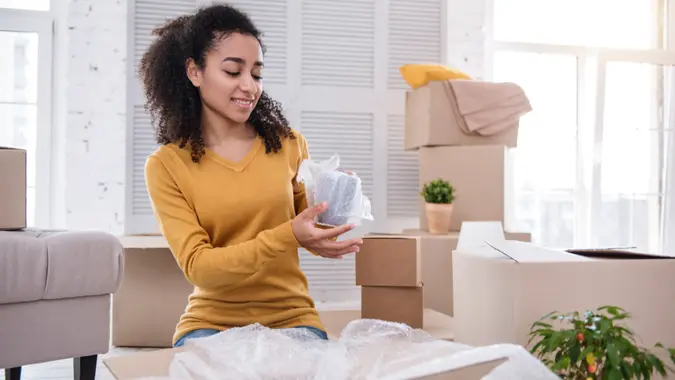 Dmytro Zinkevych / Shutterstock.com
The prospect of renting a home or apartment on your own for the first time can leave you excited yet apprehensive. After all, you'll not only be embarking on a brand new chapter in life, but you'll also have to bear the financial responsibility for all the expenses that come along with renting. 
2022 Financial Forecast for Renters: Will Rents Go Down Anytime Soon?
Good To Know: 10 Hidden Costs of Buying a House
Besides the monthly rental payment, there are plenty of other one-time and monthly expenses you'll need to budget for. Here's a rundown of potential expenses to keep in mind as you become a first-time renter. 
Application Fee
"One financial item that first-time renters overlook is the application fee," said Justin Pogue, author of Rental Secrets. "This fee is usually between $35 and $50. It covers the cost of processing your application and performing credit/criminal background checks. It sounds pretty simple and straightforward. So why is it such a big deal that new renters overlook this cost? 
"Renters will likely be applying at multiple apartment communities and with multiple property management companies. Each time the renter applies there's a new application fee to pay. As the number of applications grows, renters can easily spend the money they'd reserved for the security deposit or more."
Security Deposit
"Nearly all landlords will require some sort of deposit that they hold for damage incurred during your tenancy," said Seth Connell, a financial coach. "If there is no damage, this deposit is supposed to be returned to you. If there is some damage and your deposit is not completely used, the remaining balance is returned within a few weeks after vacating." 
Austin Weyenberg, the founder of The Logic of Money, said that this deposit could be equal to one month's rent or a set dollar amount, such as $300 to $1,000. 
See: Here's What You Can Get in These 5 Smaller Cities for the Price of an Apartment in New York
First and Last Month's Rent
"Not all landlords will require this," Connell said. "Sometimes commercial complexes won't require it to keep the barrier to getting residents low. But smaller rental firms or landlords renting out property on their own are more likely to require this, due to their more limited financial resources. They will want to have some security that the rent will be paid from one source or another, and unlike larger commercial real estate complexes, they don't have large amounts of cash on hand to pay for those expenses in the event someone cannot (or decides not to) pay."
Renters Insurance
"Many commercial complexes require a renters insurance policy for all tenants," Connell said. "Most of the time, their commercial insurance will not cover your contents; only the real estate itself. Even a homeowner renting out a house with a homeowner's policy may have a policy exclusion for a tenant's personal property. A renters insurance policy is a wise buy regardless to ensure that in the event of a catastrophe, you can be compensated for the loss and replace your things."
Weyenberg said that renters insurance typically costs between $8 to $25 per month. 
Utilities
"Some rentals include utilities, but this seems to be more of an exception than the rule. For commercial complexes, buildings with multiple units sometimes have water bills divided up among the units based on the number of occupants," Connell said. "Others charge a flat rate based on the number of occupants on the lease. Whatever the calculation is, ask for some recent utility bills if you can." 
Parking and Storage Fees
"Larger commercial complexes may have garages or reserved parking spots for residents," Connell said. "But this may come at an additional charge. If you want a spot that is close to your door, determine what the extra cost is and if that fits into your housing budget. If you need storage space, some places have units on-site that you can also pay for with an additional monthly fee." 
Laundry Costs
"If your rental does not have washer and dryer hookups, you will have to find alternate arrangements to clean your laundry," Connell said. "Sometimes these places will have a laundry facility on-site that is coin-operated. You will likely need quarters on hand to pay for this unless the facility is modern enough to use a rechargeable card or take your debit/credit card. If there is no on-site laundry facility, you will have to find a laundromat nearby and pay there to clean your clothes, linens, towels, etc."
Community Fees
Weyenberg said these are also sometimes called amenity fees and can require a one-time payment of $200-$500. Community or amenity fees can apply to an amenity in a common area or an amenity in your apartment unit. Common-area amenities might include a dog-washing station or a fitness center, while in-unit amenities may include video intercom systems or smart thermostats.
Internet and Streaming Services
"You're on your own now, which means no longer piggybacking off your parents' monthly Internet and Netflix bills," said Mark Jimenez, certified financial planner and the co-founder of SensibleDollar. "TV streaming is bound to cost you around $12 to $20 monthly, but can be reduced dramatically if bundled together with your Internet, totaling from $25 to $80 per month."
Pet Deposit
"If a renter is planning to live with a pet, assuming the rental community allows it, there is typically an amount charged for pet rent or a pet deposit," Pogue said. "Some communities actually charge both. Pet rent could be as high as $75 per month or more, while pet deposits can be $300-$500."
More From GOBankingRates