9 Frugal Habits To Help You Afford Skyrocketing Rent On The Average Wage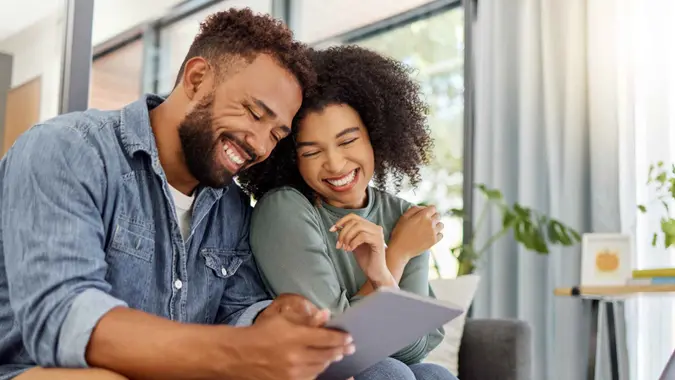 PeopleImages / Getty Images/iStockphoto
If you've experienced a recent rise in rent costs, it can put a squeeze on your finances — especially if you are already living paycheck to paycheck.
The good news is that if you make a few adjustments, you just might be able to find the extra money in your budget. 
Here are nine frugal habits to help you afford skyrocketing rent on the average wage.
Buy in Bulk
"One of the areas that many people have been struggling with saving on is groceries, the cost has gone up a lot over the past few years," said Kendall Meade, certified financial planner at SoFi.
"One of the biggest savings for me personally has been shopping in bulk, but many people struggle to do this because it can be a bit of additional work. A lot of times people think that if you have a smaller family, it is not worth it to buy in bulk. However, I do this for just my husband and I. I am able to separate out meat in freezer bags so that it can last us all month! By implementing this strategy I was able to cut my grocery bill by 25%."
Consider Grocery Pickup
"I know this may sound counterintuitive because sometimes there can be a small charge to do grocery pickup," said Meade. "However, when I do grocery pickup, I only get what I have planned on my list. This allows me to avoid impulse purchases and only get the items I truly need! You can also see your total before you get to checkout allowing you to make swaps to stay under your budget."
Meade said she found that when shopping in a store, her average grocery bill is $150-200 per week. However, if she uses grocery pickup, her total is closer to $100. "This is because I only order what we need and I can see prices and my total as I shop," she said.
Meal Plan and Prep
Meade said meal planning and prepping can be a helpful frugal habit because it can help you ensure that no food goes to waste. She said that while this habit does take some work on the front-end it may actually save you time overall. 
For example, you typically plan and prep a weeks' worth of meals, which means that your biggest task at mealtimes is heating your food if needed. That means you can skip the cooking and cleanup that you would have to do if you chose to prepare your meals day by day. 
Use Couponing or Rebate Apps
"I know you are probably thinking, 'I don't have time to coupon,'" Meade said. "But with everything digital now it can be super easy. Your store may have its own app with digital coupons you can clip. There are also rebate apps, such as Fetch Rewards, which allow you to get money back just by scanning your receipt."
Implement a Waiting Period for Purchases
Meade said the waiting period is up to you but suggested 24 hours for smaller purchases or up to a month for larger purchases. "This allows you to think over the purchase and make sure you really want/need it," she said. "In the meantime, you can see if there is a better deal out there too."
Unsubscribe From Shopping Emails
"Many people are hesitant to do this because they don't want to miss out on a sale," Meade said, "but sometimes these sales cause us to buy things we really don't need, so it costs us more overall."
Remove Shopping Apps From Your Phone
Meade also said you can remove your credit card from the app if you don't want to remove the apps from your phone. "This puts a little bit of friction between you and making the purchase which gives you time and effort to think about if you really need the item," she said.
Consider Shopping With Just Cash
Meade said that studies have shown that you are more likely to spend less if you make a habit of using cash versus a credit card. This is because it is more painful to hand over the cash than to swipe your card.
Reduce Your Subscriptions
"According to a survey, people estimated that they spend $86 a month on subscriptions, but when they reviewed their spending, it was closer to $219 a month,' said Meade. "That's over 2.5x what they thought they were spending. It is easy for a bunch of small $10 subscriptions to add up." 
Meade said it is important to review any free trials that may have expired that you intended to cancel and also any subscriptions that you no longer use. "If you have five different streaming subscriptions, you may narrow it down to one or two," she said. "To really save you can try cutting out all entertainment costs. Instead of buying streaming services you could use free services and leverage your local library for movies/ books."
More From GOBankingRates