Grant Cardone Says This Is the Magic Number You Need To Hit in Annual Earnings To Achieve Financial Freedom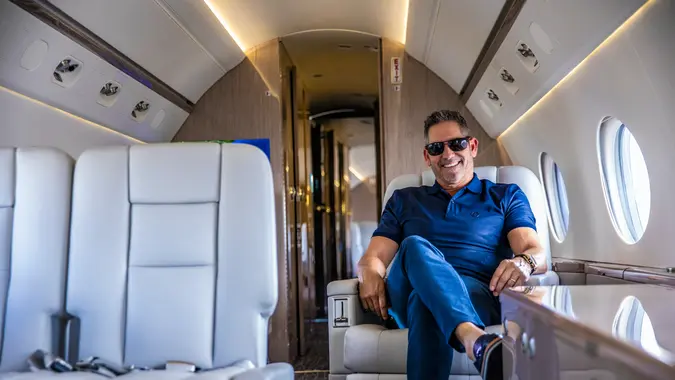 ©Grant Cardone
Inflation is making it harder and harder to feel "rich." A salary that may have afforded you financial freedom just a few years ago may no longer be enough to provide you with the standard of living you want. And while the amount of money you need to earn to be wealthy will vary greatly depending on where you live and your personal circumstances, is there a target number you should be aiming for?
GOBankingRates asked Grant Cardone, serial entrepreneur and author of "The 10x Rule" and "The Closer's Survival Guide," about the ideal income for financial freedom — here's what he had to say.
Aim for $250,000
Bringing in a quarter of a million dollars each year might be a lofty goal, but it's how much Cardone believes you need to be earning to be rich in 2023.
"The number to have some kind of freedom is at least $250,000 a year," he said.
Cardone acknowledges that most people will not be able to hit this goal based on their salary alone, which is why it's so important to have additional income streams.
"If they're paying you $90,000, you have to figure out how to pick up some other money in order that you have money to invest," he said.
Do the Math
If your goal is to bring in $250,000 a year, figure out how much you need to earn outside of your salary and break it down to a smaller goal, Cardone said. If your salary is $90,000, that means you need to earn an extra $160,000 a year. That breaks down to an extra $13,333 per month, $3,077 per week or $438 per day.
"You only have so many days, you only have so much time," Cardone said. "The math tells me what I need to do or what I need to sell or what I need to collect or what I need to raise. Do the math. Don't follow your passion or your love or even what you're good at. Simply, follow the money."
Ask For Help
If your goal is to get an extra $438 per day, that would mean you'd need to get roughly $44 per hour based on a 10-hour day. Cardone said that the best way to get that extra $44 is sometimes simply just to ask for it.
"I would go and ask somebody for $44," he said. "I wouldn't build a product. I wouldn't make anything. I would go set up a fund online and say, 'Who on planet Earth out of 8 billion people would give me $44?'"
Another good tactic is to promise a return on investment. For example, you can promise every person that lends you $44 that you'll give them $100 back in 10 years. If you invest that $44 wisely, that's a promise that you'll surely be able to deliver on.
"Now if you promise people something and you don't do it, you probably will never be able to do it again, which means you will never be wealthy, you'll just be a scammer," Cardone said. "The smart thing to do would be to give them $100 back in six months so they'll support you again. People are the most valuable resource."
Change Your Money Mindset
Cardone acknowledges that bringing in $250,000 a year isn't easy, so you have to truly believe in the goal of financial freedom if you want to achieve it.
"Nobody will do any of that if you think money will not change the quality of your life," he said. "While it might not make you happy, it is the only thing that can improve the quality of your life."
More From GOBankingRates