How To Cover Funeral Costs Without Insurance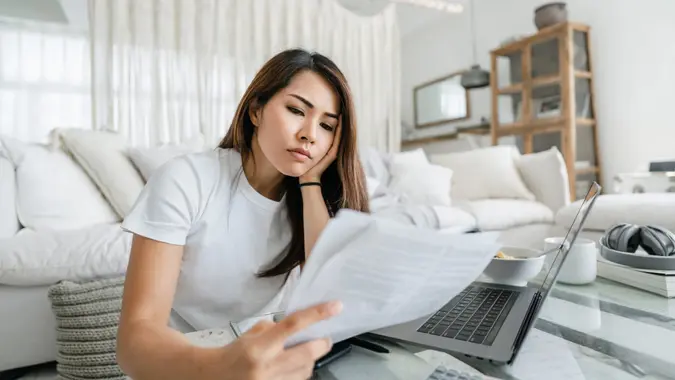 AsiaVision / Getty Images
When a loved one passes away suddenly, it can be devastating to discover that they had no insurance or dedicated funds set aside to pay for the funeral. Unfortunately, funerals are not cheap, and there's another issue: "Although it might seem tacky or feel a bit jarring, most funeral homes require payment before services are performed," said Greg Johnson, former funeral director and personal finance expert at Club Thrifty.
Find Out: What Happens to Social Security When You Die?
High Costs: Can You Afford To Die in Your State?
According to the National Funeral Director's Association, the median cost of a funeral with viewing and burial as of 2019 was $7,640. However, costs can creep up much higher depending on the arrangements and options you choose. If you don't happen to have thousands of extra dollars in the bank to put toward this expense, here are some other ways to handle funeral costs without insurance.
The Economy and Your Money: All You Need To Know
Know Your Options
The first thing to understand is that you don't have to pay a "sticker price" for a funeral; you have options.
"Thankfully, you have the ability to control many of the funeral costs," Johnson said. "First and foremost, choose funeral goods and services that you can afford. The funeral home is required to give you an itemized price list when you start discussing services. Look through it, and choose the services that meet your needs but fit within your budget."
Be Aware: 17 Surprising Ways Penny-Pinching Costs You More
Direct Cremation or Burial
If the cost of a traditional funeral is too expensive, you may want to consider requesting a direct cremation or burial.
"Direct cremation is the cheapest way to handle a funeral without insurance," said Brad Cummins, owner/principal agent at Insurance Geek. "A small memorial service where the ashes are honored or disposed of can be held in a home with only food to be provided. Some of the most touching tributes are done with ashes being disposed of in the favorite places individuals spent their time, or where they wished to go."
You can also request a direct burial, which means the body is not embalmed and there is no visitation, viewing or wake before burial. A direct burial also forgoes an expensive casket in favor of a simple container and does not include a formal memorial service.
See: 7 Major Emergencies That Could Bankrupt You
Use a Credit Card
If you have a credit card with enough credit to pay for the funeral expenses, you may decide to use it. In May, the average credit card interest rate (when only counting cards that are assessed interest) was 16.30%, according to Federal Reserve data released in August. Credit cards that are in a 0% APR introductory phase or that have a low-interest rate are best if you choose this option.
"Since most funeral homes require payment upfront, you may need to look for credit elsewhere," Johnson said. "Using a credit card is likely the easiest route, provided you have a plan for paying it off."
The Standard Emergency Savings Advice Was Wrong: How Much Do You Really Need?
Apply For a Personal Loan
If you don't have a credit card with enough credit to finance the funeral expenses or its interest rate is simply too high, you may be able to qualify for a personal loan with a lower rate.
"Contacting a bank or credit union for a personal loan is also an option and could provide you with a better interest rate, saving you money over the long run," Johnson said. Although the average interest rate for a 24-month personal loan in the second quarter of 2021 was 9.58%, according to Federal Reserve data, rates can vary — potentially as low as 2.5% APR to over 35% APR. Of course, the best rates are reserved for borrowers with excellent credit.
Good To Know: 50 Terrible Ways To Try and Save Money
Split the Funeral Bill With Relatives
Consider asking your siblings or other relatives if they would be willing to contribute to the cost of the funeral expenses. They won't know you need help unless you ask.
"Splitting the funeral bill between siblings or other family members is also a good idea," Johnson said. "This spreads the burden across multiple people and reduces the amount of money that each individual will need to spend."
Helpful: 37 Life Hacks That Will Save You Money
Crowdfunding
If your relatives can't help cover funeral costs, you may want to turn to crowdfunding.
"Sadly not everyone is able to address their funeral costs and final expenses on their own," said Matt Schmidt, an agent at Burial Insurance Pro. "Because of this, many families are turning to GoFundMe to ask friends and people in their community to help donate money for their cause. It costs zero money to sign up, and it's also free to share on social media platforms. This is a last resort for most people, but more and more families are turning to this method every day."
"Crowdfunding for a funeral may seem morbid but it can be a way to disseminate information about an individual, a unique circumstance they were facing while alive, or a disease that people do not know much about," Cummins said.
See: Tips To Keep Your Finances in Order Without Sacrificing What You Want
State and Local Government Assistance
"If you truly don't have the money to pay for a funeral, you may qualify for government assistance," Johnson said. "State and local governments often have funds available for those who are truly in need. Your funeral director should be able to point you in the right direction.
"Keep in mind that accepting government funds usually comes with a catch. The agency will likely decide the exact goods and services they are willing to purchase. So, accepting these funds typically means giving up control over those choices and could result in you not getting the funeral you want."
COVID-19 Funeral Assistance
If your loved one's death may have been caused by or was likely the result of COVID-19, you can apply for financial assistance through FEMA to cover the cost of the funeral.
"There was a pandemic assistance program launched to help families with funeral costs if they passed away due to COVID-19," said Derek Szeto, co-founder and CEO of Walnut Insurance Inc. "There are many people that are likely not aware that the program even exists with everything else going on.
"Individuals who incurred the funeral expenses can apply by phone, takes about 20 minutes, to a maximum of $9,000 per funeral. If the individual is fortunate enough to have life or final expense insurance, this is not considered a duplication of benefits so they can claim this as well."
More From GOBankingRates
Last updated: Aug. 19, 2021