How COVID-19 Has Affected Women's Finances Three Years Later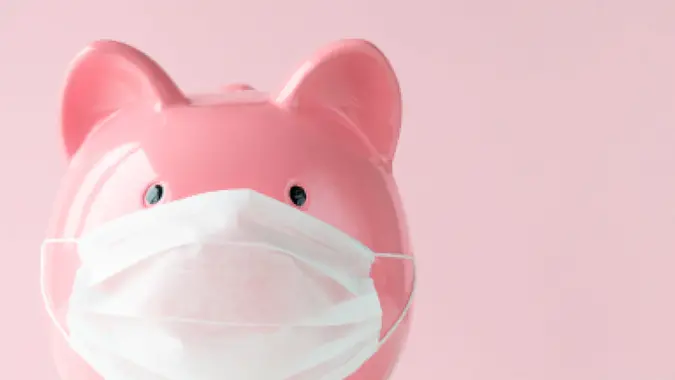 simarik / iStock.com
It's hard to believe it, but it has been three years since COVID-19 was declared a global pandemic. Things have slowly been getting back to normal; but the financial situations of many women are not the same.
Social Security: See Why Women Get $354 Per Month Less Than Men
With a Recession Looming: Make These 3 Retirement Moves To Stay On Track
Every woman has her own unique story, but many share common undertones. Whether changes to work situations impacted paychecks or the pandemic pushed personal lives in different directions, it hasn't been easy for many women to bounce back financially.
Here's a look at ways COVID-19 has affected women's finances.
Mass Exodus From the Workforce
Many of the money issues women have experienced during the pandemic have been due to a change in their employment status. Some of the most frequent reasons for this include feeling pressured to quit due to child care issues and being laid off from their jobs.
Take Our Poll: How Much Salary Would Buy You Happiness?
Women lost 12.2 million jobs between February and April 2020, according to an analysis of Bureau of Labor Statistics data, conducted by the National Women's Law Center. By January 2023, women held more than 1 million more net jobs than in February 2020, but there were 217,000 fewer women ages 20 and over in the workforce than in February 2020.
A recent GOBankingRates survey found that 43% of women with children are not currently working. Of this group, 41% said the costs they're most overwhelmed by are everyday expenses like groceries.
This sentiment was also shared by the entire group surveyed — including those without children — as 39% of respondents said inflation and not being able to afford everyday expenses is their biggest source of financial concern.
Retirement Savings Take a Hit
Planning ahead is the key to spending retirement without financial woes, but unfortunately many women are not doing this right now.
More than half — 57% — are not actively investing right now, according to the GOBankingRates survey. Taking a closer look, only 17% of respondents are currently investing in a work-sponsored retirement plan and 9% are contributing to an IRA.
Beyond day-to-day budgeting, Kendall Meade, CFP, a financial planner at SoFi, said the biggest impact of fewer women in the workforce since the pandemic is the lack of retirement savings.
"Many women may not contribute to retirement while they are not working; and, if they do, they do not receive an employer match," she said. "This means that even as women re-enter the workforce, they may need to play catchup on retirement savings."
She said being away from the workforce for a while also might impact earning potential.
"Because of this time off," she said, "they may re-enter the job force at a lower wage than what they previously earned or may have missed out on promotion [and/or] raise opportunities."
Newly Single in the Pandemic Era
Marriage isn't always easy, but a global pandemic added into the mix proved too much for many couples, said Sylvia Guinan, CDFA, a financial advisor with Wells Fargo Advisors.
"The COVID-19 pandemic was the moment of truth for many marriages," she said. "Whether talks of divorce were already taking place or COVID-19 stay-at-home orders exacerbated relationship issues, the number of divorces since then have significantly spiked."
Consequently, Guinan said, women in these positions had to look at their finances and make changes.
"Many women were willing to cut back financially and alter their lifestyles, realizing that you can't 'put a price on freedom,'" she said. "And as a result, many of my clients' financial plans transitioned from two incomes to one income and from retiring together to retiring single."
Guinan said this meant something different for everyone.
"For those women that were not wage earners," she said, "they had to downsize their homes and wait six months after they began receiving alimony to apply for a home loan at a time when inventory was very limited."
COVID-Inspired Job Changes
Of course, changes in women's finances aren't caused only by personal issues. Guinan said career transitions during and since the pandemic have affected many women's financial situations.
"The pandemic inspired some women to change their careers to reflect what's important to them and perhaps pursue a career that's more about what they're passionate, versus just a paycheck," she said. "Others retired early, and still others took on more expenses when their adult children returned home during the pandemic."
Guinan said each of these situations had a negative impact on their finances.
"On the flip side, many clients ended up bolstering their savings when the money they allocated for big travel and entertainment goals went unused during the pandemic," she said.
Gender Pay Gap Unchanged
As noted above, many women who left the workforce during the height of the pandemic have returned to work. However, due to the gender pay gap, they might have a more difficult time playing catchup with their finances than any male counterparts who also stepped away from their jobs.
In 2022, women earned just 82% of what men earned, according to the Pew Research Center. This marks just a slight improvement from 2002, when women earned 80% as much as men. However, change might be on the horizon, as the wage gap closed to 92% for female workers ages 25-34.
Ultimately, only time will tell how long it will take women to fully get their finances back to at least a pre-pandemic level. Hopefully, the closing wage gap data for younger workers is the beginning of a long-awaited trend toward equality in the workplace.
More From GOBankingRates