How Do Experts Define Financial Health?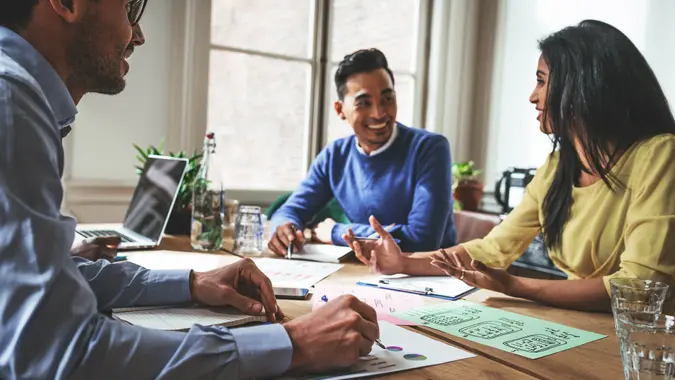 Drazen_ / Getty Images
Good financial health isn't limited to simply being rich. Rather, being in good financial health means being in the right state of mind to make sound financial decisions and being financially stable. Here's what it means to be in good financial health, along with signs that you are financially healthy and small steps you can take to boost your financial health to the next level.
Here is how experts define financial health and how to know if you are financially healthy.
What Is Good Financial Health?
Brian Walsh, manager of financial planning and CFP at SoFi, said financial health is a spectrum. If people do not know or understand how to assess their financial health, this can lead to uncertainty or using the wrong metrics. 
"The core components of financial health are based on how you spend, borrow, save, invest and protect your money," said Walsh. At a foundational level, Walsh said good financial health means you have the financial means to pursue what's important to you without the constant stress of money.
"I love to say, always be ready so you don't have to get ready. That's what financial health means to me," said Rianka R. Dorsainvil, CFP and co-founder and co-CEO of 2050 Wealth Partners.
Dorsainvil said being ready to build wealth can be quite simple. This means spending less than what you earn, avoiding lifestyle creep and saving for your emergency fund as well as into the financial markets.
3 Signs You're Financially Healthy
Here are a few aspects to consider and how these signs factor into being in good financial health.
Spending Less Than What You Make
Being in good financial health means spending less than what you make. Walsh said that unless you are retired, it is impossible to improve your financial health by spending the same or more than what you make.
Take a moment to assess your spending habits to see where you stand.
"If you are spending less than you make then you can move on to assessing your savings. If you are spending the same or more than you make, that should be your primary focus to improving your financial health," said Walsh.
Having Enough in Cash Savings
If you have enough cash to cover unexpected expenses, you're in good financial health. Having cash savings acts as a safety net between unexpected expenses and being in a difficult financial situation. It also has a major impact on your satisfaction, stress and anxiety.
How can you compare your cash savings to your monthly spending? Walsh said divide your cash savings by your monthly expenses. If you find you have less than one month's expenses, you are in a vulnerable financial position. Your focus will need to be on increasing this financial cushion.
If you have between one and three months' expenses, Walsh said you're in an okay spot. Focus on increasing the financial cushion or on another aspect of your finances. Those who have more than three months' expenses are in a good spot. They may focus on other aspects of their finances.
Understanding Good Debt and Bad Debt
Debt comes in two forms: good debt and bad debt. Bad debt includes credit cards, medical loans and payday loans. This kind of debt can be a drag on your finances and make you financially vulnerable. 
Good debt, on the other hand, includes mortgages, car loans and student loans. Yes, even student loans may be considered good debt as long as the monthly payments are reasonable.
"Many people view debt as always being bad, but when used responsibly it can actually be a very powerful advantage," said Walsh. 
4 Steps To Take To Reach Financial Health
If you find you are not in great financial health, there are steps you can take right now to get in better shape.
Automate What's Important
Regardless of your financial goal, there's a way you can automate it. "The power of automation is you make a good decision once and reap the rewards on an ongoing basis," said Walsh.
Walsh uses the example of a goal of building your savings. Take a portion of your paycheck and have it directly deposited into your savings account. Those planning to pay down credit card debt can automatically make extra payments every month on their credit card.
Leverage Technology
Use technology and personal finance tools to help track your budget and better understand your personal finances. Apps may be particularly helpful in tracking spending habits and understanding what you owe.
Walsh said that research shows digital personal finance tools are associated with more responsible financial behavior, ultimately helping increase your overall financial literacy.
Focus On One Goal at a Time
You may want to pay off debt, build your savings, start a retirement fund and build an emergency fund, but try to avoid pushing yourself to reach all of your financial goals all at once. Instead, focus on one goal at a time.
Walsh said focusing on one goal at a time will allow you to make progress faster. This increases your persistence and likelihood of achieving your goals.
There's also power in breaking large goals into smaller goals. Walsh recommends breaking down an overall goal that will take months or years to accomplish. Break it down you can pursue it for 30, 60 and 90 days. Then, rinse and repeat until you accomplish your larger goals.
Seek Help From a Financial Advisor
If you are physically unhealthy, you go see a doctor. Similarly, those struggling with their financial health should seek help from a financial advisor when they need it. 
Barry P. Mitchell, Jr., founder of Next Level Private, recommends working with a trusted financial advisor or advocate. This professional can help you establish a financial plan that takes a deep dive into every aspect of your financial situation. Afterward, you may start establishing a strategy to fund life's important goals and needs — and work together to move your financial health to the next level.
More From GOBankingRates