How Much House Can You Afford on One Income?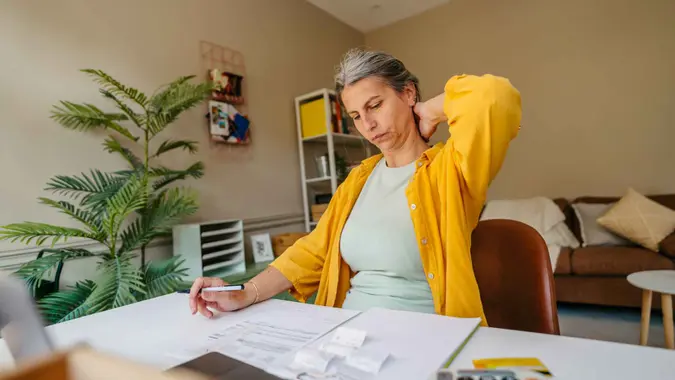 AleksandarNakic / Getty Images
Housing tends to be one of the largest personal expenses, and it's only been getting more expensive typically. If you're trying to buy a home on one income — whether to live there by yourself or paying your share as part of a multi-person household — it's important to be mindful of what you can afford. Having enough for a 20% downpayment doesn't mean that you can then afford the mortgage, property taxes, insurance, and other costs on an ongoing basis.
A recent GOBankingRates survey found that 65% of respondents live in a single-income household, so this is an issue that many Americans face.
Ideally, to figure out how much house you can afford on one income, you would look at your monthly housing costs as a proportion of your income. Even if you make a high salary, it's easy for housing costs to overwhelm your budget and cause you to live paycheck-to-paycheck, if not worse.
"A commonly recommended guideline suggests allocating no more than 28% of your monthly income towards housing expenses," said Cody Horvat, licensed real estate broker at The Scott Group, a division of Compass. "I commonly recommend clients try to keep their housing costs at 25% or less."
More Than a Mortgage
Keep in mind that these percentages for housing costs extend far past your mortgage payments.
"Understand maintenance costs on a monthly basis, taxes on a monthly basis, HOA fees, utilities, etc. A misunderstanding of monthly costs is a widespread issue right now," said Diana Sutherlin, a licensed broker associate with Compass in Jersey City.
Maintenance can be tricky to predict, but you don't want to be caught off guard.
"It's also wise to set aside funds monthly for unforeseen costs, like potential AC repairs or a leaky roof," said Horvat.
One rule of thumb is to set aside 1-4% of your home's value per year for maintenance, which you could then translate into a monthly cost. A survey by Hippo found homeowners spent an average of nearly $6,000 on maintenance and repairs last year, although nearly all said they are not keeping up with Hippo's recommended maintenance tasks on time, like clearing tree limbs.
Plus, homeowners should consider their other fixed expenses, particularly debt payments.
"Financial wisdom advises keeping your overall debts–covering housing, credit cards, and car payments–below 36% of your gross income. So if your housing costs are a little higher than recommended, you will need to compensate in other areas of your financial life," said Horvat.
Some lenders allow for higher debt-to-income ratios, like up to 43%, but that could end up making things feel tight for you. Still, everyone has different comfort levels and financial situations, so it's important to see what works for you. Speaking with experts can help.
"Debt-to-income ratio is my primary consideration for prospective home buyers to understand what they can truly afford on a single income. Income alone, whether joint or solo, does not tell the full picture when determining what you can comfortably spend," said Sutherlin.
"A blanket rule like spending 30% of your income on housing doesn't apply to everyone equally. I always direct clients to seek out the advice of mortgage professionals before they even start looking at homes because affordability is so nuanced," she added. If you want to reduce risk and make things financially easier for you, you might even decide to go below what a mortgage professional says you can afford.
"It's prudent for buyers to lean towards caution when determining their affordable housing range and to factor in a buffer for unforeseen expenses. Once your lender provides the approved amount, my recommendation to clients is to consider a slightly lower figure, allowing for additional financial flexibility," said Horvat.
Location Is Key
Another wrinkle in the housing affordability consideration is that the real estate market looks very different among different cities, towns, and states.
"Dense urban areas tend to be priciest. You can anticipate paying a higher percentage of your income in areas like the Greater New York Area for example," said Sutherlin.
But while some people do stretch their budgets to live in certain areas, that doesn't mean you necessarily should. "In some of the pricier U.S. cities like New York, San Francisco, and Miami, adhering to the 28% rule can pose a considerable challenge for potential buyers," said Horvat.
He also noted how the median listing home price in Manhattan is $1.6 million, according to realtor.com, making it very hard for the average person to afford that. "While this example is extreme, numerous cities nationwide are grappling with stretched budgets, prompting a surge in demand for more affordable metropolitan areas. This trend is particularly evident among younger homebuyers who, facilitated by the rise of remote work, are seeking financially viable options," he said.
Earlier this year, Freddie Mac conducted research that found that migrating to more affordable metros saves an average of $600 per month on mortgage payments, based on a 6% mortgage rate. Today's higher mortgage rates could increase those relative savings for new homeowners, though if you're switching from a low mortgage rate to a high mortgage rate, those savings could be wiped out despite a lower home price.
Overall, if you're trying to afford a house, whether that's on one income or multiple, you have to take a lot into consideration. Not only do you need to qualify for a mortgage, but you also have to consider all that goes into housing costs, like insurance, taxes, and maintenance.
And while it might be tempting to brush off guidelines due to factors like living in a high-cost area, it's important to realize that a high debt-to-income ratio could strain your finances. If you want more flexibility, such as to afford unexpected home repairs or simply to have more money each month to spend on fun activities, then you may want to buy a house that's technically cheaper than what you can afford.
More From GOBankingRates