How Much Should You Have in an Emergency Fund at 65?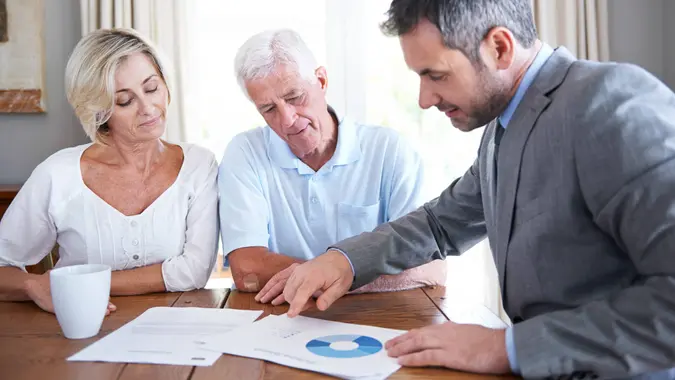 shapecharge / iStock.com
Do you know how much money should be in your emergency fund at age 65?
The general rule of thumb for building an emergency fund is to aim for three to six months' worth of living expenses. This is mostly meant to cover expenses while you are in between jobs. However, this scenario may shift for 65-year-olds who are able to collect Social Security.
So, is this guideline still applicable or should those ages 65 and older contribute more money to their fund? Here's what you need to know.
The Average 65-Year-Old's Emergency Fund
Before we determine how much you need in an emergency fund at 65, let's check in to see how much those age 65 and older currently have stashed in this type of savings.
In mid-January 2023, GOBankingRates surveyed 1,005 Americans on 20 questions related to personal finance. Respondents were asked if they had an emergency fund and if so, how much they have put away. Of those ages 65 and older, 65% surveyed said they had an emergency fund, and 26% of those respondents said they have more than $10,000 in savings. 
However, 34% of respondents ages 65 and older said they did not have an emergency fund.
Take Our Poll: Do You Think the US Should Raise the Medicare Tax on High Earners To Help Save the Program?
Advice for Emergency Fund Savings at Age 65
Doug Dahmer — CFP and CEO and founder of Retirement Navigator — recommends saving substantially more than six months' worth of expenses for an emergency fund if you are 65 or older.
"I advise replacing the concept of an emergency reserve with building a spending sleeve," said Dahmer. "Instead of the traditional idea of three to six months, move somewhere in the neighborhood of saving 18 to 24 months."
It may seem like a lot of money to put into an emergency fund, but Dahmer said one of the greatest challenges retirees face is failing to forward project future annual cash flow requirements. Retirees who have 18 to 24 months of retirement funds to cover projected annual cash flow needs are better able to protect themselves against most market downturns.
Remember: emergency funds are designed to protect those if they lose their income and suddenly need cash to buy groceries, maintain their homes and stay financially afloat until they recover from the unexpected income interruption. This is especially essential for those age 65 or older. Once the markets recover, Dahmer said retirees can repopulate their spending sleeves.
More From GOBankingRates