Holiday Debt: How To Do Damage Control in the New Year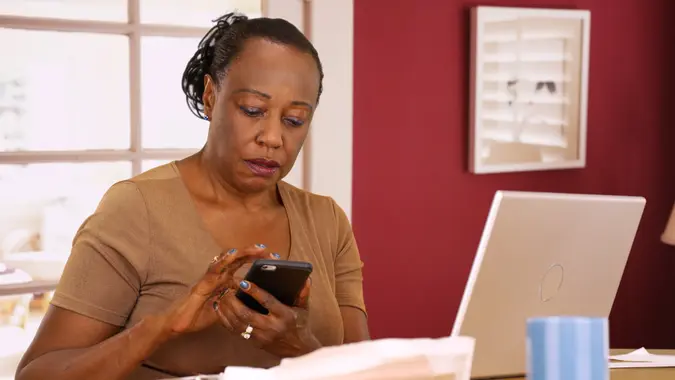 Rocketclips / Shutterstock.com
The new year often means making a fresh start, but those who went over their holiday budgets may not be pleased to see a new balance on their credit card statements. Going over your holiday budget could result in spending the better part of the year paying off holiday-related debt and pushing off other financial goals you had planned for the year.
See: 10 Things To Stop Buying in 2023
Have Any $200 Quarters Lying Around? It's Worth Checking Your Spare Change
What can you do? Tighten up your pursestrings because it's time to divide and conquer any holiday-accrued debt. If you went over your holiday budget, these tips will assist you in conducting debt damage control.
Review Your Debt
The first rule for conducting holiday debt damage control is the same as reviewing any financial mistakes you might have made last year. If you are reviewing a money mistake, you'll want to backtrack to find out where things started to go wrong. You can do the same thing if you went over your holiday budget. What purchase(s) did you make that went over budget? Which credit cards did you use to pay for them? 
Once you have identified where you went over budget and what method of payment you used, you can start figuring out what you can pay now and what can be paid over time. 
While most people might focus on making the minimum monthly payment, Jacqui Kearns, chief wellbeing officer at Affinity Federal Credit Union, recommends not making this decision. Even if you only put a few dollars over the minimum balance owed, Kearns said this can help pay off your holiday debt sooner than later.
Take Our Poll: How Long Do You Think It Will Take You To Pay Off Your Credit Card Debt?
Review the Fine Print
You already know how much is due. What you need to do now is look at the fine print. Kearns said this gives cardholders the chance to see what they are really paying in interest or finance charges each month.
"Ideally, you can find credit card terms which suit your budget, such as lower cost cards," Kearns said. "You might also take an opportunity to transfer balances and engage in new spend and earn programs while you assess which credit card partner works best for you."
Set a Payment Plan and Time Frame
The one holiday tradition nobody wants to start is dragging last year's holiday debt over into this year. Kearns recommends setting a time frame for when you want to be done with 2022's holiday overindulgences. 
How you pay off holiday debt will be different for everyone. Some may take advantage of certain financial resources, like a holiday bonus or a tax refund, to reach this deadline sooner. 
If you don't have this option available, Kearns recommends taking the approach of tithing.
"Tithing is where you put a small percentage of your income aside, like in a high-yield savings account, where you earn more on the money you are saving to pay down your debt," Kearns said. 
Once you have a repayment strategy in place, Kearns recommends setting a realistic time frame on your calendar. This can be three, six or even nine months from now. Make your payments to hit this goal and start the 2023 holiday season in the green instead of the red. It'll be here again before you know it and you'll be financially prepared to stick to your holiday budget!
More From GOBankingRates