How To Overcome These 4 Common Financial Challenges Women Face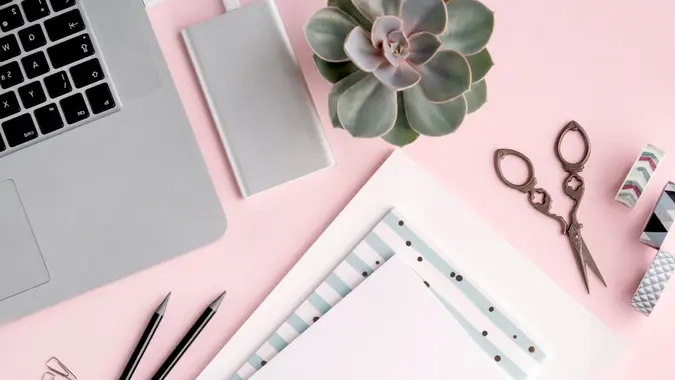 shyrokova / iStock.com
Women often face unique financial challenges when it comes to building wealth in the short and long term. These include the gender pay gap, having less money in short- and long-term savings, taking time off work for caregiving and having a longer life expectancy. While these challenges can put women at a disadvantage, with the proper planning, it's possible to stay on the right track. In this "Financially Savvy Female" column, we're chatting with Liz Hand, CFP, advisor at Pleasant Wealth and Adrienne Davis, financial planner at Zenith Wealth Partners, about how women can overcome common financial challenges.
How To Overcome Not Having Enough Savings
Overall, women have less in short- and long-term savings than men. A recent GOBankingRates survey found that 57% of women do not have an emergency fund, compared to 44% of men. A separate GOBankingRates survey found that the majority of women (40%) have less than $10,000 saved for retirement. Meanwhile, only 31% of men fall into this pool.
A key to overcoming a lack of savings is automation, Hand said.
"Women navigate so much at the same time," she said. "I see women fall short when they have to make savings decisions, whether in a lump sum or waiting until their savings account accumulates enough before making an investment. This creates a lot of indecision and open loops, making many women ask more questions. By incorporating financial automation into a plan, women can make a decision one time and build it into their lifestyle so they can more seamlessly manage other areas."
You can set up automatic transfers into a savings account, investment account and/or retirement savings account to ensure you stay on track with your goals without having to think about it.
How To Overcome a Lack of Financial Confidence
Another recent GOBankingRates survey found that many women do not feel confident when it comes to their finances. Nearly one-third of women (31%) said they consider themselves bad with money and 21% agreed with the statement, "I am fearful about making financial decisions because I am not confident in my ability to manage my finances."
One way to build confidence is to have open conversations with other women about money, Hand said.
"So often, women feel down for not knowing enough about their finances," she said. "Women are likely to relate to each other through conversations and can learn a lot from neutral financial discussions with peers on topics such as 401(k) benefits, Social Security and caregiving for a parent."
How To Overcome the Gender Pay Gap
According to the latest stats, women earn an estimated 82 cents for every dollar that men earn. While there are certainly systemic issues at play, one way to close the gap is for women to be proactive about negotiating their pay.
"Women absolutely need to negotiate their salaries," Davis said. "Utilize your network for help. Talk to other women — and men — in your line of work to get an idea of what their salaries are so you can use it to your advantage during negotiations. Also, keep in mind that you can negotiate benefits, too. Think of equity and bonuses — these can also help bridge the wage gap between men and women."
In addition to negotiating with their current employer, women might also want to consider switching companies to boost their pay.
"Job hoppers are able to make more money by leaving after two to three years," Davis said. "Women are often afraid to leave a job, but if they're not feeling fulfilled and aren't where they want to be financially, it's OK to look elsewhere. Leaving for a new job helps increase their salary, which, in turn, allows them to save more for retirement."
How To Compensate for Longer Life Expectancies
Because women live longer than men, on average, they will need to save more for retirement. This can be challenging, especially given the aforementioned gender pay gap.
"With the pay gap in mind, women should start investing in their retirement early and work with a financial planner since they tend to live longer than men," Davis said. "As financial advisors, we find that women tend to be less aggressive about the investments they have in their retirement accounts, which may have to do with not understanding what the stock market is and how it operates. They often have their money in bonds and money markets, which is a problem due to inflation. A financial planner can help them understand what they need to save, and how to set up their retirement accounts to reach their goals in the long term."
GOBankingRates wants to empower women to take control of their finances. According to the latest stats, women hold $72 billion in private wealth — but fewer women than men consider themselves to be in "good" or "excellent" financial shape. Women are less likely to be investing and are more likely to have debt, and women are still being paid less than men overall. Our "Financially Savvy Female" column will explore the reasons behind these inequities and provide solutions to change them. We believe financial equality begins with financial literacy, so we're providing tools and tips for women, by women to take control of their money and help them live a richer life.
More From GOBankingRates