How To Stop Family Fights Over Inheritance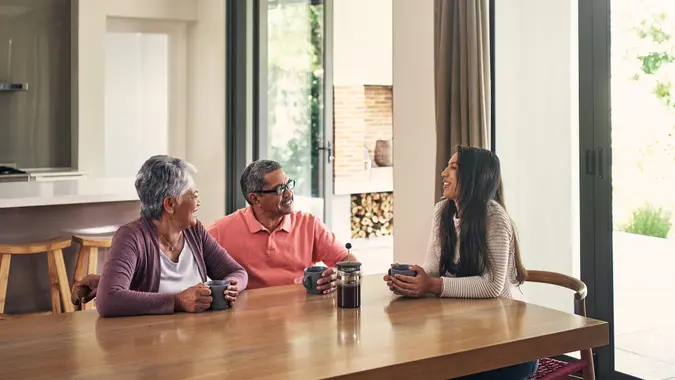 pixdeluxe / Getty Images
As if it is not a difficult enough day when our relatives pass away, the last thing you want to do after the loss of a loved one is find yourself engaged in a family fight over inheritance. While there may be no way to avoid difficult conversations, experts have recommended ways to help navigate this sticky process by being prepared and staying professional.
Find Out: Who Inherits When No Will or Trust Exists?
More Tips: How To Talk to Your Parents About Their Estate Plan (Without Making It Awkward)
Write Up a Legal Will
Family feuds over inheritance are common when there is no legal document to help determine how the deceased party intended for their estate to be distributed upon their death, said David Reischer, Esq., estate lawyer and CEO of LegalAdvice.com.
A will or testament is a legal declaration to help clarify the deceased's intent. "A will is a much less expensive option than setting up a trust. The declaration in the will document should name the person to manage the estate and also provide for how assets should be distributed upon death," he explained.
As a practicing attorney, he said he's seen families fight over assets big and small, from cars to rare books. "Families seem to fight over anything and everything."
Finances: The Ultimate Financial Planning Guide: Do It Like the Pros in 6 Steps
Consider a Trust
Another way to approach estate planning is to set up a trust, Reischer said, which "is great if a person has heirs that are financially inexperienced and not yet capable of handling financial matters in a responsible manner." The trust allows a person to decide how heirs receive the assets, which can help prevent children from squandering money foolishly. A trust can be set up to give the beneficiary just a certain portion of the funds at regular intervals.
"A trust is an excellent mechanism for teaching good financial values. A person that sets up a trust fund as a legal entity will enable assets to be held until an appointed time. The assets are placed under the control of a trustee that can be personally selected. The person who receives the assets is designated as the beneficiary. A trust is established when a person is still alive, and an after-death trust can be created in accordance with the directions left in a person's will."
See: 30 Money Moves That Could Set You Up for Life
Make Beneficiary Designations
In addition to having a will, it's critical to make sure beneficiary designations on life insurance policies and on retirement accounts coordinate with the will, said Patti Black a certified financial planner with Bridgeworth Financial. "Life insurance and 401ks/ IRAs pass by beneficiary designation, not under the will."
Once your will and beneficiary designations are in order, she said it's important that family members know where to find these important documents as well as other important documents like investment accounts, usernames and passwords for online accounts, etc.
"Provide names and contact information for your financial planner, CPA, and estate attorney who can help your family after your death."
Choose a Trustworthy Executor
While you can't guarantee that a trusted executor avoids all conflict, this person will, at least, adhere to whatever has been set in writing. "Your executor's main duty is to ensure that your estate is being properly administered," according to Zeke Santos, with ClearEstate, an estate settlement tech startup. "Appointing someone who your family trusts will help ease their minds when it comes to distribution." 
Location Matters: States With Inheritance Taxes
Divide Assets Fairly
Additionally, Santos pointed out that "[o]ne of the main reasons why families quarrel with one another is because they don't believe the will is fair. If you do divide your estate unequally for any reason, it is best to speak with your family about this in advance, don't leave them in shock when they first read the will."
Be Specific in Your Will
And to avoid any uncertainty, Santos urged specificity in the will that considers people's desires. "If you are aware that certain family members have an affinity for a personal item of yours, be sure to include that in the will. The devil is in the details when it comes to estate distribution and keeping your loved ones in the loop."  
Check Out: Is a Financial Advisor Worth It?
Make a Plan To Talk
"Nobody likes talking about dying, yet everyone is going to," said Scott Alan Turner, CFP, a financial planner and consumer advocate with Rock Star Financial Planning. "Money conversations are hard, especially with parents. However, what's harder is avoiding the topic. That can end up being worse when siblings are left trying to pick up the mess. Every situation will be unique depending on how people converse, react, etc. Come up with a plan to have 'the talk', and then go for it. If it doesn't happen or flops, don't give up. Come up with another plan."
He recommends the book "Mom and Dad, We Need to Talk: How to Have Essential Conversations with Your Parents About Their Finances," by Cameron Huddleston as a good starting place.
Utilize Existing Resources
"Productive conversations start with everyone having good information and sound resources and not a battle over where to turn to get help," said Renee Fry, CEO of Gentreo, an estate planning service. 
Lots of trusted free resources are available online, including blogs, videos and webinars, as well as checklists and to-do lists. "And remember that these are not one and done conversations. Life changes and so must one's estate plan. Here is an example of an article you can share to not only get discussions started but to make sure they result in actions taken."  
Important: What Is the Death Tax?
Compromise on What You Want
One of the most helpful things that families can do is to start with frank, open conversations about particular items that they want as part of their inheritance, said Carter Seuthe, CEO of Credit Summit.
"While the financially valuable portion of the estate is likely to inspire some of the most intense conflicts, sometimes somebody just really wants a certain heirloom, and making sure that they get it can go a long way towards soothing them when it comes to money issues."
He recommends people have these conversations individually at first, and then compare notes, to avoid situations where a family member doesn't feel like they can speak up.
More From GOBankingRates