How Trump's Policies Are Still Affecting Your Finances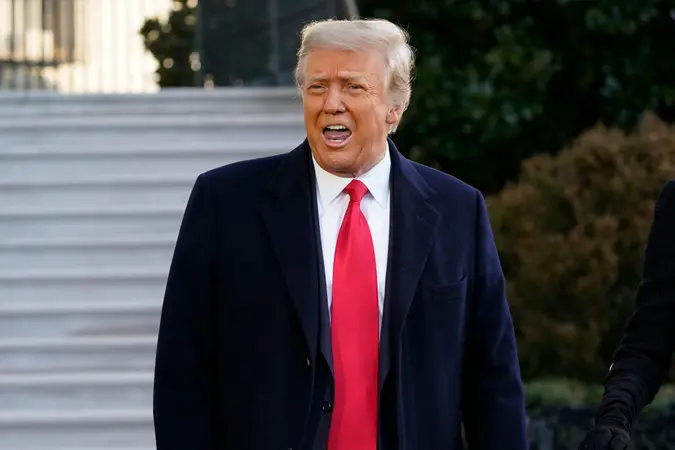 Alex Brandon/AP/Shutterstock / Alex Brandon/AP/Shutterstock
Former President Donald Trump passed a number of fiscal policies during his time in office that are still in place under President Joe Biden, most notably the Tax Cuts and Jobs Act of 2017, the Setting Every Community Up for Retirement Enhancement (SECURE) Act of 2019 and a number of trade tariffs. Here's how those policies may still be affecting your finances.
Read: How Much Is Former President Donald Trump Worth?
How the Tax Cuts and Jobs Act Still Affects Your Taxes
Trump's Tax Cuts and Jobs Act marked the biggest overhaul of the tax code in three decades, according to Investopedia. For some businesses and large corporations, the act was a welcome change, as it created a single corporate tax rate of 21%.
The act also made numerous changes that continue to affect individual filers. The tax rates for most income brackets were lowered, the standard deduction was raised, the personal exemption and healthcare mandates were suspended, and the rules regarding some itemized deductions were changed.
Helpful: Everything You Need To Know About Taxes This Year
Although much of the act remains in play, Biden did make some updates to certain tax credits as part of the recently passed American Rescue Plan. The coronavirus relief plan boosted the child tax credit, earned income tax credit, and child and dependent care tax credit.
See: 8 Million Are Eligible for Stimulus but Haven't Received It
What the SECURE Act Means for Your Retirement Savings
Chad Parks, founder and CEO of Ubiquity Retirement + Savings, said that the SECURE Act is "probably one of the most significant pieces of legislation that was enacted during the Trump years, and that is still in play."
Vote: Do You Think the Minimum Wage Should Be $15? Take Our Poll
"Passed in the House of Representatives at the end of 2019 by an incredibly wide bipartisan margin, 417-3, this important piece of legislation addressed many 'housekeeping' items across various aspects of retirement savings," he said. "One of the more meaningful parts of the legislation provides a large tax incentive to small businesses to offer their employees a workplace retirement savings plan. There are some 5 million businesses and some 50 million employees of those businesses who do not have access to a retirement savings plan at work. The tax credit covers the expenses an employer would normally have to incur to offer a plan, up to $5,500 for the first three years of the plan. This is an incredible incentive designed to give more people the ability to save for their futures and will yield benefits to individuals for years to come."
Exclusive: Nearly Half of All Americans Missed Rent or Mortgage Payments Due to COVID-19, New Study Reveals
Small-business employees who did not have access to an employer-sponsored retirement plan may now have one thanks to this act. Other changes enacted by the SECURE Act include allowing many part-time workers to be eligible to participate in an employer retirement plan, pushing back the age of required minimum distributions from 70½ to 72, enabling traditional IRA owners to keep making contributions indefinitely and permitting 401(k) plans to offer annuities.
"With all the other things that occurred during the Trump years, this piece of legislation is a shining star, and one that will change the course of retirement savings for millions," Parks said.
Keep Reading: 22% of Americans Who Lost Their Jobs During the Pandemic Remain Unemployed, Survey Reveals
How Trump's Tariffs Are Affecting Your Wallet and Livelihood
Over the course of his presidency, Trump imposed a series of tariffs on China, Mexico, Canada, the European Union and other trading partners. According to the Brookings Institute, "American firms and consumers paid the vast majority of the cost of Trump's tariffs." That's because companies importing goods from abroad or who use imported goods for their processes must pay more, and this often leads to them raising prices for consumers.
COVID's Financial Impact After 1 Year: See All Our Coverage
When it comes to jobs, tariffs can benefit workers in import-competing industries, such as those in the steel industry. However, "they hurt workers in sectors that rely on imported inputs and those in exporting industries facing retaliation from trade partners," Brookings found.
Biden has notably said that he does not have any immediate plans to reverse Trump's China tariffs — and by keeping them in play, this could potentially affect even more workers. A study commissioned by the U.S.-China Business Council found that if China and the U.S. continue to "decouple" from a trade partnership, the U.S. GDP could shrink by $1.6 trillion over the next five years. This could result in 732,000 fewer American jobs by 2022 and 320,000 fewer jobs by 2025.
More From GOBankingRates
Last updated: March 17, 2021