I Live in New York City on Less Than $30K: Here's How I Do It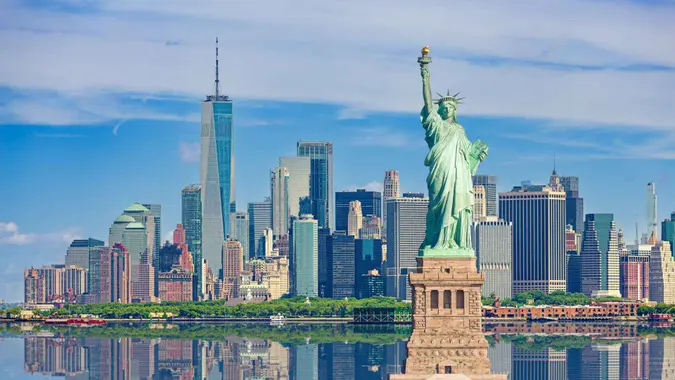 OlegAlbinsky / Getty Images/iStockphoto
With inflation on the rise, building a life in a big city has gotten harder and harder — especially if you're not bringing home a gigantic paycheck. However, it is possible.
GOBankingRates talked with Harry Johns White, the marketing manager at NBAblast.com, about how he navigates living in one of the most expensive cities in the world on a modest income of under $30,000 per year. 
The Challenge of Affordable Housing 
White lives in the heart of New York City, specifically in the Unionport district, so one might assume his income would be fitting of the title he bears. However, this couldn't be further from the truth, White explained. NBAblast.com is still in its nascent stage; and, due to limited funding, his salary for the past two years has been capped at $2,400 a month, which totals around $29,000 annually. 
Finding affordable housing in NYC can be a challenge, but White was fortunate enough to find a cozy studio owned by an elderly couple. They had bought this space years ago for their son, who has since moved to L.A. White says their generosity in renting it out at a reasonable rate has been his saving grace in this costly city.
Cutting Back on Food Costs 
One of the significant areas where White has managed to cut back expenses is food. By cooking meals at home and curbing the tendency to dine out frequently, he has seen a substantial reduction in his monthly expenditures. 
His commitment to a healthy diet means he avoids indulgences like candy or chips, opting for fresh fruits and wholesome foods instead. He adds that the discipline it requires to maintain such a lifestyle has indirectly boosted his overall well-being.
Living Below Your Means
In truth, the quality of life White leads might not match the opulent standards NYC is known for. Yet, there's a unique satisfaction in living within one's means and finding joy in the simple pleasures. Plus, being engaged in work that he's passionate about makes the compromises worth it, he said.
For anyone looking to tread a similar path, his tip would be to prioritize needs over wants, and always keep an eye out for opportunities, whether it's affordable housing or budget-friendly food options. With a bit of resourcefulness and resilience, even the most expensive cities can become accessible.
Where the Money Goes Each Month
So how does White actually make his limited income stretch in a city as expensive as New York? Here's a breakdown of his estimated monthly expenses:
Rent: $800 — Thanks to his discounted studio, White's rent is easily his biggest bargain. 
Utilities: $150 — Covering electricity, Wi-Fi and cell phone.
Groceries: $300 — Buying generic brands and bulk ingredients helps keep grocery costs low. 
Eating Out: $200 — White allows himself a couple of cheap meals out per month.
Transportation: $130 — Monthly metro card. White walks as much as possible.
Entertainment: $150 — Usually just one or two frugal activities per month.
Other: $200 — Toiletries, clothing, copays, etc. 
This leaves him with about $470 per month in discretionary income. It's not a ton, but White puts this extra money toward his savings.
Cutting Costs Wherever Possible
In addition to keeping housing and food costs down, White has embraced a minimalist lifestyle in terms of possessions. He shops thrift stores for most clothing and furniture. He also rarely splurges on new technology or electronics.
White admits there are times he feels the pressures of keeping up socially with wealthier NYC residents. However, he has learned to suggest low-cost activities when getting together with friends, like cooking at home or going for a walk in the park.
Finding Joy Despite Limitations
While living in NYC on a five-figure income requires discipline and frugality, White doesn't see it as a permanent state. He has gained invaluable experience in his current role and continues to keep an eye out for advancement opportunities to boost his income.
In the meantime, White finds satisfaction in being part of an exciting city and has discovered joy in the simple pleasures life has to offer. His choice to live below his means has actually brought him a greater sense of freedom. 
For those looking to follow in White's budget-savvy footsteps, here are some recommendations:
Find roommates to split housing costs with
Use public transportation as much as possible 
Meal prep and bring lunch to work
Take advantage of happy hours and cheap events 
Develop income streams beyond your 9 to 5
Prioritize low-cost hobbies like hiking or reading
Don't compare yourself to others on social media
By keeping these things in mind, it's possible to live in expensive cities and still have a high quality of life. 
More From GOBankingRates