If I Can't Attend an Event I Was Invited To, Do I Still Have To Give a Gift?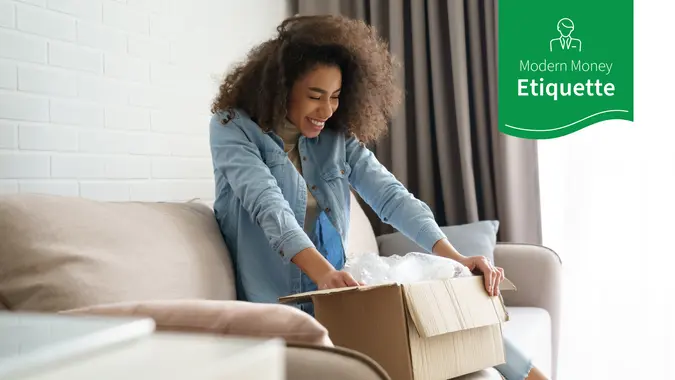 insta_photos / iStock.com
For a while there, the pandemic was every introvert's dream — no one had to attend anything. All that time off left plenty of people a little fuzzy on their social graces. Now that the invitations are pouring back in, it can be tough to remember how to bow out without committing a faux pas.
Check Out: 8 Purchases Retirees Almost Always Regret
Find Out: 7 Things You Should Never Do When Planning for Retirement
Do you still have to give a gift for an event you were invited to but can't attend?
"Yes," said Billy Parker, CEO of Gift Delivery. "As a matter of fact, I think they want the gift more than you coming to the event — unless, of course, you are a high-value guest."
The cynic's perspective is as valid as anyone's, but it's not quite that cut and dry. In fact, the question of giving gifts for events not attended tends to be an "it depends" situation with a whole lot of gray area.
You Never Have To but Consider What a Gift Represents
Jodi RR Smith, a nationally known etiquette consultant and the author of three books published by Barnes & Noble, is the founder and president of Mannersmith Etiquette Consulting.
She points out that there is, of course, no legally binding rule that says you have to give a gift, but the "have to" part is where things get tricky.
"First, you must understand that invitations are not invoices and gift-giving is never obligatory," Smith said. "That said, relationships are built upon reciprocal actions. When someone invites you to a party marking an event — birthday, graduation, wedding, etc. — you should feel honored to be included in this happy occasion."
The physical manifestation of that gratitude and appreciation is generally something you buy at a store.
"In response, you will want to give a token of your well-wishes in the form of a gift," Smith said.
Take Our Poll: Do You Tip for Service?
Whose Party and What's the Occasion?
Both relationships and social events come in tiers — some are more important than others. Upper-tier people hosting upper-tier events naturally command more consideration than a B-teamer throwing a party for the sake of throwing a party.
"For those nearest and dearest, you will be giving a gift whether you are able to attend or not," Smith said. "In fact, for those you truly love, the gift may be bigger if you are unable to attend. As for those further out in your familial and social circles, you will need to decide how you truly feel about this individual and how you hope your relationship will continue going forward. There is also a difference between your second cousin's 23rd birthday party you cannot attend, where you might send a card or post a gif on their social media, versus their wedding, where you might select something based on your budget from their registry."
Don't Make the Invitation — or Money — the Only Consideration
Keep in mind that just as receiving an invitation doesn't compel you to give a gift, you can give if you choose even if you weren't invited — and doing so could only be received as a remarkably gracious gesture.
"If you are close to someone, you may send them a gift for an event such as a birthday party or a wedding simply because you want to," said Laura Herman, a certified behavioral and etiquette expert who works as a consultant and writer for Senior Strong. 
Also bear in mind that in most cases, it truly is the thought that counts. If money is tight, a heartfelt modicum of gratitude can go a long way.
"Even a card with a thoughtful message should suffice," Herman said.
Kristin Chester, founder and creative director of Marquet Media, a PR firm that specializes in lifestyle and wedding brands, concurs.
"If you are on a budget, there is no need to follow the rule of thumb that the cost of the gift should cover the cost of your attendance at the event," Chester said. "Remember also that you have a full year to send a gift so you can wait until you are feeling more financially secure if you wish."
'It Depends'
An immediate family member's wedding vs. a distant cousin's run-of-the-mill birthday party is a fairly easy call to make. But the waters get muddied up with more complex relationships — especially in the gray area where your work life and real life overlap.
"It depends," Chester said. "If it is a business connection and you were invited strictly as a courtesy, then yes, you need to return the courtesy and send a nice gift. To do otherwise would be awkward in that Venn diagram space between 'professional world' and 'personal world,' where you will doubtless be with that person again at some point, guaranteed. If it is a social occasion and you were invited as a courtesy, then sending a token gift is the only thing required. If you would have been on the guest list regardless of your schedule, then absolutely send a gift."
Smith closes on a better-safe-than-sorry general rule of thumb.
"When in doubt," she said, "it is better to give than to not."
More From GOBankingRates