Is This One Phone Feature Making You Poor?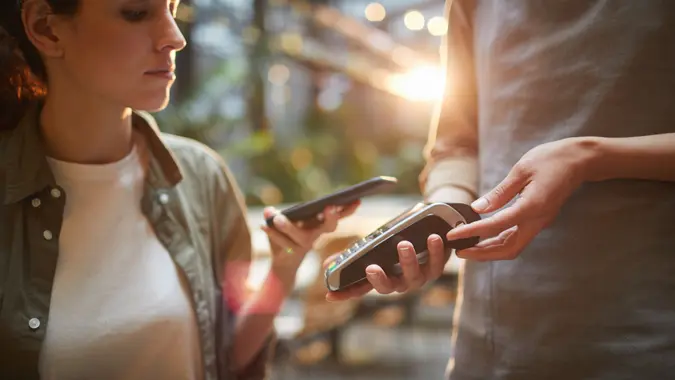 SeventyFour / Getty Images/iStockphoto
If you have a smartphone, chances are you have access to a tap-to-pay app, such as Apple Pay, Samsung Pay or Google Pay. These apps have surged in use in recent years. According to the Federal Reserve, contactless card payments increased by 172% from 2019 to 2020. By 2022, 75% of iPhone users had activated Apple Pay on their phones, The Wall Street Journal reported.
While these apps make it easier than ever to pay for everything from your subway ride to your new sneakers, the question is arising about whether or not they make it too easy. Are your tap-to-pay apps making you poor?
Paying With Your Phone Makes Spending Seem Less Tangible
When you pay with cash, or even with a credit card, there is a tangible exchange taking place. However, when you simply need to tap a phone, your spending may have less of an impact on your psyche and may not register the same way. This can lead to overspending.
Mobile Payments Lead To More Frivolous Spending
According to Manoj Thomas, a professor of marketing at Cornell University, people tend to make more frivolous purchases with contactless apps than they do with cash or debit cards.
"What I found is that people spend more money on snacks, beverages — what's typically considered discretionary purchases," Thomas told Vox.
While these small purchases seem like nothing individually, they can add up to a significant expense over time.
How To Use Tap-To-Pay Apps Responsibly
Fortunately, you can change your mobile app's settings to curb overspending.
"I'm of the opinion that tackling this issue is as easy as setting a spending limit," said Kelly Chan, marketing manager at Accountant Online. "For instance, if your monthly spending limit is $500, only add that amount of money to your Google Pay/Apple Pay wallet and ensure you do not exceed it."
Chan notes that these mobile apps can also make it easier to track your spending.
"Being aware of one's finances is easier than ever before, with most digital wallets allowing users to track their expenditures effortlessly," she said.
Checking your spending regularly via your mobile payment apps can be a smart way to ensure you stay on budget.
More From GOBankingRates