Rich & Regular's Julien and Kiersten Saunders: This Simple Skill Can Help You Fight Inflation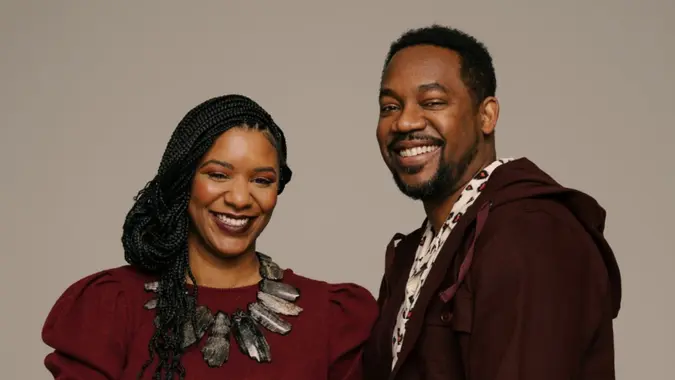 Julien and Kiersten Saunders are the authors of "Cashing Out: Win the Wealth Game by Walking Away." They are also the founders of the blog Rich & Regular. Since its inception in 2017 after the Saunders' stint in real estate investing, their blog has built an impressive readership and expanded into a media brand. The Saunders' mission is to inspire better conversations around money.
Chosen by GOBankingRates as Top Money Experts, here they share their tips to build wealth and fight inflation by reevaluating your food budget.
Want to vote for Kiersten and Julien as your favorite money experts? Click here and go to their expert page.
What's the one piece of money advice you wish everyone would follow and why?
Give your income a purpose. Whether it's paying off debt, saving for an emergency fund or investing for retirement, there should be clear long-term goals for your income. Because if you don't give your income a purpose, someone else will.
What's the most important thing to do to build wealth?
Invest, invest, invest. The money we earn is like seeds. We can either choose to eat them or plant them. The more we plant, consistently, the greater the harvest will be over time. Building wealth works similarly and doesn't have to be complicated.
What's your best tip for fighting the impacts of inflation?
Learning how to cook well at home is a huge help in fighting inflation. Specifically, learning how to cross-utilize ingredients, freezing foods and vacuum sealing foods helps to minimize waste and reduce the amount of money spent on food.
What's the biggest mistake people make when it comes to money, and what should they do instead?
The biggest mistake people make with money is we assume we will always earn the same amount of money or more over the course of our careers. It's far more likely that you'll have periods of low or no income which make it even harder for you to save or catch up in the future. The best way to remedy this is to get comfortable living below your means early in your career, save and invest far more than you think you'll need so that you can more easily absorb any shocks to your income in the future.
Jaime Catmull contributed to the reporting for this article.
More From GOBankingRates