What Are the Key Money Lessons From COVID-19 That We Need To Keep Moving Forward?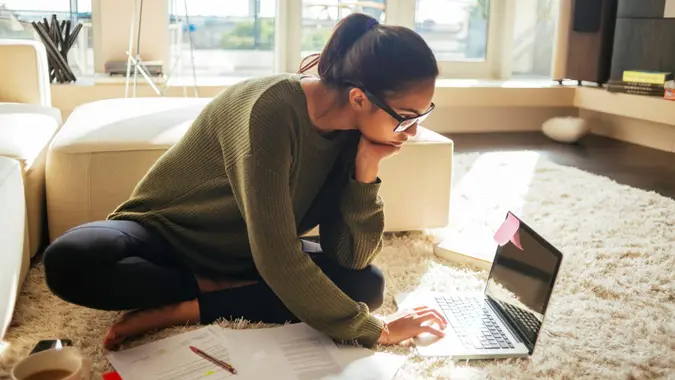 DaniloAndjus / Getty Images
2020 was financially devastating for many people. But the experience also illustrated the importance of several key money lessons that can help everyone with their finances in the future.
Read: COVID's Financial Impact After 1 Year: See All Our Coverage
An Emergency Fund Is Essential
Financial advisors always recommend keeping at least three to six months' worth of expenses in an emergency fund, but it was easy to ignore that advice if you had a regular paycheck. When millions of people lost their jobs in 2020, they discovered how valuable it was to have money in a safe and accessible account to cover unexpected costs — especially if they had to wait for more than a month to start receiving unemployment benefits.
Read: How I'm Sticking to a Budget and Spending Less During COVID-19
If you don't have an emergency fund, now is the time to get started. Even if money is tight, setting aside a small amount of money on a regular basis can add up over time. "I'm working with one person who takes $1 every day and puts it into a savings account," said Katie Krumpter, senior financial counselor at the New York Legal Assistance Group. Krumpter works on the New York City Financial Empowerment Center project, which provides free one-on-one financial counseling.
See: Almost Every State Is In Debt Thanks to COVID-19 — What Now?
She recommends keeping the money in an online savings account that is separate from your everyday checking account. "I encourage people to have things automated," she said. "Most jobs will allow you to have more than one direct deposit for your pay. You could put some money into this special savings account, and then put the remainder into your checking account." When some money goes into your savings account automatically, you don't have time to spend it on anything else first.
The Importance of Matching Your Investments With Your Time Frame and Risk Tolerance
At the same time that we were dealing with a global pandemic and massive job loss, the stock market was incredibly volatile. The Dow Jones Industrial Average and the S&P 500 lost more than 20% in late February and March 2020, but the DJIA finished 2020 up 7.25% and the S&P 500 finished up 16.26%. People who panicked and pulled their money out during the downturn missed the opportunity to benefit when the market turned around.
Read: The FAANGs Are Expected to Rule 2021 Markets
"In times of dramatic market volatility, each fluctuation may seem disastrous," said Rob Williams, vice president of financial planning at Charles Schwab. "However, emotional reactions to short-term market conditions can put you at risk for further financial loss. Markets typically go up and down, and even bear markets historically have been relatively short." According to the Schwab Center for Financial Research, the longest bear market was a little less than three years (915 days) and it was followed by a nearly five-year bull run, he said.
More On Investing: 13 Investing Rules You Should Break During the Pandemic
The stock market volatility of 2020 showed why you should match your investments with your time frame: If you don't need the money for several years, you can afford to ride the market's ups and downs with the hope for higher returns over the long run. "Focus on staying diversified, know your risk tolerance, and stick to your plan during tough times," Williams said. If you need the money soon — especially if you're retired — then it's important to shift some money out of the market so you don't have to sell investments for a loss to pay your bills.
"You need to understand what you're looking to use the money for and when. If it's three years vs. 10 years vs. 30 years, how you invest, where you invest and what you invest in become different," said Lorna Kapusta, head of women and customer engagement for Fidelity Investments. "If you have a roadmap you put in place and you made thoughtful decisions, you can stay the course, especially if you have that emergency savings."
Related: 25 Pandemic-Proof Stocks
The Opportunity To Reassess Your Budget and Financial Goals
When restaurants, entertainment and travel shut down for months in 2020, it gave people a much clearer picture of their needs vs. wants in their budget. Being able to afford housing, utilities and food became the top priority, especially when people lost their jobs. Many of the extra expenses that had become part of their daily lives — such as money spent eating out, buying coffee, paying for parking, commuting and entertainment — disappeared. People who didn't lose their jobs ended up saving a lot of money when these extra expenses stopped. "People have saved so much money during COVID because they're not going out as much, not traveling as much, not buying clothes," said Mari Adam, a certified financial planner with Mercer Advisors in Boca Raton, Florida. "It makes you think about if you really need these things. What do I really need to be happy? The amount of money that people have saved in 2020 because they're not doing this discretionary spending — hopefully some will say they're better off saving more and investing more."
Read: The 50/30/20 Rule: Is It the Best Budgeting Method?
A study by Charles Schwab found that to be the case — 40% of the Americans surveyed said they are more likely to be saving more in general compared to before the pandemic outbreak, and 24% said they are now more likely to have a financial plan. "We're seeing a record number of people get invested and engage with their finances, and in many cases seek more help and guidance to make sure they're on the right track," Williams said.
Take Steps To Protect Your Finances
In addition to having an emergency fund, the pandemic also made people think about other ways to protect their finances, such as through insurance and estate planning.
See: COVID-19 Made All of Us More Broke – Here's How We're Struggling with Money at Every Age
"People rediscovered why you need to have estate-planning documents," Adam said. "They realized they are mortal and don't have a will, trust or durable power of attorney, and they were scrambling to meet with an estate-planning attorney." She also found that clients who had been procrastinating about buying life insurance finally took action during the pandemic.
It's important to make sure your estate-planning documents and beneficiary designations are up to date and to assess your life, health and other insurance needs regularly to protect your finances. "People are looking for security," Kapusta said. "With the pandemic, we've seen the feelings of things out of control. They want to know what they can do to make sure they have enough money today and have a plan for their money going forward."
More: Your Estate Planning Checklist: How To Create a Financially Sound Estate Plan
New Perspectives on Long-Term Care
Hearing horror stories of COVID-19 outbreaks in nursing homes made many people rethink — or finally start talking about — where they want to receive care as they get older.
"Most seniors would prefer to age in their home," said Byron Cordes, a geriatric care manager with Sage Care Management in San Antonio, Texas. "The problem still comes with affording the amount of care you need. If you require full-time attention, the in-home option is four times more expensive than assisted living in the San Antonio area." Some people bought long-term care insurance to help cover those expenses or started to save extra money for the potential costs.
Find Out: 35 Retirement Planning Mistakes That Waste Your Money
Other people became more interested in moving to a retirement community where they wouldn't have the isolation of living alone. No matter what they decide, the pandemic prompted families to think about care decisions and costs for themselves and their aging parents and start to plan for the future.
It Helps To Diversify Your Income Streams
You may have thought that you'll always have some money to pay the bills if both you and your spouse earn an income. But many couples both ended up losing their jobs during the pandemic. It helps to have a backup plan and brainstorm ideas for making some money while you're looking for work.
Read: 22 Side Gigs That Can Make You Richer Than a Full-Time Job
Many people found creative ways to bring in some extra money — such as tutoring, giving music lessons through Zoom, sewing masks, cooking meals and baked goods, doing consulting work, taking on gig work with food delivery services, teaching online videos or renting out a room in their house. Some of these side gigs can help hold you over if you lose your job or bring in extra income on the side — or can be the seed to start a business doing something you've always loved.
More From GOBankingRates
Last updated: March 11, 2021