'I Was So Stupid' — What You Can Learn From Dave Ramsey's Early Mistakes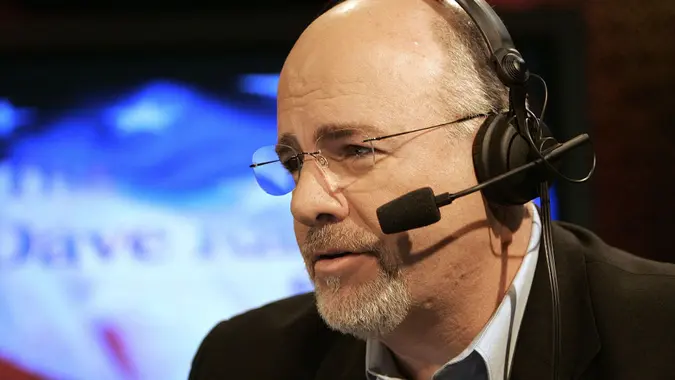 ©iStock.com
While Dave Ramsey is known as a popular financial guru across the nation, it's worth noting that his journey to the top of the financial knowledge pyramid wasn't without its setbacks. In fact, he learned some of his most valuable lessons through personal financial hardships in his 20s, including having to file bankruptcy.
By the time he was 26, he had a net worth of over $1 million and was making $250,000 a year due to his prowess in real estate investing. He was also in debt to banks for millions of dollars. Unfortunately, due to various circumstances — including the financial climate in the late 1980s — the banks called Ramsey's notes, and he ended up having to file bankruptcy because he was unable to pay off the enormous amount of debt he owed in a few short months. Of course, Ramsey's story eventually had a happy ending, but it was touch-and-go for a while.
Here's what you can learn from Dave Ramsey's early mistakes, according to a real estate investment expert.
Mistake 1: Thinking Everything That's a Foreclosure Is a Good Buy
On Ramsey's radio show, during the episode "How I Lost Everything Flipping Houses," Ramsey said, "I did my first flip in 1983. I was so stupid. I thought that everything that was a foreclosure was a good buy."
Sebastian Jania, owner of Ontario Property Buyers, a real estate solutions and investment company, said a foreclosure property isn't always a good buy. 
"Sometimes foreclosure properties can be massively over-leveraged, and paying what the bank has outstanding on the mortgage may have someone actually overpaying on the property," Jania said.
"Further, many foreclosure properties, depending on the state, may not allow for as much due diligence on the property or inspections of any kind, which means that there is a lot of risk in purchasing the property. One would be much better negotiating a good buy at a deep discount rather than chasing after a foreclosure property."
Mistake 2: Underestimating the Labor and Capital Required To Flip a House
Ramsey also talked about how he lost $14,000 on a house he paid $7,000 for due to underestimating things like capital and labor.
Jania pointed out that this mistake can be massive because of the risk involved in house flipping. 
"House flippers are in the business of buying a property as low as they can, renovating it and selling it for a profit," he said. "If one does not properly calculate the labor and capital, they may end up breaking even or having to sell at a loss as they try to liquidate the flip.
"Flipping houses properly should come with purchasing well on the buy and having multiple contractor quotes to understand the exact labor and renovation cost (capital demands) that one can expect. Further, building contingencies into the renovation budget is a way to be sure that labor and renovations do not go to the point where the project is no longer profitable."
Mistake 3: Miscalculating the Value of Your Own Labor
Ramsey talked about how he did the work on the first house he flipped and paid himself $0 in labor. Even so, he only made a profit of $842.
Jania said that miscalculating the value of your own labor can cause you to lose money. "One may choose to do some of the renovations themselves to save on contractor costs," he said, "but if they end up with a small profit or no profit, then they know that their initial renovation numbers were wrong. 
"The purpose of house flipping is to be able to hire people to do the work and make sure that the property is purchased at a good price. If one cannot do the project while paying someone else to do the labor, then one has simply paid too much for the property and will get burned when they look to sell it. In many cases, people would be better off just getting a part-time job or taking on overtime hours than flipping properties the wrong way."
Mistake 4: Borrowing Money To Extremes
In an ABC interview that touched on his real estate debt in his 20s, Ramsey said, "I was stupid. I borrowed money out my ears, man, and out my eyeballs and everything else. We were so far in debt we couldn't breathe…"
"Borrowing money to extremes is a mistake," said Jania. "If one does not have the ability to service the debt and ultimately pay the debt off, later on, they will be in a position where now they will become the seller going through foreclosure."
Jania said that real estate investors should start with only one project and also have a lot of their own money to put into it. "It is only when one is doing consistent jobs well with good profit that they should consider taking on capital to the point where they are doing multiple projects at once," he said.
More From GOBankingRates