How Much Should You Spend on Gifts for Acquaintances?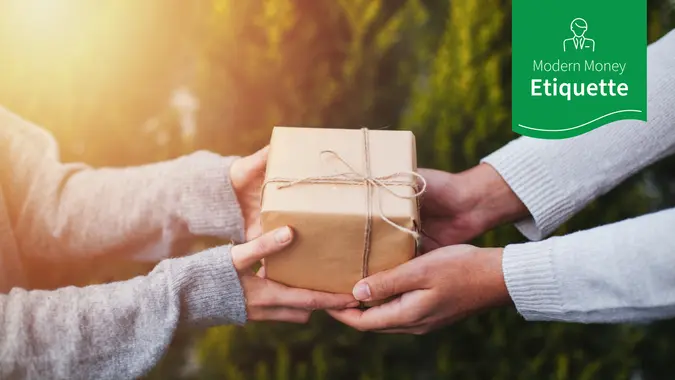 agrobacter / iStock.com
"Buying a gift for someone is always difficult, even if you know the person well," said Tami Claytor, owner of Always Appropriate: Image & Etiquette Consulting. "However, the task can become anxiety inducing when you are required to select a present for an acquaintance."
Maybe you were invited to a housewarming party by a friend of a friend. Or your office is planning a holiday gift exchange among employees. Whatever the reason, when choosing a gift for an acquaintance, it's important to select something tasteful. That includes a gift that falls into the right price point. Send too little, and you could come off as cheap. But spend too much, and the recipient might feel a bit awkward.
So how much should you spend on gifts for people you kinda, sorta know? We asked the experts.
There's No One-Size-Fits-All Amount
"There is no blanket amount to spend on a gift because there are many factors that should go into making that decision," said Alissa Van Volkom, chief marketing officer of retail investor group for Vanguard. Consider what you can comfortably spend on a gift that fits into your overall budget. Volkom added that setting a budget prior to spending can help create a stress-free experience.
Of course, you're probably hoping for some hard numbers to work with. It will largely depend on the type of event. For example, if you're invited to a wedding, it's appropriate to spend around $50-$75 on a gift — even if you don't know the couple that well. If the items on their registry are above that threshold, feel free to purchase a gift card to one of the stores where they're registered instead.
On the other hand, more casual events warrant smaller spending amounts. For white elephant gift exchanges, dinner parties, backyard barbecues, etc., $20 is perfectly acceptable. 
"Ultimately, the events you choose to give gifts for boils down to preference and your personal relationship with the person the gift is for," Volkom said. It's a kind gesture to bring a gift to all events you attend, but be careful not to go overboard. "Summertime, especially, can result in an overwhelming amount of activities and it's important to use your best judgment based on your financial situation," she added. If you get invited to something that requires a gift and it's not in your budget, it might be a good idea to (gracefully) bow out.
Be Sure To Keep Their Interests in Mind
The amount you spend on gifts for acquaintances is important, but it shouldn't be your only consideration. It won't matter how much — or little — you spent if the actual gift falls flat. 
"When giving a gift, the fundamental rule is to think of the other person's preferences and not your own," Claytor said. For example, if the recipient has elegant tastes while your style is more bohemian, it's unlikely that he or she will appreciate a tie-dyed T-shirt.
Of course, that can be tough to determine when you don't know a person well. Some gender-neutral options that tend to work well include wine or a quality brand of spirit, a houseplant in an attractive pot or a small kitchen gadget such as stainless steel kebab skewers or a hamburger patty press. "Since these are low-ticket items, try to pair them with other items so that it looks like a cohesive gift basket," Claytor suggested. And again, gift cards are a tried-and-true option for those with whom you aren't particularly close, she added.
More From GOBankingRates