8 Money Moves To Make Now for Financial Success all 2023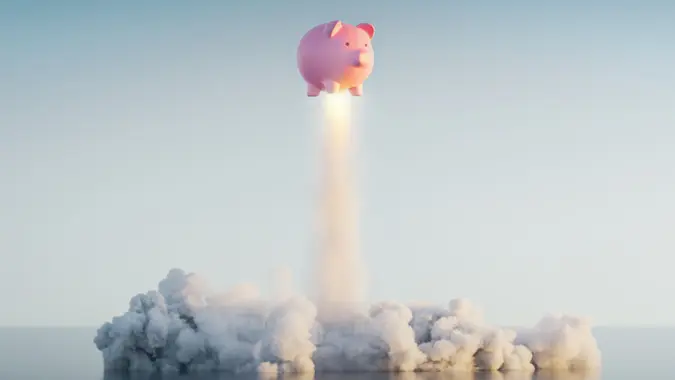 Sezeryadigar / Getty Images
A new year is a chance for a fresh approach to your finances — and the time to get started is now when you're likely experiencing an increased amount of motivation.
Advice: 19 Effective Ways To Tackle Your Budget
Also See: 3 Easy Tips To Turn Your Credit Woes Into Wows
Read More: 10 Best New Items Coming to Dollar Tree in 2023
If you consider that the moves you make now can set you up for success this year and beyond, what do you have to lose?
If you don't already have an emergency fund or retirement savings in place, it's probably a good idea to get those things sorted out first. Then, take a look at these eight significant moves you should make to achieve financial success in 2023.
Gain Clarity About Your Financial Situation
"Sit down and answer the four financial clarity questions: What do I own? What do I earn? What do I owe? And what do I need?" said Holly Ruxin, CEO and founder of Montcalm. "Most people don't know all the answers right away and need to do some thinking and research.
"Make a reasonable goal to work on this a little each month. You will be surprised at the confidence this clarity will give you, and you will come to enjoy the exercise more and more. This is not to find the 'right answer' but to use simple questions to learn more about yourself over time and help you make financial decisions from a place of clarity."
Create a Plan That Matches Your Priorities
"It's important to align your spending with your priorities," said Crystal Williams, financial coach and owner of Smart Money Financial Coaching. "A mistake I typically see people make is creating a spending plan that's too restrictive. I believe it's important to build a plan for your money that allows you to live a life you enjoy AND meet your financial goals. So, if a client wants to go on vacation, pay for private school for their kids or change careers, we work together to make a plan for their money that includes those things."
Take Our Poll: Are You In Favor of More Inflation Relief in 2023?
Use Your Bonus To Help Pay Off Debt
If you've racked up holiday purchases or you have debts that have been lingering for a while, use at least part of any extra cash you've recently received to pay off those debts.
Andrew Lokenauth, a personal finance expert and money educator, recommends using the debt snowball method or debt avalanche method. The snowball method entails paying off your smallest debt first, working up to the largest. The avalanche approach involves paying extra money toward the debt with the highest interest.
"In terms of paying off debt, initially I used the debt snowball method, but then switched to the debt avalanche method," Lokenauth said. "The debt snowball method is the better method to stay motivated, empowered and less overwhelmed, and this is how I needed to feel when initially tackling debt.
"After becoming more financially savvy, I switched to the debt avalanche method, which is the better method for saving money in the long term. … This method results in paying less interest over the life of the loan, because you are focusing on paying off the debts that carry a higher interest rate."
Revisit Your 401(k) Contribution Rate
If you contribute to a 401(k) plan, it's important to maximize your contributions so you can increase your returns.
"Adjust your 401(k) contribution rate to take advantage of the increased limit of [$22,500 in 2023]," said Jason Dall'Acqua, CFP and president of Crest Wealth Advisors in Annapolis, Maryland.
If you can't adjust your 401(k) contributions to meet the maximum limit, at least meet the contribution minimums to receive the full amount of matching funds your employer may offer you.
Adjust Your Investment Portfolio as Needed
"Most stock market indices experienced double-digit percent increases in 2021, which is great for your net worth but might leave you taking more risk than initially desired and your allocation out of line with your intended targets," Dall'Acqua said. "Remember, past performance is not an indicator of future returns."
Reconsider Your Tax Withholding
"Review your tax return once it has been completed and determine whether you should make an adjustment to your paycheck tax withholding," Dall'Acqua said. "While receiving a refund might feel good, it means that you are having too much in taxes withheld, which reduces your monthly cash flow."
Cancel Unnecessary Subscriptions
Put an end to wasting your money once and for all.
"Check for recurring payments on your statements and see if you still use the service and feel it's good value," said Nick Bormann of Bormann Wealth Management. "Subscriptions are designed to fade into the background and may be low cost; but, all added together, they eat up monthly cash flow."
Review Insurance Coverage
"Call your insurance agent and check on your coverage," Bormann recommended. "Your agent may be able to suggest ways to save money — for example, by going to higher deductible policies or bundling policies together."
Bormann also said that if your insurance needs are complex, you should review insurance coverage annually to make sure your exposures are covered.
More From GOBankingRates