A Month-by-Month Guide To Staying on Track With Your 2021 Finances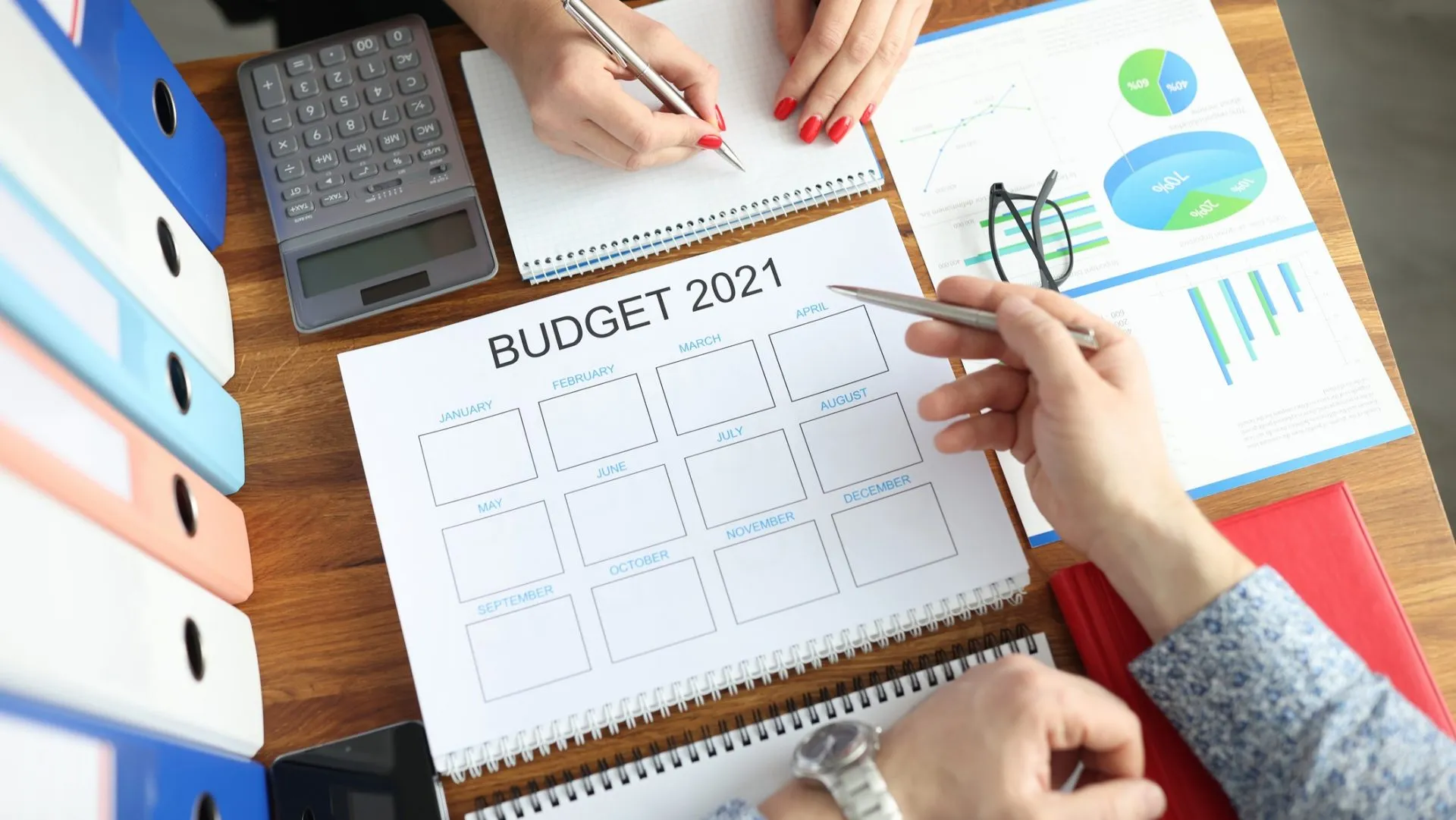 There's no better way to stay on track financially than to have a plan, and there's no better time to do some financial planning than at the beginning of the year. As the new year begins, you have the benefit of both hindsight and foresight. You can use your experiences over the past year to help you shape the direction you want to go in.
Since it's hard to manage every aspect of your financial life in a single month, it can make sense to spread those tasks out over the course of the coming year. For example, the start of the year is a natural time to make strategic plans, while the end of the year is always a great time for review. In between, you can assign a financial task or two to each individual month. By the end of the year, it's time to start anew, reviewing what you accomplished and planning for the future yet again.
Here's a look at how you might want to set up your financial calendar over the course of the coming year. Although some of the tasks can be moved around, others, like planning for your taxes, are clearly seasonal and must be accomplished in the beginning of the year. No matter how you sequence them, all are essential tasks that can help you keep your financial life on the right path in 2021 and beyond.
Last updated: Jan. 7, 2021
January
Tip 1: Draft a budget
Tip 2: Define your savings goals
The start of the year is a time for new beginnings, and this applies to your financial life as well. With the entire year laid out ahead of you, this is the perfect time to draft an accurate budget and set your savings goals.
Use this perspective at the beginning of the year to both look back at your finances over the past year and look ahead to things that are already on your calendar in the year ahead. For example, if you know that this is the year you're hoping to fly back to your family reunion depending on the pandemic, make sure to include that vacation spending in your budget and set a savings goal to make it happen. Through budgeting and planning, the objective is to be sure you're setting aside enough money so that everyday items that you know are going to happen don't eat into your emergency savings bucket.
February
Tip: Automate your savings
Saving money is hard for nearly everyone, as it goes against human nature. To help win the battle, make sure your savings are on autopilot.
When money is automatically diverted from your paycheck to your savings and investments, there is no opportunity for your human side to rationalize why you need to spend that money now rather than saving it for later. After a while, it's likely that you won't even miss the money that is automatically transferred to your savings. Meanwhile, your nest egg will be steadily growing without you even thinking about it. This is one of the big steps toward long-term financial independence.
March
Tip: Start preparing your taxes
Although tax filing day isn't until April 15, by the end of February you should have received most if not all of your tax documents. If you're getting a refund, it makes sense to file as early as possible so you can get that money into your pocket fast. Even if you think you're going to owe money, it's best to get all of your paperwork in line as soon as you can so you can have the time to plan out your deductions and minimize the amount that you owe.
April
Tip: Bank your tax return
One of the best ways to boost your savings and increase your financial security is to bank any "windfalls" that you receive. Although a tax refund is simply a return of your overpaid taxes, not a true "windfall," it usually feels like money falling into your lap when that distribution comes from the government. Since your tax refund is "extra" money beyond your usual paycheck, it's a prudent move to put that money into your savings or investment accounts. If you leave it in your checking account, it's more likely that you will spend it than save it.
May
Tip: Consider buying instead of renting
Springtime is home-buying season, and if you've been a lifelong renter, this might be the time to consider looking at buying your own home.
There are many advantages to owning over renting, including locking in a monthly mortgage that can't go up and building net worth. Although there are no guarantees in the housing market, home prices rise on average by about 5% per year, and the average homeowner has a net worth 46 times larger than the average renter. With interest rates hovering near record lows, mortgage loans can be had for much cheaper than the historical average.
June
Tip 1: Do some repairs around the house
Tip 2: Get out and be physical
The month of June usually has good weather across the country, so that's a good time to knock off the "to-do" list regarding home repair, particularly for the outside of your house. By keeping your house in tip-top shape regularly, you can avoid costly repairs from things breaking down or wearing out. That can help protect your emergency fund.
June is also a great time to get moving and start exercising more regularly in the great outdoors. By keeping yourself healthy, you can help prevent costly medical bills in both the short and long term.
July
Halfway through the year is a great time to see where you stand relative to the budget you created at the beginning of the year. Life doesn't always go according to plan, and by midyear things can already start getting out of balance. Perhaps you started making more — or less — money than at the start of the year, had unexpected expenses or just aren't sticking to your budget. Use this time to reconcile where you are and where you should be headed, and make any adjustments that may be necessary.
August
Tip: Battle your credit card debt
Although you can (and should) try to tackle your credit card debt all year, August is a good chance to take some time and see where you stand. By August, you've likely done most of your summer spending, so this is a good time to tackle your debt before it gets out of control.
To start, write down the actual numbers you're dealing with, including the amount you owe on every card, the minimum payment and the interest rate. Use an online calculator or your financial advisor to help you plan out how you can budget enough money to at least make a dent in that debt, if not knock it out completely. In some cases, finding a 0% balance transfer credit card can be a good way to buy you some time to pay that debt off.
September
Tip: Address your student loans
Now is a good time to focus on your own student debt. Building on the success you had last month addressing your credit card debt, take a close look at the specifics of your student loan debt. What are your payments? What is the interest rate? Is there any room in the budget to start paying those loans off faster?
More than ever before, it also pays to keep your ears open regarding current political developments. With a new administration in the White House that seems to be dedicated to erasing a large amount of student debt, your financial future could change in the near future. With any luck, you might get the chance to eliminate some or all of your student debt and free up your income for additional savings going forward.
October
Tip: Prepare for holiday spending
One way to prepare for holiday spending is to set up a Christmas Club account at the beginning of the year. These specialized savings accounts accumulate earnings throughout the year and then typically pay out on Oct. 31, just before the holiday spending crunch.
If you haven't planned ahead with this type of account, now is the time to adjust your budget and get ready for the holiday onslaught. Knowing that you're going to be spending more over the holidays, take this chance to reduce your spending in one or more areas of your budget, or consider picking up a short-term side gig or more hours at work. Do what you can do to avoid dipping into your emergency fund for holiday spending that you know will occur well in advance.
November
Tip 1: Consider refinancing your car
Tip 2: Look for year-end car deals
These two tips are two sides of the same coin. As the end of the year approaches, car dealers are looking to move old inventory off their lots and get ready for the new models coming in. Although the price you can get on a car depends in part on your negotiating skills, it's a fact that when dealers want to unload inventory, consumers can benefit.
If you're in the market for a car, this is a good time to nose around and see what types of deals you can make. If you already own a car you're still financing, check around for any refinancing deals to see if you can switch to a lower interest rate.
December
Tip 1: Review your budget
Tip 2: Bank your bonus
At the end of the year, take a look back and see how you did in terms of sticking to your budget and meeting your savings goals. If you find that you came up short, look deeper and see what the cause was. If you didn't earn enough money, look around for side gigs or higher-paying jobs, or consider negotiating a higher salary with your boss. If your budget was too optimistic at the beginning of the year, find out where you came up short so that when January rolls around, you can start the cycle again by drafting a realistic budget.
Your final savings goal of the year should come when you receive your year-end bonus, if you are fortunate enough to get one. Just like with the "windfall" of your April tax refund, try to bank your year-end bonus as well. Putting that money into savings and investments will help solidify your financial position going forward.
More From GOBankingRates