More Than Half of City Renters Live Paycheck to Paycheck — Is It Worth It To Relocate?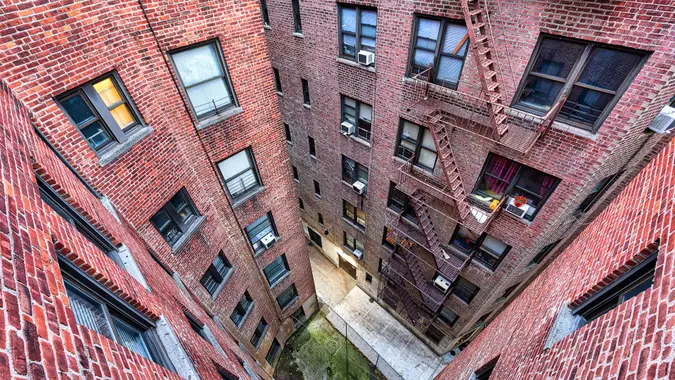 ablokhin / Getty Images/iStockphoto
Living in a city has its fair share of advantages, but it tends to come with a higher cost of living. A recent survey conducted by Gensler found that 44% of urban residents live paycheck to paycheck, and that percentage rises to 50% for Gen Z and millennial respondents. In addition, over half of renters in cities live paycheck to paycheck.
The survey also found that 35% of urban residents want to relocate — up from 23% in 2020. If you're in this boat, here's what you should consider before making the move.
Consider the Unique Advantages of Living in a City
"Moving from the city to the suburbs may save you money, but it is a different way of life," said Jay Zigmont, Ph.D., CFP, founder of Childfree Wealth.
Although housing may be cheaper further away from city centers, you will also have access to fewer amenities.
"There are so many pros to city life," said Tim Ossmo, CEO of Suburban Jungle, a real estate advisory and tech platform. "As cultural centers, they tend to offer the best in music, museums, dining, professional sports and more. City living allows for day-in and day-out walkability, as well as a job commute of ease."
Relocating Could Lead To Additional Expenses
Be sure to do the math to figure out if your savings on housing costs are significant enough to offset additional expenses that you may need to take on when living outside of a city.
"Some expenses to consider when moving out of an urban area are taxes, landscaping and home maintenance, as well as heating and electrical," Ossmo said. "A pool, while a wonderful amenity, can be quite expensive to heat and maintain. One should also address the need for a car or two and the additional cost at the pump."
Why It Could Be 'Worth It' To Relocate
Even with extra costs factored in, you may find that it's still cheaper for you to relocate.
"As work schedules become more flexible and remote work more common, the prospect of living in an internet-connected suburb or cheaper area could be the new gold rush," said Doug "Buddy" Amis, CFP, president, CEO and owner at Cardinal Retirement Planning, Inc. "Rather than rent in a higher cost of living area, opting to buy on the outskirts is attractive because there are still homes for sale at inviting prices if you're willing to make the change. Internet speeds in these areas are increasing and allowing for all types of people, from newlyweds to professional dog parents, to relocate and make the jump from renter to homeowner."
And there are advantages that go beyond cheaper housing that may make a move worth it for you.
"Smaller towns and suburbs are ideal if you are seeking more space and a quieter life overall," Ossmo said. "Community feel and sprawling green spaces are also pluses."
More From GOBankingRates