Banking 2023: Why Not Having a Savings Account is a Huge Mistake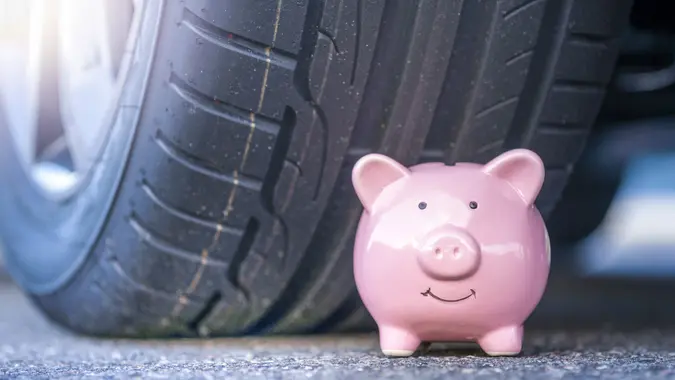 deepblue4you / iStock.com
In many ways, having a savings account is like having a security blanket. You can dip into this account if you are suddenly laid off from your job or a health emergency happens. It can also be helpful for setting aside money for future financial decisions such as buying a home or a new car. If you have a hard time remembering to save money, you can use your account to automatically route part of your income to savings so you're set with your rainy-day fund. Basically, whenever an unanticipated expense arises, a savings account is there to help you navigate it.
While there are many benefits to having a savings account, not everyone does. According to a recent survey conducted by GOBankingRates, 30% of Americans don't have a savings account. Here's a look at the survey insights and why you should get a savings account started if you haven't already.
Young Millennials and Gen X Are Least Likely To Have a Savings Account
Although 73% of survey respondents have a savings account, an amazing 27% don't. The majority of those without one are young millennials (ages 25-34), Gen X (ages 45-54) and those on the Gen X-baby boomer cusp (ages 55-64). Thirty-one percent of young millennials don't have one, surprisingly, and 32% of those in the 45-54 age group don't have a savings account either. But the 55- to 64-year olds have the highest rate of savings account negligence, with nearly 34% answering that they don't have one.
On the contrary, Gen Zers aged 18-24 value savings accounts, as just a quarter don't have one. So do seniors and older millennials. Of the 65 and over age group, 28% don't have savings accounts, and of the 35-44 age group, only 22% don't have one.
Why Are Gen Xers Some of the Least Likely To Have a Savings Account?
If you're wondering why so many Gen Xers have opted out of this type of account, here's some insight into why that might be.
"For a long time, interest rates were so low that the interest earned on savings accounts was almost negligible," said Kendall Meade, CFP at SoFi, a personal finance company. "So, many chose to keep their savings in a checking account or look to other investments that would yield a higher return for their savings. Now that interest rates have increased and high-yield savings accounts are gaining popularity, we are seeing more people opting to keep their saved funds in a savings account."
Here's Why You Should Open a Savings Account
If you fall into the category of Americans without a savings account, it's not too late to open one. Check out the benefits of having a savings account and start taking financial control of your future. 
It Can Make Saving Money Automatic
It can be a hassle to remember to set aside a portion of your paycheck for future expenses. Opening a savings account is an easy way to set aside money for long-term goals such as buying a house or having a cushion in case you ever lose a job. It also allows you to better organize your finances by having distinct categories for expenses instead of holding everything in one account. 
Pro tip: If you get paid via direct deposit you can automate a portion of your checks to be delivered to your savings account to allow for a more streamlined saving process. 
It's a Safe Place To Store Money
Having a savings account allows you to set money aside in a safe and secure place where you will be less tempted to spend it. Savings accounts are also federally insured by the FDIC for up to $250,000.
Your Savings Are Accessible
"When your money is invested, you cannot access it for a portion of time, and if you do, you must pay a penalty," Meade said. "Even if it is just in CDs, which are considered safe. With a savings account, however, you can access your money at any time."
It can be frustrating when you are strapped for money and can't easily access investments. Opening a savings account can help you access emergency savings in minutes. 
4 Things To Be Aware of When Opening an Account
Not all savings accounts are the same, so here are some things to look out for when choosing what type of savings account to open. 
Look Out for Account Fees
"Look for an account that has low or no account fees," Meade said. "These fees can include ATM fees, monthly maintenance fees, overdraft fees, minimum balance fees and more."
There are many savings account options that don't charge you, so be sure to stay away from those with excessive fees.
Seek High-Interest Accounts
If you are saving money for your future, take advantage of all additional savings opportunities.
"Look for an account that offers a high-interest rate so that your savings can earn money and grow," Meade said.
Avoid Withdrawal Limits
"Look for accounts that do not limit the amount of money or transactions you can make in a month," Meade said.
The last situation you want to be in is needing to access your savings for an emergency only to find you have met your withdrawal limit. Avoid opening a savings account with a withdrawal limit in order to access your funds whenever you need them.
Ease of Use
Saving for your future should be a painless process. If a savings account is too complicated to easily use, opt for a different one. Consider opening an account with a bank that has ATMs in your area, offers mobile check deposits and features an easy-to-use mobile app. 
How To Open a Saving Account
Opening a savings account is not something to be afraid of. The process is fairly straightforward and only requires a few pieces of paperwork, such as an ID or passport, proof of address and Social Security number. 
"You can open an account in person or online by showing the appropriate proof of identification and filling out an application with your information," Meade said. "Once that has been submitted, you wait to find out if your application is approved."
More From GOBankingRates