I'm a Parent Financially Supporting My Adult Children: Here's How It Has Impacted My Retirement Plans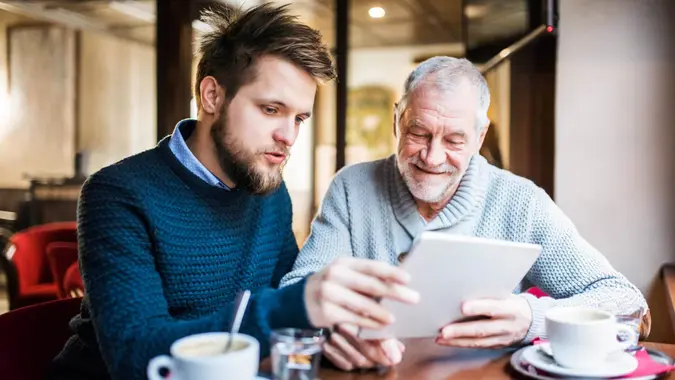 Halfpoint / Shutterstock.com
Amid increasing housing costs and growing student debt, many millennials and Gen Zers are turning to their parents for financial support. 
In a March 2023 study from Savings.com, 1,000 Americans with at least one grown child were polled about whether they provide their children with financial support. Forty-five percent of parents said they were financially supporting at least one of their adult children. 
Most parents don't plan to extend unlimited financial support to their adult children, and just over half told Savings.com they predicted they'd stop in the next couple of years. Providing some support, however, can impact a parent's financial plans for the future, especially retirement. GOBankingRates spoke to one parent who financially supports her adult children to learn how adjusting expenses has impacted her retirement plans. 
I'm a parent financially supporting my adult children: here's how it has impacted my retirement plans.
'I'm delaying my early retirement.'
Sophia Tang is the founder of Nako Cosmetics. Currently, she is assisting her two adult children with helping to pay for their various expenses. 
For her eldest, Tang said she's helping pay for their car insurance and contributing to making their student loan payments. Findings in the Savings.com survey confirm these expense categories among parents. Forty-one percent of all supporting parents help pay for their kids' cars and 21% of supporting parents are assisting with student loan payments. The average amount parents contribute toward their adult child's student loans is $245 each month.
Tang's younger adult child recently graduated from college. She is helping them with rent and occasional living expenses, like buying furniture for their new apartment. Rent is another popular category among surveyed supporting parents. Fifty-six percent of parents said they give their adult children money for rent or their mortgage. 
At the present moment, Tang said she provides financial support to her eldest on a monthly basis and as needed to her younger child. Providing this kind of support, however, has impacted her personal financial plans. Tang originally had plans for an early retirement. Now, to accommodate these expenses, she is adjusting her savings goals and delaying her retirement plan. 
According to the study data, parents further from retirement are more likely to support their adult children financially. Additional data shows parents invest more in adult children than their own retirement savings. Many parents would also be willing to put themselves at financial risk if it meant being able to support their children financially. Fifty-eight percent of supporting parents said they would lead a more frugal lifestyle, 44% would pull money from a retirement or savings account and 33% would retire later. 
'Investing in my children's future is a worthwhile sacrifice.'
Despite making a sacrifice not to retire early, Tang said she is happy to financially support her adult children and believes investing in their future is a worthwhile sacrifice.
Much like the study's data where over half of supporting adults plan to stop in the next few years, Tang said she plans to continue their financial assistance for a few more years. The hope, Tang said, is that they'll eventually achieve financial independence.
More From GOBankingRates