'Right To Repair' and Other Consumer Protections That Can Save You Money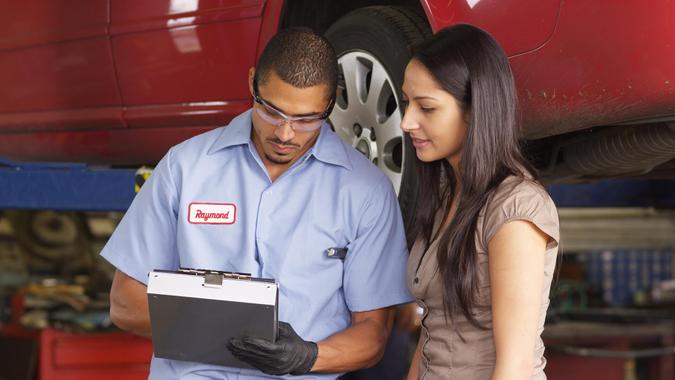 viafilms / Getty Images/iStockphoto
Crabbing about the government never goes out of fashion, but sometimes the government is the only thing standing between consumers and the forces that would endanger their health, mislead them into bad purchases and scam them out of every dollar they have, if given the opportunity.
The laws and agencies dedicated to consumer protection can save you time, aggravation and money — but only if you know what they are, how they're designed to help you and what to do if you've been victimized or abused.
Learn: What Are Consumer Rights?
Credit Privacy Numbers: What They Are and How To Avoid Scams
Here's a look at the consumer protections you need to know about, to stay safe, avoid dishonest dealers and seek help if you need it.
Right to Repair
In February, a bipartisan group of lawmakers introduced so-called "right to repair" legislation, which they say would spur competition and give consumers more choices and lower prices. Similar campaigns are taking place in New York and elsewhere in the country.
Currently, companies can hold a monopoly on the repair of their vehicles, farm equipment and electronics by maintaining control of critical components, tools or software that are needed to fix them when they break.
The legislation would force automakers, farm equipment dealers and electronics manufacturers to give independent repair shops and even individual people access to those components so they can perform repairs on their own or choose their own service providers. 
Crypto Caution: US Treasury Launches Consumer Education Effort on Digital Assets
Currently, according to Reuters, consumers generally have no choice in how or where things like their tractors or smartphones get repaired; therefore, they can't shop around for a better price or service. 
"Right to repair" legislation would end all that.
No Surprises Act
On Jan. 1, the No Surprises Act went into effect. The federal law protects people from being hit with surprise medical bills, even after they've received out-of-network emergency care without prior authorization.
Because of the nature of medical care, particularly in the wake of an emergency, patients generally don't receive detailed costs for services before they're treated. By capping what the hospital is allowed to charge without notice, the No Surprises Act could save you hundreds or thousands of dollars if you receive unplanned medical care.
The law also makes it illegal for debt collectors to pursue debts that are in violation of the act and it provides protection against credit bureaus reporting debts that are in violation of the act.
Find: The Pros and Cons of Paying Someone To Fix Your Credit
The Dodd-Frank Act
When the excesses of a grossly underregulated financial industry led to the Great Recession in 2008, the government responded with the Dodd-Frank Wall Street Reform and Consumer Protection Act, named for the lawmakers behind the bill. The legislation introduced safeguards to protect consumers from reckless or predatory behavior by banks, credit rating agencies and mortgage lenders.
Most important, the act created the Consumer Financial Protection Bureau, which protects consumers from predatory lending and requires lenders to make it easy for borrowers to understand the terms of their mortgages.
Fair Credit Reporting Act
Few things impact your personal finances more than your credit report, which can determine whether you get a loan, an insurance policy or a job. The Fair Credit Reporting Act safeguards the information that reporting agencies like credit bureaus collect.
The law — which is designed to ensure privacy, accuracy and fairness — regulates how credit bureaus, tenant-screening agencies, medical information services and other consumer data reporting organizations access, collect, store and share personal data.
Learn: What Factors Make Up Your Credit Score and How Are They Weighed?
The FCRA helps you with your finances by guaranteeing you access to your credit report but requiring your permission for others to access it. It also gives you the right to know whether your information was used in a decision about a loan, credit, an insurance policy or a job, as well as to challenge any errors you find on your report.
Fair Debt Collection Practices Act
This consumer protection legislation can save you money by keeping you out of the crosshairs of unscrupulous and abusive debt collectors. It prevents debt collectors from harassing people with excessive phone calls or other communications, particularly at unreasonable hours or at their place of employment.
It also prevents debt collectors from bullying or intimidating people into paying, threatening them with legal action or arrest, or claiming to be working with law enforcement. It also forbids them from seeking unjustified amounts of money or misrepresenting the amount owed.
More From GOBankingRates