I Was a Single Mom Who Used To Count Pennies To Buy Groceries: 7 Steps I Took To Get Out of Financial Rock Bottom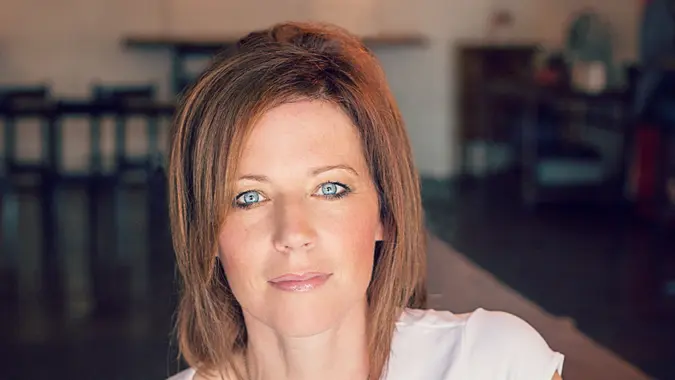 ©Rachel Marie Martin
Rachel Marie Martin hit her financial rock bottom while she was a divorced single mom struggling to afford daily necessities.
"For me, rock bottom was a series of moments," Martin, the author of "Mom Enough: Inspiring Letters for the Wonderfully Exhausting but Totally Normal Days of Motherhood," told GOBankingRates.
One of those moments was having her car repossessed.
"I remember waking up in the morning and it was gone," she said. "It feels so violating, and I felt helpless."
Another financial rock bottom moment was when she found herself counting change to buy corn at the grocery store.
"I thought, 'I don't want to live this way. There's too much of life in front of me and this is just not acceptable,'" Martin said. "But it took a bunch of times of hitting the bottom over and over again until I realized this isn't where I want to live anymore."
So Martin decided to make small changes to turn her financial life around. Here are the steps she took to get back on stable financial footing.
Pulling Her Credit Report
Martin had been avoiding facing her financial problems, but she realized she had to face her reality to fix it.
"Instead of being overwhelmed by it, it was looking at it headfirst and deciding, I'm not going to allow this to be something that I'm afraid of," she said. "That meant confronting it and pulling a credit report."
Pulling her report allowed Martin to see exactly what debt she had and who she owed it to, which enabled her to feel more in control of the situation.
"If I let it continue to go out of control, it's just going to get bigger and bigger," she said. "I needed to actually start to take back control. Even all these years later, [I still] monitor my credit because knowing gives me confidence."
Negotiating With Her Lenders
Once Martin had a clear picture of her debt, she began contacting her lenders to negotiate payment plans that would pull her out of the red. This included her student loan lenders and other creditors.
"It might be uncomfortable to call a creditor or call a student loan [lender], but don't let that hold you back," she said. "It's their job to work with you and it's our personal responsibility to take back the control that maybe isn't there right now."
Paying Off Debts One at a Time
By looking at her credit report, Martin was able to identify the debts she could pay off quickly versus those that would take more time. She identified one debt to pay off at a time to make the process feel more manageable.
"I decided I'm going to pay off all the things that are outstanding, whether it was the gas bill or [something else], so that I could get to a place of a balance," Martin said. "When you're in a financially precarious place. it's really hard just to get back so that you're not always in the red all the time."
Living by the 'Harvest Principle'
Martin realized that she would have to take some time away from parental and household duties to be able to dedicate more time to things that would make her money.
"I call it the 'harvest principle,'" she said. "As a mom, sometimes we feel guilt about taking time, like 'I should be doing this with the kids' and 'I shouldn't be doing that' or 'I'm not a good mom.' But I go back to my grandfather, who was a farmer in southern Minnesota. When it was harvest time, my grandfather was not in the house playing with us. My grandfather was in the field working all night long. But I never ever doubted my grandfather's love for me because that was what he had to do."
Martin had her own "harvest time" when she hit financial rock bottom and realized she needed to make a change.
"If I was going to stop dragging on the bottom and stop being in that spot, I was going to have to push myself harder than I'd ever pushed before," she said. "I would ask myself, 'Is this the right use of my time at this moment?' Maybe I need to outsource this or maybe I need to let the laundry go for a day so that I can do activities that change my financial future."
Martin began using her time to learn about building a business. For her, that meant starting a website and monetizing her writing, but she recommends that anyone looking for ways to up their income should tap into their creativity.
"If there's stuff that you can sell in your garage, [Facebook] Marketplace is there," she said. "There's Fiverr. There's all these opportunities to be creative."
Creating an Emergency Fund
In addition to putting money toward paying off debt, Martin also put money aside to build an emergency fund.
"My goal was to put money [aside] in case something happened with my car so that I wouldn't go backward," she said.
Celebrating Her Progress
Along the way, Martin began celebrating the small wins. One of her proudest moments was being able to fill her gas tank up all the way for the first time in years.
"Previously, I could never fill up my tank of gas," she said. "I was always scrambling, trying to get change, and now, 10 years later I always, always fill my tank of gas up every single time.
"It's a reminder to me to not take for granted the little things, because there was a time in life when I couldn't do that. Now when I can, it's like, look at how far you've come and be grateful. Be grateful for this moment because I know the angst of going to the gas station and not being able to do that."
Changing Her Money Mindset
One of the biggest changes Martin made during her financial journey was a mental one.
"I changed my relationship with money," she said. "I was always taught 'money doesn't grow on trees' or that it was unattainable. There was this narrative that would go on in my head about money, and I had to actually change my response to money."
Martin said she used to be emotionally triggered every time she got a bill in the mail.
"My initial instinct would be anxiety," she said. "My heart rate would go up. I would get nervous. And I realized that that response was really a response of myself thinking I don't have enough to pay it. And I decided I don't want that to be my response to money anymore. Money is a neutral thing, and I've given it so much negative emotion."
To help her retrain her brain, Martin would set her bills aside and wouldn't open them until she felt confident that she could pay them.
"That little, tiny thing helped me readjust how I looked at my own capabilities," she said. "I realized that I had the capabilities within to do it."
More From GOBankingRates