5 Smartest Money Moves for Millennials To Make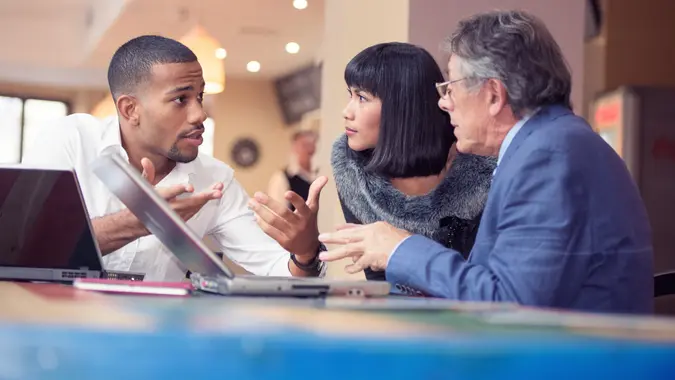 vm / iStock.com
Millennials are facing a specific set of financial challenges. Some of them already have been through a recession, and now persistent inflation, student debt and soaring rates are challenges that are adding to the lingering economic toll the pandemic took on their wallets.
Yet, the generation also has specific financial moves they can make to ease their financial stress and plan for their future. Here are some of them.
Stay Out of Debt
Millennials are accumulating debt at a record pace. Total balances were more than $3.8 trillion in the fourth quarter of 2022 — a 27% increase from late 2019, according to the Wall Street Journal, citing Federal Reserve Bank of New York data. This represents not only the largest jump of any age group, but it's also the fastest pace of debt accumulation over a three-year period since the 2008 financial crisis, The Wall Street Journal reported.
In turn, many experts agree that the smartest move a millennial can make is to get out of debt and stay out.
"With interest rates on the rise and credit card interest rates about 20%, the cost of debt is stealing from their future," said Jay Zigmont, Ph.D., CFP, founder of Childfree Wealth. "It is possible to live a debt-free life. Lock your credit cards now and stop taking out new debt. Focus on paying off your credit cards and consumer debt first. Once you have your debt paid off, you can save and invest."
Life Insurance
Another step millennials should consider is taking life insurance. While a good chunk of that generation have dependent children, own homes and have more than $100,000 in household income, 55% have no life insurance coverage at all, according to the Life Insurance Marketing and Research Association's 2022 Insurance Barometer Study.
That puts their loved ones at risk of financial hardship should something happen to them.
There are several misconceptions millennials have around life insurance, such as cost and eligibility, but "generally young, healthy adults are most likely to not only qualify for coverage but also to be able to secure the most affordable rates," according to the LIMRA study.
Business expert Tatiana Tsoir, CPA, and founder of The Bold Blog recommends that millennials look for life insurance policies with a conversion feature.
"Start with term life, get validated for health and have 10, 20, 30 years to convert to a whole life," Tsoir said. "Having an ability to convert a policy without additional underwriting is super amazing. I also throw in a long-term care rider and sometimes a waiver of premium so that if you get disabled the insurance company pays your premiums for you.
"Of course, life insurance is customized to individual needs; but, whether you have kids or not, getting underwritten in good health, getting cheap coverage and having an option to convert to a whole life is the best of both worlds."
Build an Emergency Fund
There's no time like the present to build an emergency fund and anticipate life's many curveballs.
"Millennials should focus on building their emergency funds, which should be able to cover the potential stressful and costly financial surprises life throws your way," said Cassandra Rupp, senior financial advisor at Vanguard.
Rupp recommends putting aside $2,000 for spending shocks and 3-6 months' worth of expenses for income shocks.
"Start building your emergency fund as soon as possible," Rupp added. "Life is full of unexpected expenses, and you must be prepared for them. Whether it's a medical emergency, layoffs or a car repair, having an emergency fund will help you deal with these unexpected financial burdens without going into debt."
Budget for Family Planning
Many millennials are already parents and, for those who are planning to start or add to their families, it's prudent to plan ahead for the additional expenses that come with a new family member, said Lena Haas, principal, head of wealth management advice and solutions at Edward Jones.
"Particularly as child-care costs are rising," Haas said, "parents need to prepare to navigate child-care expenses by taking advantage of state child-care assistance, setting aside pretax dollars in a dependent care flexible-spending account and retaining child-care providers."
Another tip is to start contributing to a 529 plan, which is an education savings plan sponsored by a state and which can be used for education expenses.
"These plans are tax-advantaged," Haas said, "and money contributed to them can be invested, for example, in mutual funds and exchange-traded funds, to allow for potential growth over time. The earlier you can start saving, the more time your investments have the potential to grow."
Travel Smart
Almost half of American millennials say they plan to spend more money on experiences like travel, as opposed to goods, in 2023 — compared to 37% of respondents overall, according to American Express Travel's 2023 Global Travel Trends Report.
In addition, 79% of millennials say they see leisure travel as an important budget priority, and 76% say they care more about creating a travel experience that best fits their expectations than they care about the cost.
Tsoir said millennials should plan to go somewhere every year, but with a budget.
"Traveling broadens our horizons and gives us lots of good emotions," she said. "But never travel without a budget. You don't want to enjoy the trip to Spain and then pay for it for two years."
Tsoir recommends finding points or loyalty programs that can save you money, look at different travel times to get it cheaper and look at options beyond hotels.
More From GOBankingRates