Suze Orman: These 2 Toxic Money Behaviors Will Lead You to Financial Rock Bottom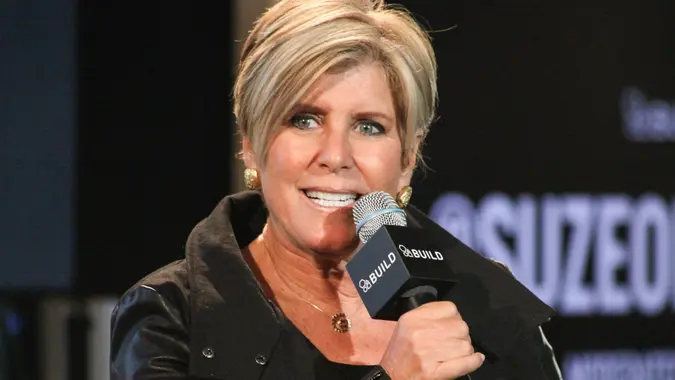 Mediapunch / Shutterstock.com
With the cost of living at an all-time high, many Americans are in financial survival mode. Unfortunately, it's easy to go from treading water to hitting financial rock bottom if you aren't mindful about your money behaviors.
Suze Orman, money expert and co-founder of emergency savings startup SecureSave, said that if you're guilty of any of these toxic money behaviors, you're setting yourself up for disaster.
Not Planning for Retirement or Death
When you're years or decades away from retirement, planning for that time in your life may not be a priority. Unfortunately, not planning ahead is a big money mistake.
"People never think they're going to have to retire," Orman told GOBankingRates. "People never believe that they're going to be sick or be in an accident. People believe that they're always going to have a paycheck coming in. That's why 90% of the people in the United States don't have a will or a trust. People do not think that they are ever going to age, ever."
In reality, you will likely hit a time in your life when you are no longer capable of working, so it's essential to have a plan for income during these years. Additionally, having a will and trust in place is vital if you want to ensure your family is taken care of when you die. You can't predict when that day will come, so it's better to do that planning sooner rather than later.
Maxing Out Credit Cards
Orman believes that many Americans "have a juvenile mentality when it comes to spending money," she said. "They get it in their hands and they spend it. It's not until their credit cards are totally maxed out, it's not until bills start coming in and they don't have a place to get that money to pay those bills, that reality hits them."
Credit cards make it all too easy to spend what you don't have. You can charge $5,000, but only have to pay $100 or $200 per month.
"So they're like, 'Why shouldn't I buy all these things? I don't have to pay for it [right now],'" Orman said. "They never thought that the Feds were going to raise their interest rates, and now interest rates on credit cards are at 9% all the way up to 20%. People don't live in reality until reality forces itself upon them. Then when they have hit rock bottom, that is when most of the time their behaviors change."
Instead of getting to that point, be sure to only charge on a credit card what you can pay in full each month.
"Every single person should live below their means but within their needs," Orman said.
More From GOBankingRates