Suze Orman: Here's Why People Who Make $100K+ End Up Having Less Money Than Those Who Don't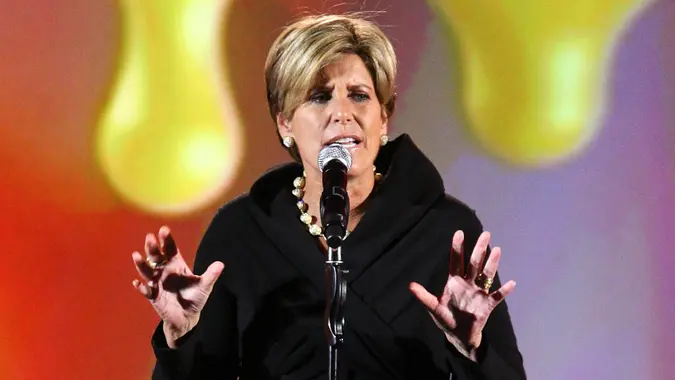 Stephen Lovekin / Getty Images
Earning a six-figure salary is a career goal that many aspire to reach, but it doesn't guarantee financial security. A recent study conducted by emergency savings startup SecureSave found that among employees earning an annual household income of $100,000 or more, 35% said they still live paycheck-to-paycheck.
Here's why Suze Orman, who is a co-founder of SecureSave, believes that even high-income earners can end up in the paycheck-to-paycheck cycle.
Higher Earnings = More Spending
Orman said that she found it "absolutely fascinating" that 35% of employees making $100,000 a year are living paycheck-to-paycheck.
"We are not just talking about employees that make $35,000, $50,000 a year," she told GOBankingRates.
Orman believes that the reason so many people earning six figures and above end up in this pattern is due to overspending.
"The more money you make, the more money you spend," she said. "You spend it because you want to impress everybody because now you're making six figures. I have found that people who make six figures really have less money than those who don't. People just love to spend."
How To Break the Cycle
No matter how much you earn, you'll never be able to get out of the paycheck-to-paycheck cycle if you spend every penny you make.
"Every single person should live below their means but within their needs," Orman said. "Just because you can afford a new car doesn't mean that you should get a new car."
Orman also recommends dedicating part of each paycheck to savings: "Get as much pleasure out of saving as you do spending."
More From GOBankingRates