The Top 6 Financial Apps To Help Teens Learn More About Money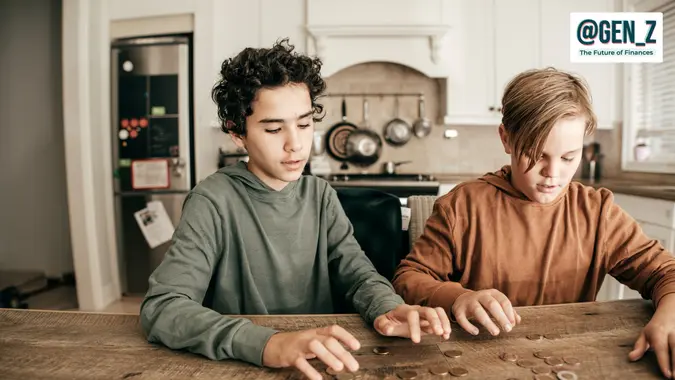 Teens are good at knowing how much money they want to spend on items they desire, but not as good at understanding the nuances of finances, such as how to earn, save, invest and plan for the future. According to Youth.Gov, 18% of 15-year-olds in the United States had not learned essential financial skills that are needed every day, such as budgeting, comparison shopping or understanding an invoice. Furthermore, one in five U.S. teens do not have basic financial literacy skills, according to the National Endowment for Financial Education.
Related: 10 Most Promising Careers for Gen Z WorkersSee: Surprising Ways Gen Z and Millennials Are Worlds Apart Financially
However, in this digital age, where many teens have a smartphone or tablet at their disposal, a number of apps are making it possible for them to learn about money, save, invest and more, with a few clicks of an app and a parent's oversight. Here are six top financial apps for teens.
Savings Spree
Savings Spree makes learning how to save money fun by turning it into a game. Though you can start kids on this app as early as 7, older kids and teens will also benefit. The game teaches kids to make daily lifestyle choices that add up to savings based on how they play. It teaches them to save money for short term goals, such as buying a game or toy, but also to spend frugally, donate money and invest money to grow it toward long-term goals such as a college education. The game works with most iPads and iPhones.
Cost: One-time fee of $5.99
Look: Gen Z Teens Exceed Past Generations in Financial Literacy
FamZoo Family Finance
FamZoo is an app designed to make older kids responsible for their real-life spending by teaching how finances work, how to budget and of course, how to save money.
With this app, the teen receives a card linked to the app, and parents act as bankers, which enables healthy financial communication within the family. This is a good app for younger teens who are just setting out on learning how to manage finances because all transactions are recorded and parents monitor everything. It also comes with other features, such as learning how to prevent credit card debt, track chores and jobs, how to purchase online and manage money requests between family members. It's available for iOS and Android, and aimed at kids aged 13-plus.
Cost: $5.99/month. You can sign up for a one-month free trial.
Recent News: Teen Budgeting App Gets $100 Million Investment From Will Smith, Jared Leto
Steps
Step is an app that acts like a bank, with FDIC federally insured accounts. Though they have debit cards to access funds, teens can't over draw their accounts, and their cards are protected by Visa's Fraud Protection and Zero liability guarantee.
Parents can send money to the card directly, and teens can even set up direct deposit if they receive a paycheck from a job. What makes this app more than just a banking app is that it help's your teen build credit just like a regular credit card without the risk of debt.
Cost: Free
More: Teens Are Sinking Their Money Into Stocks and Crypto…What Basic Investing Principles Can Parents Use To Guide Them?
Stash
If your kids are ready to move up to the next level beyond merely budgeting and saving, Stash is an opportunity to teach teens about investing through custodial accounts. Money invested in the Stash account can be used to purchase fractional shares of companies, helping teens to build wealth in the long term.
Once the teen reaches age 18, they can access the money saved in their Stash account to pay for education or other life goals.
Cost: Starting at $4.99/month. Free one-month trial.
Greenlight
Greenlight is an investing app with parental control, enabling parents to decide where and how much money their teens can spend. Teens can receive the Greenlight debit card, which also teaches them basic money management skills, such as saving, budgeting and prioritizing expenses. Teens can request money from their parents through the app and add funds they earn to the card, as well. All data is encrypted, making it safe for teens to use.
Cost: $4.99/month
Find Out: How to Make Money as a Teen in 2021 — 22 Best Gigs
Acorns
Acorns is another investing app geared specifically toward minors and young adults, but it has a compelling twist. Whenever teens use a linked debit or credit card to make purchases, Acorns rounds up the difference and invests it for the user. For example, say you purchase a cup of coffee for $2.60 on a linked credit card, Acorns will round the purchase up to $3.00 and invest the $0.40 difference. For students with a .edu email address, or under 24 years old, there are no additional charges beyond the monthly fee.
Cost: Acorns Lite: $1/month, Acorns Personal: $3/month, Acorns Family: $5/month
More From GOBankingRates