These 2 Expenses Caught Americans By Surprise in 2023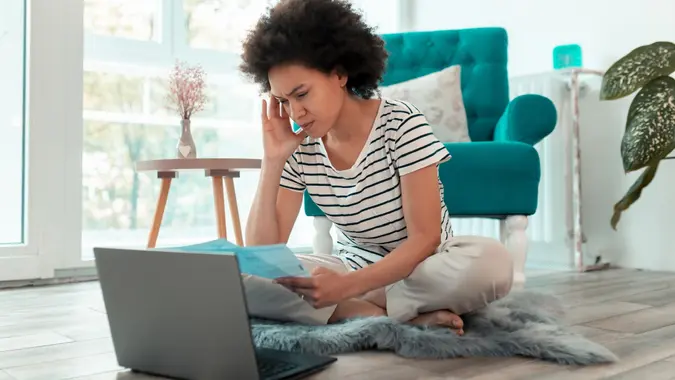 vladans / iStock.com
Life got kind of pricey this year. Specifically, many people were shocked at the rising cost of two essentials.
One-third — 33% — of Americans cited food as their biggest unexpected expense this year, according to a recent GOBankingRates survey. Another 29% said gas was their biggest surprise expense.
If you can relate, you might be wondering what to expect for food and gas prices for the rest of 2023 and 2024.
What Happened To Costs This Year?
"Outside of housing, it is not surprising that food and gas costs are the biggest expenses Americans have faced this year," said Oliver Rust, head of product at Truflation, an economic data aggravator. "Food and non-alcoholic beverages make up 15.3% of Truflation's real-time U.S. CPI index, while transportation, which includes gasoline and vehicle expenses is 19.8%."
Possibly good news, he said the Truflation index has shown inflation in these categories has been on the decline.
"As of October 23, 2023, prices in the food and non-alcoholic beverages category are up just 1.9% year-over-year," he said. This means that the average household is spending around $15 per month more on food today than a year ago, according to Truflation's personal inflation calculator."
He said this marks a notable difference from the previous 12-month periods, which experienced a 10% inflation rate on food.
"In aggregate, the price of food has increased by 19.7% since January 2020, which will be a lot for many households to stomach," he said.
On the other hand, he said gas prices have been one of the largest contributors to Truflation's U.S. CPI in recent months.
"September saw Truflation's gasoline index rise by 0.61% month-over-month, on top of a 6.78% increase the previous month," he said. "However, October has seen prices in this category cool once again and the index is down 7.7% on an annualized basis to October 23, 2023."
Interestingly, he said the U.S. has seen an increase in oil production to 13.2 million barrels per day, which is the highest number since the Energy Information Administration started collecting data in 1983.
"Analysts predict further increases, as the U.S. strives to manage the cost implications for consumers," he said. "However, if global tensions intensify, we might see a knock-on effect on the price of oil which will feed through to higher transport costs."
What Can You Expect?
As for forecasting food prices, he said his team is looking at import costs and weather patterns that affect production and yields.
"Here, China's agricultural import taxes are likely to keep produce prices elevated for the foreseeable future, but this is already priced in," he said. "As such, barring any unexpected disasters, we would expect food prices to remain relatively stable for the time being."
Mariano Torras, PhD, professor of finance and economics at Adelphi University noted that the since food and gasoline are among the most significant and often substantial items consumers spend their disposable income on, it can impact their standard of living.
"The problem is that things have in general gotten much less predictable," he said. "The recent and ongoing turmoil in the Middle East is only the most obvious example."
He said several factors will likely dictate the gas prices for the foreseeable future.
"The duration of the conflict and its ultimate outcome will undoubtedly have some effect on energy, hence gasoline prices," he said. "It is likely also to affect food prices, since the fertilizers and pesticides on which agriculture is so reliant itself depends heavily on a steady supply of petrochemicals, much of which still comes from the Middle East."
Beyond this, he said mother nature will also likely play a role in pricing.
"Increasingly unpredictable and extreme weather patterns affect crop harvests, often to a substantial degree," he said. "Such changes are sure to affect food prices in the future, most likely increasing them to a substantial degree."
He said the main question right now is how much this will impact prices and for how long.
"In a sense, the short term — i.e., next year — is less predictable than the long-term," he said. "Over which food prices are almost destined to be considerably higher than those to which most of us are accustomed, owing to the mounting effects of climate change."
Closing Thoughts
Clearly, if you've been struggling with the prices of food and gasoline this year, you're not the only one. Since food is of course an essential for everyone, and gas is necessary for those with vehicles, there's no way around these expenses.
Since prices may not see a significant reduction in the near future, it's important to work rising costs into your budget. This isn't ideal, but being prepared to pay more — and looking for creative ways to save — can help keep your finances on track.
More From GOBankingRates