Top Money Moves All Military Families Need To Make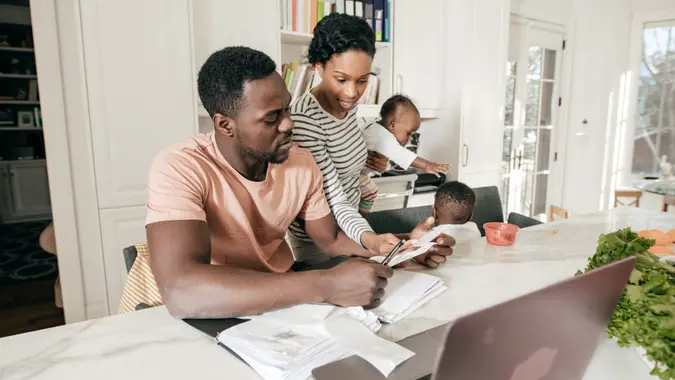 kate_sept2004 / Getty Images
Serving in the military affects the entire family — your spouse and children also have to make frequent moves, find housing and schools in a new town, run the household when you are deployed and protect the family while you are doing a high-risk job.
Support Small: Don't Miss Out on Nominating Your Favorite Small Business To Be Featured on GOBankingRates — Ends May 31
But military families also have access to special benefits and programs to help them deal with these challenges and improve their finances, such as access to free health care, low-cost life insurance, education benefits, interest-free emergency loans, special legal protections and many programs, activities and resources on base. Here's how to make the most of these opportunities, and smart moves that can help protect your family's finances.
Free College for Your Spouse and Children
The GI Bill provides valuable education benefits for service members, covering the full cost of in-state tuition for up to four academic years at a public college, or up to $26,042.81 per year for four academic years at private colleges (adjusted for inflation each year). And if you serve in the military for at least six years and agree to serve four more, you can transfer your GI Bill benefits to your spouse or children. Your spouse can use the transferred benefits right away, but children must wait until you've served for at least 10 years, and they must use these benefits before they turn age 26. For more information, see the VA's Post 9/11 GI Bill benefits page.
Military Money: The Complete Guide on Benefits, Investing and More
No-Interest Loans and Grants for Family Emergencies
Every branch of the service has a military aid society that provides no-interest loans and grants for emergency expenses, including home and car repairs, moving expenses that aren't covered by the military and disaster relief. Several of the aid societies offered special COVID-19 relief funds over the past year, paying for unexpected expenses such as extra child care costs while schools were closed, financial help when a civilian spouse lost his or her job and emergency travel expenses to visit sick relatives. Some also offer scholarships for military spouses and children.
For more information, see the Air Force Aid Society, Army Emergency Relief, Coast Guard Mutual Assistance and the Navy-Marine Corps Relief Society.
Job Search Benefits for Military Spouses
It can be difficult for military spouses to find a job when they have to move frequently, and the military offers special programs to help them with education, training and their job search.
"There are several benefits available to a military spouse that are often overlooked, such as the MyCAA education benefits," said Patrick Beagle, a retired Marine helicopter pilot who is now a certified financial planner in Springfield, Virginia. The Military Career Advancement Account (MyCAA) scholarship, for example, provides up to $4,000 of tuition assistance to help military spouses pursue professional licenses, certifications or associate degree programs. The MyCAA program also offers career coaches. See the MyCAA resource page for more information.
Low-Cost Life Insurance for Your Family
Members of the military can get up to $400,000 in low-cost life insurance through the Servicemembers Group Life Insurance (SGLI) program, and they can also get life insurance for their family members, including up to $100,000 of coverage for their spouses and up to $10,000 for their children.
Premiums vary by age — $100,000 of coverage costs $54 for spouses under age 34. Dependents under age 18 can get up to $10,000 in life insurance for free (coverage can be extended for full-time students up to age 22). For more information, see the VA's Family Servicemembers' Group Life Insurance (FSGLI) page.
The Economy and Your Money: All You Need To Know
Important Legal Protections and Documents
Members of the military can receive legal protections under the Servicemembers Civil Relief Act, and some of the provisions can help their family members, too.
For example, service members can terminate a residential lease if they receive permanent change of station orders or a deployment that will last for more than 90 days. They can terminate a car lease if they receive PCS orders or are being deployed with a military unit for 180 days or more. Also, the legal affairs office on base can help service members get essential legal documents to help protect their families, such as a will and guardian for their children. They can set up a power of attorney so your spouse or another trusted family member or friend can handle your finances while you're deployed. A healthcare proxy can also be important to designate someone to make medical decisions on your behalf if you're unable to do so yourself. Click here to find the nearest legal assistance office.
Make Sure Your Beneficiary Designations Are Up To Date
It's important to update your will and other legal documents whenever you have major life changes, such as getting married or divorced. And it's also important to update your beneficiary designations for your life insurance and retirement plans, such as your TSP. These accounts pass to your designated beneficiary no matter what your will says. Make sure your selected family members will inherit this money if anything happens to you. If you joined the military when you were young, you may have originally designated your parents or another relative as your beneficiary; review the designations every few years and whenever you have life changes.
Find Out: How Much Do Veterans Make From Military Retirement?
Build Up an Emergency Fund
Even though a military career provides job stability, there can still be unexpected expenses — especially with frequent moves and deployments. Having an emergency fund can be one of the most important financial tools to help your family cover costs they hadn't prepared for without landing in expensive debt; whether it's extra expenses from moving, additional child-care costs during deployment or if it takes a military spouse longer than expected to find a new job in a new city (or if it takes the service member a while to find a job after leaving the military). If you receive any extra money, such as from a bonus or tax refund, use some of it to build up your emergency fund.
"I know many military families are anxious to attack their debt when they get a tax refund or a bonus of some sort, but I always stress that it's important to have a sufficient emergency fund in place first," said Lila Quintiliani, program director for Military Saves. "An emergency fund of $500 to $1,000 can allow you to meet unexpected financial challenges and prevent you from getting deeper into debt."
More From GOBankingRates
Last updated: May 18, 2021