The Top Ways To Live Well in 2022 — Both Financially and Beyond Your Money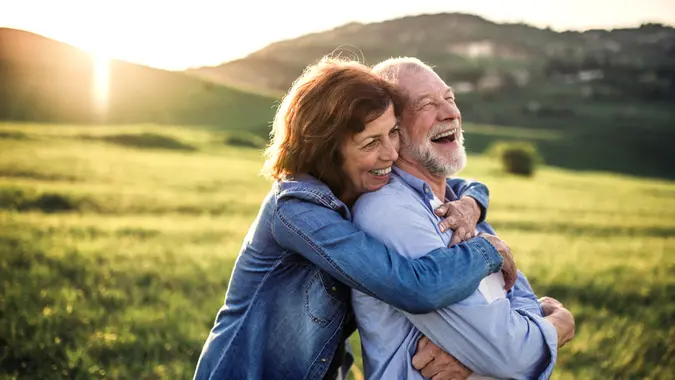 Halfpoint / Getty Images/iStockphoto
Throughout the holiday season and into the new year, GOBankingRates talked to financial experts from all backgrounds and industries about what people can do to save more, spend less, invest more strategically and finally achieve good financial health.
Advice: 19 Effective Ways To Tackle Your Budget
Also See: 25 Ways To Save 20% More of Your Paycheck Without Even Trying
In other words, advice on how to live a richer life — but there are different kinds of riches.
Many of those money experts spoke less about things like credit card payments and interest rates and more about living a life that's rich in relationships, fulfillment and purpose. Material wealth, many of them believe, is hard to obtain and almost impossible to enjoy if you don't have the kind of riches that can't be counted in dollars and cents.
Here's what they said about doing well and feeling good in 2022.
Good To Know: 101 Easy Ways To Save Money Daily
What Should You Do To Enrich Your Life? Well, That Depends on Your Age
Janet Patterson, a loan and finance expert with Highway Title Loans, suggests pursuing goals and resolutions that evolve with your priorities as you get older. She gave the following examples:
20s: "Picking up a new sport and focusing on career development, which includes applying to different companies to gain interview experience."
30s: "Investing in a stock exchange or real estate may be the best option to develop an asset for later years in life. It can also come in handy in buying a home."
40s: "Start interacting with friends and family on an emotional level and let go of any long-held grudges."
50s: "Increase the use of sunscreen as skin cancer is on the rise against people who are within the 40-50 age group."
60s: "Writing down stories and memories more often. Being more grateful and adopting a healthy outlook on life in general. Spending more time with children or grandchildren and getting routine checkups."
Save Money: 16 Effective Ways To Trick Yourself Into Saving Money
Ask Yourself Different Questions at Different Life Stages
Greg Wilson, a chartered financial analyst and co-founder of ChaChingQueen.com, also offers advice for living well that varies with the different stages of life.
"If you are in your 20s, understand the time value of money,"  Wilson said. "Max out your 401k. Future you will thank you. If you are in your 30s, determine what is important to you. Do you want to retire when you are 60 or sooner? Do you want to spend more time with kids? What do you want your career and family life to look like over the next few decades? If you are in your 50s, have your new year's resolution be to strengthen the bond with all of the family and friends you wish you spent more time with over the last 10 years because you were too focused on your career and money. Slow down and strengthen those bonds."
Read: 37 Life Hacks That Will Save You Money
Put Some Pressure on the Person in the Mirror
Accountability is part of wellness. If you're truly interested in living richer in 2022, demand better from the part of you that likes to spend without thinking in pursuit of material excess or instant gratification.
"I feel that people prioritize their wants over their needs, resulting in excessive purchasing of unnecessary goods," said Grace Alvarez, chief editor of the business consulting firm BestLLC services. "To be honest, money management isn't all that difficult. All you need is a little self-control and self-awareness."
Melanie Hanson, editor in chief of EDI Refinance, agrees with that sentiment.
"Make sure every penny you spend has a purpose," Hanson said. "Many people waste money out of habit, lack of attention, and lack of forethought. Whether it's continuing to make the minimum payments on your loans with no clear plan to ever clear the debt, paying for a subscription service you haven't used since your favorite show got canceled, or buying produce for an imaginary version of yourself who likes to cook and eat vegetables, we all spend money that isn't going to help us in the long run."
Warning: 25 Things You Should Never Do With Your Money
Focus On the Five P's
Financial security expert and Bank On Yourself founder Pamela Yellen thinks that success or failure in money and in life all boils down to what she calls "the five Ps":
Passion: "You've got to want the goal badly enough that you won't allow yourself to become discouraged when the finish line proves hard to reach."
Persistence: "Most people don't succeed on their first attempt. Ironically, each setback increases the probability that the next try will come closer to the mark, if not directly hit the bullseye."
Planning: "Successful goal-setters make a plan to achieve their goals."
People: "Family, friends, and coworkers can give you the extra boost you require to reach your goal. Enlisting the help of others dramatically increases your chances of success."
Positivity: "Is reaching for a goal feeling like a burden, a responsibility, a sacrifice, even a punishment? It can be — if you decide to think of it that way. But if you can picture your path as an adventure, an opportunity, a competition, and a growth experience, the outcome is far more likely to be to your liking."
Reimagine Education as a Gift
Perhaps the best thing you can do in 2022 is to help your children, nieces and nephews live rich lives in the future by focusing on their education today. The cost of college is insurmountable all at once, but you can start chipping away at it now — and you can make it a group effort.
"Invite friends and extended family to join in the mission to save by contributing to college savings accounts in lieu of, or as a complement to, more traditional gifts, which are often quickly outgrown or discarded," said Patricia Roberts, chief operating officer at Gift of College, Inc., and the author of "Route 529: A Parent's Guide to Saving for College and Career Training with 529 Plans." "After all, there are at least 18 birthdays and 18 annual holidays between a child's birth and pursuit of higher education. If just 10 loved ones contributed $25 for each occasion, a child could have over $14,000 by the time college rolls around, assuming an estimated annual 5% rate of return. If $50 were given by a total of 10 close friends or family members, a child could have over $28,000, and so on.
In the end, living a richer life starts when you adopt a new state of mind.
"The best small change you can make doesn't cost a thing," Wilson said. "It's be happy. You don't need more. You just need enough. Learn the word 'satisfice.'"
More From GOBankingRates