6 Useful Paid Apps That Are Well Worth the Cost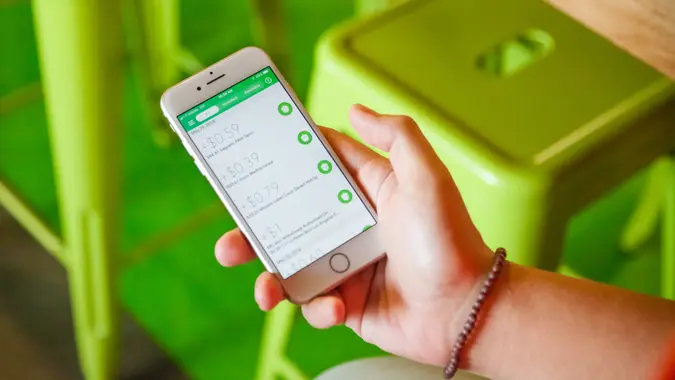 Chase Brock / GOBankingRates.com
From messaging to investing, some of the best apps are free — but in a handful of cases, it actually pays to pay. Many paid apps do little more than digitize buyer's remorse, but there are more than a few diamond downloads in the rough that break the mold.
Important: 7 Financial Habits That Improve Your Daily Life
See: 9 Safe Investments With the Highest Returns
The following apps all cost a little cash upfront, but they eventually pay for themselves — sometimes in the form of money saved or gained, other times in the form of convenience or organization.
Read on to meet the paid apps that are worth the money and then some.
Simplifi by Quicken
Cost: $5.99 per month, $3.99 per month when you sign up for the year
Spending money to save money might seem counterintuitive, but that's exactly what publications like PCMag, Forbes and The New York Times say you get when you sign up for Simplifi. Budget trackers like Mint link your bank, credit card and investment accounts in one place for free — so why pay for an app that does the same thing? Because Simplifi unifies all your accounts under one roof and a whole lot more.
It tracks your incoming and outgoing money in real time while creating personalized spending plans based on your goals, which will help you save much more than the $4 or $6 per month you paid to join. It also saves time — Simplifi promises that less than five minutes per week is all it takes to stay on top of your finances.
Live Richer Podcast: Deepak Chopra Discusses How To Find Mindful Financial Freedom
PictureThis
Cost: Free or various costs for more advanced versions, going up to $49.99 per year for PictureThis Platinum
Even the brownest of thumbs can be converted to green with PictureThis, a gardening app that does just about everything but pull weeds. Use the app's camera function to snap a shot of any plant — including houseplants, garden plants, flowers, weeds, ornamental grasses, vining plants, air plants and just about anything else that grows — and PictureThis will instantly tell you what it is, where it's from and the conditions it needs to thrive. It's right 98% of the time on more than 1 million plants, a success rate that beats most human experts.
The app automatically diagnoses problems with your plants just by scanning them and helps you nurse them back to health, preventing frustrating failures, lost gardening seasons and wasted money.
LastPass
Cost: $0-$3 per month for individuals, $0-$4 for families, $4-$6 for businesses
Lots of apps claim to protect your online life and prevent identity theft, but only LastPass can boast 30 million users. Save a password once and LastPass will log you in on any device without you having to guess your password or fish for where you wrote it down.
The app helps you generate strong passwords and lets you share them securely with trusted users while monitoring the dark web for data breaches. You're paying for convenience as much as security — once you sign up, you'll only have to remember one password for the rest of your online life.
The Wonder Weeks
New parents always hear the same thing from moms and dads who have been there before: Enjoy it while it lasts — it goes by so fast. For about the cost of a small pack of diapers, parents can slow things down with a subscription to The Wonder Weeks.
The app has won a whole bunch of impressive awards because it saves parents time and money while helping them to be present for what the app calls the "leaps" that define a baby's growth. A milestones diary is part of the package, as are personalized schedules that help new parents get the most out of every life event while stimulating their baby's development every step of the way.
You can easily pay five times as much for a single baby book.
Surfshark
Cost: $2.49 per month when you sign up for 24 months
There's no shortage of VPN apps, but if you want to beef up your online security, prevent identity theft and blindfold prying eyes, you'd be hard-pressed to find a virtual private network that delivers more for less than Surfshark.
Like all VPNs, Surfshark changes your IP address to avoid tracking — but it does it for less than $60 for two years. The service includes high-end security features, unlimited devices, a no-logs policy, 24/7 customer support and a 30-day money-back guarantee — and unlike so many VPNs that turn phones and laptops into digital slugs, Surfshark is fast.
Acorns
Cost: $3 per month for individuals, $5 for families
The app that launched the spare-change investing movement is still the best and most popular of the bunch — more than 8 million users invest by rounding up their dollars with Acorns. But with so many no-fee brokerage apps that let you build a nest egg on any budget with partial-share investing for free, why pay for Acorns?
A small monthly tribute to Acorns gives you access to expert-designed portfolios that you buy a small piece of every time you spend money the way you normally would by rounding up your purchases to the nearest dollar and investing the difference. Investment, retirement and a checking account with a metal debit card are all part of the package when you put your nest egg on autopilot with Acorns.
More From GOBankingRates