Effective Ways To Use Autopay To Manage Your Finances, According to Experts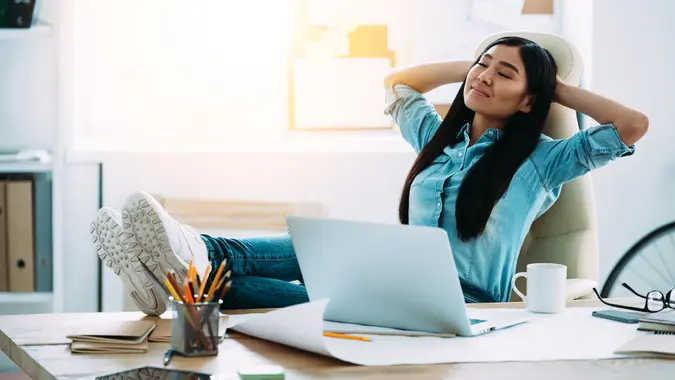 g-stockstudio / Shutterstock.com
When it comes to managing personal finances, there is no one-size-fits-all solution to streamline and better manage them. Yet, tools such as autopay can not only make life easier, they can help consumers avoid detrimental consequences and, in turn, strengthen their financial futures. 
Autopay is a billing feature that automatically handles bill payments for you on a monthly basis, and many service providers, lenders and credit card companies offer it as a way to make sure you never miss a payment. 
"It's a smart choice for individuals who value timeliness, desire to avoid late fees, and prefer a hands-off approach to some aspects of their finances," said Andrew Latham, certified financial planner and director of content of SuperMoney.com.
Streamline Your Finances
If you're unorganized or simply very busy (or both), autopay is a great way to deal with your personal finances: Set it up and forget about it. The tool is also helpful to avoid getting confused by different payment dates.
"Autopay is beneficial when you have regular, predictable payments," said Rachana Bhatt, head of credit cards at PNC Bank. "Autopay can also provide a more streamlined budgeting process by creating a predictable monthly payment schedule."
While it is a reliable and convenient method to manage your finances, experts also stress that it's essential to exercise caution when using autopay. 
"Avoid setting up autopay for variable expenses since the amounts can fluctuate, and it's crucial to stay aware of how much you are paying each period," said Adam Puff, founder at Haddonfield Financial Planning.
By setting it up, you can ensure that your expenses are paid on time, eliminating the risk of forgetting or incurring late fees.
Take Our Poll: Are You Concerned About the Safety of Your Money in Your Bank Accounts?
Stay on Top of Your Credit Score
Another key advantage of setting up autopay is that it can help consumers avoid sabotaging their credit scores with late or missed payments. 
"Autopay involves setting up money to be automatically taken out of your account when a bill is due, eliminating the hassle of having to manually make all of your payments," said Christian Simmons, certified educator in personal finance and financial writer for Annuity.org. 
One of the major benefits of autopay beyond convenience is its ability to help you avoid your credit score dropping if you miss payments, he said. 
"Even if you have the money, it can be easy to forget about a bill or not make a payment on time," he said. "Autopay eliminates that uncertainty." 
Simmons warned, however, that autopay can be potentially dangerous in certain instances. For example, if you live paycheck to paycheck, don't have a particularly large account or if you don't have the bandwidth to pay all of your bills this way. 
"Say, for example, a number of bills set up with autopay come due at the same time," he said. "Your account could be quickly depleted when you would have manually spaced out those payments." 
Stay on Top of Your Savings and Earn Points
Another important aspect of autopay is that it's not just for bill payments. It can be used to automatically transfer money to your savings account or to consistently invest in your retirement or brokerage account. 
"This way, you're not only paying your bills on time but also making sure you're saving and investing for your future," said Latham, adding that automatic transfers to savings or investment accounts make sure you're prioritizing your financial future. 
"You're essentially paying yourself first and taking advantage of the power of compound interest," added Latham. 
Another point that should not be overlooked, said Joe Camberato, CEO of National Business Capital, is that if you can place it on a credit card that earns you points "then you're golden."
"But," he added, "here's where many don't pay attention: Pay the credit bill when it arrives!"
Which Bills Should Be Put on Autopay?
Most experts agree that autopay can be beneficial for essential bills that you cannot afford to miss, such as mortgage, car payments, utilities and insurance. 
"Having autopay set up for these bills can help you avoid fees, penalties and potential negative impacts on your credit score," said Derek Miser, investment advisor and CEO at Miser Wealth Partners. 
In addition, credit card bills can also be automated, and it's smart to pay the full balance each month to avoid accruing interest, Latham recommended. 
"However, credit card balances can fluctuate and may lead to unexpected withdrawals," he added, "so you may want to automate the minimum payment if you are on a tight budget to avoid overdrafts on your checking account."
Finally, in terms of where to proceed with caution, keep in mind that autopay might not be well-suited for bills that fluctuate and always keep track of how much you pay. 
Additionally, be mindful of using autopay for subscriptions and services that you no longer need. 
"Forgetting about them can lead to unnecessary deductions from your bank account, draining your funds without your knowledge," said Puff, adding that you should always ensure you have sufficient funds for autopay transactions to avoid potential overdraft fees and other penalties.
"By considering these cautions and using autopay strategically for the right types of bills," he said, "you can enjoy the convenience and peace of mind that comes with automated bill payments while maintaining control over your financial obligations." 
More From GOBankingRates